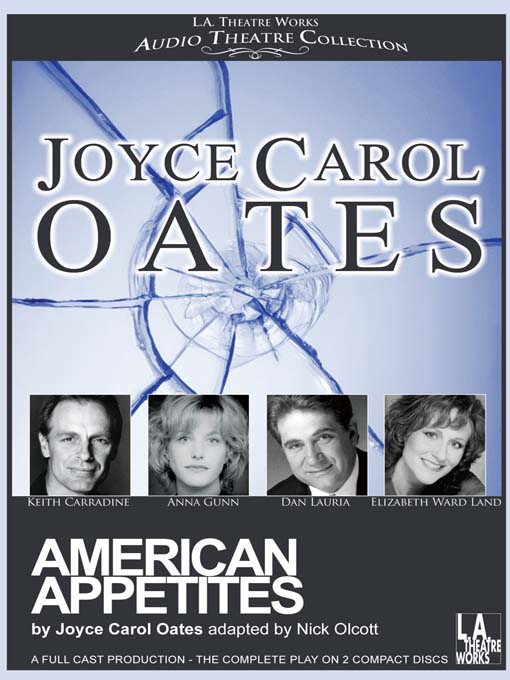 American appetites
Format:

OverDrive MP3 Audiobook

2009

2009

OverDrive Listen

Availability:

Available from OverDrive

1 of 1 copy
Summary
L.A. Theatre Works presents the exclusive dramatization of 2009 Man Booker Nominee Joyce Carol Oates₂ best-selling novel. In American Appetites, the faȧde of an affluent suburban couple crumbles under the weight of tragedy and scandal. When Ian McCullough accidentally pushes his wife, Glynnis, through a plate glass window during an argument, the American dream turns into a nightmare. A sophisticated, witty and chilling tale ...

Published Reviews
Publisher's Weekly Review:
"In her 19th novel, the prolific author of You Must Remember This dishes up a heady concoction of lust, murder and courtroom drama. Ian and Glynnis McCullough, an apparently happy couple for 26 years, orbit painlessly in the academic universe of the prestigious Institute for Independent Research in the Social Sciences in upstate New York. Glynnis is a noted food writer working on a cookbook titled American Appetites , while Ian is a demographic expert whose destiny, ``the seemingly benign verso of fate,'' will by the tale's end seem astonishingly altered from its original course. When a drunken quarrel over suspected infidelity degenerates into a brawl, Glynnis falls through a plate glass window and is fatally injured. Ian is charged wtih murder; during his ensuing trial ambiguities abound as guilt and responsibility must be treated as separate issues. In her usual nuanced, stylized voice, Oates offers incriminating evidence against American appetites for food, wine, drink, power and sex, as she knowingly observes the smugly comfortable lives of the smart and tenured. A zippy story about successful lives dramatically altered by one sudden and inexplicable lapse of judgment, this is definitely Oates in her bestseller metier. (Jan.) (c) Copyright PWxyz, LLC. All rights reserved"
(c) Copyright PWxyz, LLC. All rights reserved
Additional Information