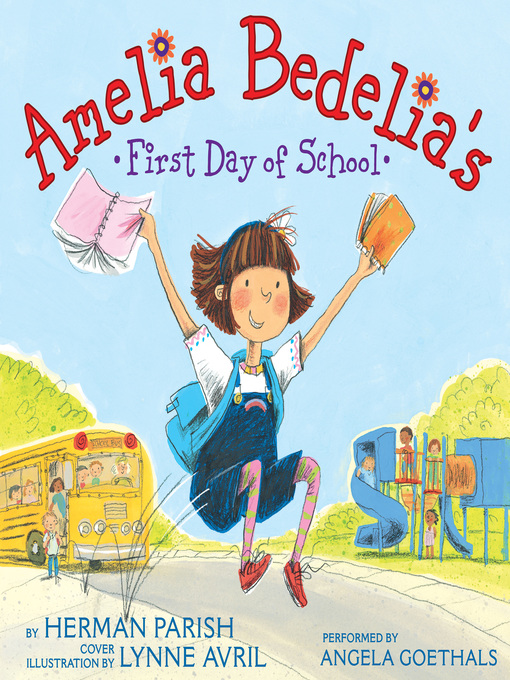 Amelia Bedelia's first day of school
Format:

OverDrive MP3 Audiobook

2012

2012

OverDrive Listen

Availability:

Unavailable

0 of 1 copy
1 person on waitlist
Summary
A literal-minded first-grader's first day of school is filled with confusing adventures, much to her delight.

Published Reviews
Booklist Review:
"Ever wonder how the venerable Amelia Bedelia became such a literalist? So did the children's author Herman Parish (nephew of Amelia's originator, Peggy Parish) and the kids he met during school visits. This introduction to the young Amelia shows that her curious take on language is in evidence early on. It's the first day of school, and right off, Amelia gets it wrong when Mrs. O'Malley says, I teach gym, and Amelia responds, I am not Jim. From there it's one misunderstanding after another, ending with the teacher telling Amelia to glue herself to her chair. Oh dear. Amelia wears her new picture-book format well. Illustrator Avril's depiction of the language-challenged character resembles Ramona Quimby (the Alan Tiegreen version), and she uses the enlarged space to good advantage as Amelia proceeds from classroom to cafeteria to art class, all of which are pitted with verbal minefields. Sometimes the misconceptions are too sophisticated for the age group, but mostly this works beautifully as a new way to encounter the gaffe-prone gal.--Cooper, Ilene Copyright 2009 Booklist"
From Booklist, Copyright (c) American Library Association. Used with permission.
Publisher's Weekly Review:
"It's the first day of school for Amelia Bedelia-the concrete-thinking heroine of the long-running series, which, until now, has featured the character as an adult. As in previous books, Amelia's literalism results in amusing misunderstandings: Amelia's "name tag" has her sprinting through the room "playing tag," and during "free time," she does as her teacher's idiom-"Glue yourself to your seat"-requests. Readers will giggle over Amelia's mishaps, and her genuine joie de vivre may assuage first-day fears. Ages 4-8. (July) (c) Copyright PWxyz, LLC. All rights reserved"
(c) Copyright PWxyz, LLC. All rights reserved
Additional Information