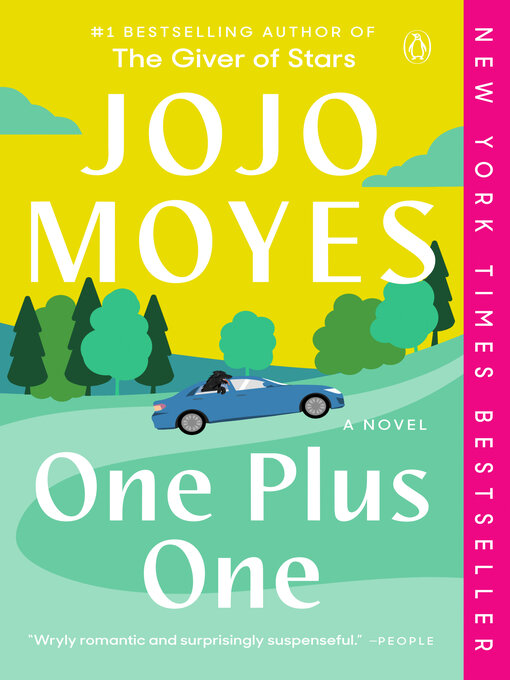 One Plus One a Novel
Format:

Kindle Book

2014

2014

Adobe EPUB ebook

OverDrive Read

Availability:

Unavailable

0 of 5 copies
1 person on waitlist
Summary
"One single mom. One chaotic family. One quirky stranger. One irresistible love story from the New York Times bestselling author of Me Before You American audiences have fallen in love with Jojo Moyes. Ever since she debuted Stateside she has captivated readers and reviewers alike, and hit the New York Times bestseller list with the word-of-mouth sensation Me Before You. Now, with One Plus One, she's written another contemporary opposites-attract love story. Suppose your life sucks. A lot. Your husband has done a vanishing act, your teenage stepson is being bullied, and your math whiz daughter has a once-in-a-lifetime opportunity that you can't afford to pay for. That's Jess's life in a nutshell-until an unexpected knight in shining armor offers to rescue them. Only Jess's knight turns out to be Geeky Ed, the obnoxious tech millionaire whose vacation home she happens to clean. But Ed has big problems of his own, and driving the dysfunctional family to the Math Olympiad feels like his first unselfish act in ages. maybe ever. One Plus One is Jojo Moyes at her astounding best. You'll laugh, you'll weep, and when you flip the last page, you'll want to start all over again"--

Published Reviews
Booklist Review:
"*Starred Review* One Plus One equals one fine novel. With its ensemble cast of skillfully crafted characters from single-mom Jess Thomas to tortured goth teen Nicky and gifted sister Tanzie to Ed Nicholls, technology millionaire each person's story flows on its own, yet they all meld together into an uncommonly good story about family, trust, and love. Best-selling Moyes (The Girl You Left Behind, 2013) gets things rolling as this hysterically mismatched melange along with Norman, a slobbering 80-pound dog of indeterminate breed embarks on a road trip from the English shore to Aberdeen, Scotland, so that Tanzie can compete in a maths Olympiad. Her ability to enroll in a prestigious school rides on whether she can win the competition's cash prize. She's certainly earned the best education; her family just can't afford it. In a riotous twist and momentary lapse of good sense, Ed volunteers his top-of-the-range Audi, complete with his services as driver. There are high jinks galore as perhaps one-too-many gastrointestinal problems arise, but, in all, the trip, with what Ed perceives as its terrifying boundarylessness, delivers on its promise, just not in the way anyone anticipated. Bravo to Moyes for delivering toothsome characters in a story readers will truly care about. Is that Hollywood calling?--Chavez, Donna Copyright 2014 Booklist"
From Booklist, Copyright (c) American Library Association. Used with permission.
Publisher's Weekly Review:
"In a small English town, Jess struggles to support Tanzie, her young daughter, and Nicky, the teenage son of her estranged husband. Tanzie, a math genius, gets a partial scholarship to a prestigious private school. In order to afford the remaining tuition, the family sets its hopes on Tanzie winning a math tournament with a hefty first-prize award-but the competition is in Scotland, and the car breaks down before they even get out of town. Their unlikely savior is Ed, a geeky software millionaire. The road trip that follows is full of comic mishaps, poignant moments, and a slowly developing romance between Ed and Jess. The characters, each voiced by a different reader, take turns narrating the chapters. Together the ensemble is pitch-perfect. Elizabeth Bower's marvelous performance makes Jess a deeply relatable, lovable, flawed character that listeners will root for. Ben Elliot is equally excellent as befuddled Ed, wondering how he got into this crazy situation and gradually realizing his feelings for Jess. Nicola Stanton perfectly captures the innocent young voice of Tanzie: her voice fills with pure joy and enthusiasm as Tanzie does math problems. With memorable characters brought to life by superb narrators, and a well-paced mix of comedy, tragedy, and romance, this is an audiobook that listeners will thoroughly enjoy. A Viking/Pam Dorman hardcover. (July) © Copyright PWxyz, LLC. All rights reserved."
(c) Copyright PWxyz, LLC. All rights reserved
Additional Information