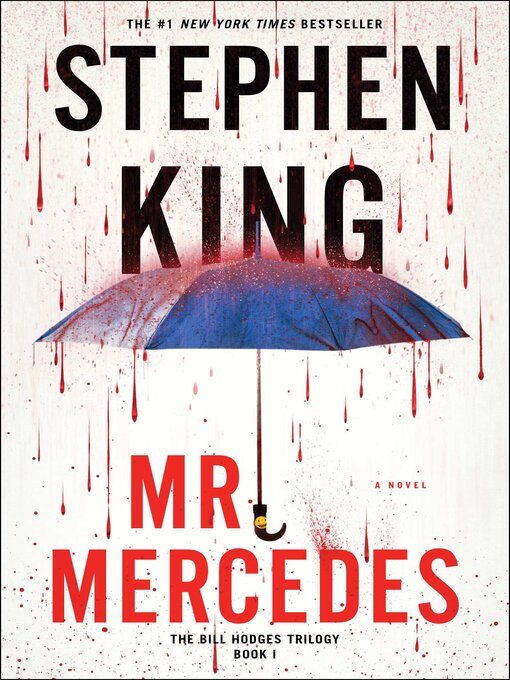 Mr. Mercedes a novel
Format:

Kindle Book

2014

2014

Adobe EPUB ebook

OverDrive Read

Availability:

Unavailable

0 of 2 copies
15 people on waitlist
Summary
"In a mega-stakes, high-suspense race against time, three of the most unlikely and winning heroes Stephen King has ever created try to stop a lone killer from blowing up thousands. In the frigid pre-dawn hours, in a distressed Midwestern city, hundreds of desperate unemployed folks are lined up for a spot at a job fair. Without warning, a lone driver plows through the crowd in a stolen Mercedes, running over the innocent, backing up, and charging again. Eight people are killed; fifteen are wounded. The killer escapes. In another part of town, months later, a retired cop named Bill Hodges is still haunted by the unsolved crime. When he gets a crazed letter from someone who self-identifies as the "perk" and threatens an even more diabolical attack, Hodges wakes up from his depressed and vacant retirement, hell-bent on preventing another tragedy. Brady Hartfield lives with his alcoholic mother in the house where he was born. He loved the feel of death under the wheels of the Mercedes, and he wants that rush again. Only Bill Hodges, with a couple of highly unlikely allies, can apprehend the killer before he strikes again. And they have no time to lose, because Brady's next mission, if it succeeds, will kill or maim thousands. Mr. Mercedes is a war between good and evil, from the master of suspense whose insight into the mind of this obsessed, insane killer is chilling and unforgettable"--

Published Reviews
Booklist Review:
"King's interest in crime fiction was evident from his work for the Hard Case Crime imprint The Colorado Kid (2005) and Joyland (2013) but this is the most straight-up mystery-thriller of his career. Retired Detective Bill Hodges is overweight, directionless, and toying with the idea of ending it all when he receives a jeering letter from the Mercedes Killer, who ran down 23 people with a stolen car but evaded Hodges' capture. With the help of a 17-year-old neighbor and one victim's sister (who, in proper gumshoe style, Hodges quickly beds), Hodges begins to play cat-and-mouse with the killer through a chat site called Under Debbie's Blue Umbrella. Hodges' POV alternates with that of the troubled murderer, a Norman Bates-like ice-cream-truck driver named Brady Hartfield. Both Hodges and Hartfield make mistakes, big ones, leaving this a compelling, small-scale slugfest that plays out in cheery suburban settings. This exists outside of the usual Kingverse (Pennywise the Clown is referred to as fictive); add that to the atypical present-tense prose, and this feels pretty darn fresh. Big, smashing climax, too. HIGH-DEMAND BACKSTORY: No need to rev the engine here; this baby will rocket itself out of libraries with a loud squeal of the tires.--Kraus, Daniel Copyright 2014 Booklist"
From Booklist, Copyright (c) American Library Association. Used with permission.
Publisher's Weekly Review:
"King's latest foray into suspense is a no-holds-barred cat-and-mouse contest between ex-cop Bill Hodges and Brady Hartsfield, a nerdy, mama's boy who is also a mass murderer. The two combatants are connected by a homicidal hit-and-run that occurred months before, when Hartsfield purposely steered his stolen Mercedes sedan into a crowd of the unemployed waiting in line for the opening of a job fair. Hartsfield begins to stalk the ex-cop, and sends Hodges a taunting letter. Actor Patton (TNT's Falling Skies) not only finds the right voices for protagonist and antagonist, but he matches their many mood swings. As Hodges undergoes the moments of elation and travail King has in store for him (the joy of an unexpected romance, the death of a close friend), Patton finds the perfect tone for him. As for Hartsfield, it's a matter of making him sound like a normal, likeable fellow to his coworkers at an electronics store, but a passive-aggressive monster when conversing with the ex-detective and a full-out lunatic when thinking or talking to himself. Patton's performing skills are equally impressive for the supporting cast, from Hodges's elegant and bright new girlfriend to Hartsfield's boozy, clueless mother. But it's his compelling interpretations of the two male leads-King's avatars of good and evil-that distinguish this riveting production. A Scribner hardcover. (June) (c) Copyright PWxyz, LLC. All rights reserved."
(c) Copyright PWxyz, LLC. All rights reserved
Additional Information