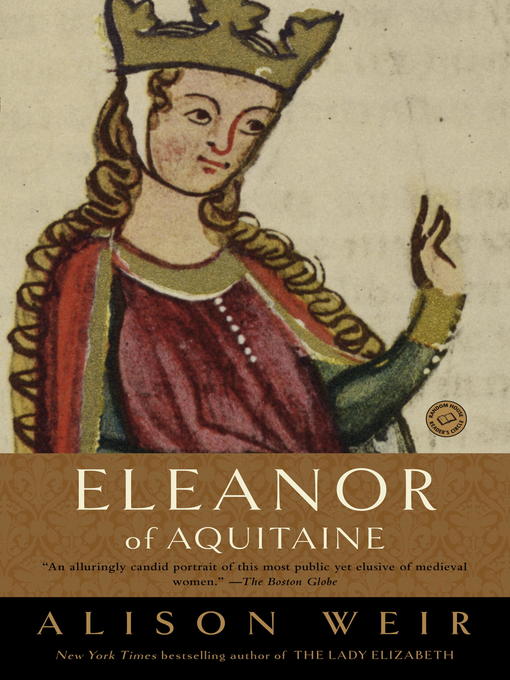 Eleanor of Aquitaine a life
Format:

Kindle Book

2012

2012

Adobe EPUB ebook

OverDrive Read

Availability:

Available from OverDrive

1 of 1 copy
1 person on waitlist
Summary
A biography of Eleanor of Aquitaine, discussing her early years in twelfth-century Europe, her marriages to France's King Louis VII and England's Henry II, her unprecedented political power, and other aspects of her life.

Contents
Prologue: 18 May 1152
"Opulent Aquitaine"
"A Model of Virtue"
"Counsel of the Devil"
"To Jerusalem!"
"A Righteous Annulment"
"A Happy Issue"
"All the Business of the Kingdom"
"Eleanor, by the Grace of God, Queen of England"
"The King Has Wrought a Miracle"
"Conjectures Which Grow Day by Day"
"The Holy Martyr"
"The Cubs Shall Awake"
"Beware of Your Wife and Sons"
"Poor Prisoner"
"Shame, Shame on a Conquered King!"
"The Eagle Shall Rejoice in Her Third Nesting"
"The Admiration of Her Age"
"The Devil Is Loosed!"
"The Staff of My Old Age"
"The Most Reverend Eleanor"
"The Brood of the Wicked Shall Not Thrive"
"A Candle Goeth Out".
Additional Information
Subjects
Eleanor, of Aquitaine, Queen, consort of Henry II, King of England, 1122?-1204
Louis VII, King of France, approximately 1120-1180 Marriage
Henry II, King of England, 1133-1189 Marriage
Queens Great Britain Biography
Queens France Biography
Biography & Autobiography
Nonfiction
History
Great Britain History Henry II, 1154-1189 Biography.
France History Louis VII, 1137-1180 Biography.
Electronic books.
1122?-1204.
approximately 1120-1180
1133-1189
Henry II, 1154-1189
Louis VII, 1137-1180

Publisher

New York :Random House Publishing Group2012




2012



Edition
Ballantine Books trade pbk. ed.
Contributors
OverDrive, Inc.

Language

English



System Details

Mode of access: World Wide Web.




Format: Adobe EPUB eBook




Format: Kindle Book




Format: OverDrive READ




Requires Adobe Digital Editions or Amazon Kindle



Description

1 online resource



Bibliography Notes

Includes bibliographical references and index.



ISBN
9780307831859
9780307831859

Other
Classic View