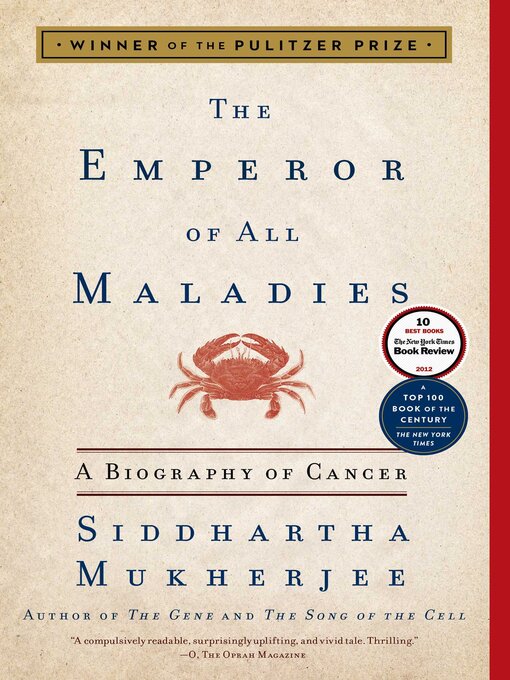 The emperor of all maladies a biography of cancer
Format:

Adobe EPUB ebook

2010

2010

OverDrive Read

Availability:

Unavailable

0 of 5 copies
16 people on waitlist
Summary
A "biography" of cancer from its origins to the epic battle to cure, control, and conquer it. A combination of medical history, cutting-edge science, and narrative journalism that transforms the listener's understanding of cancer and much of the world around them. The author provides a glimpse into the future of cancer treatments and offers a bold new perspective on the way doctors, scientists, philosophers, and lay people have observed and understood the human body for millennia.

Contents
"Of blacke cholor, without boyling"
An impatient war
"Will you turn me out if I can't get better?"
Prevention is the cure
"A distorted version of our normal selves"
The fruits of long endeavors
Atossa's war.
Published Reviews
Booklist Review:
"*Starred Review* Apparently researching, treating, and teaching about cancer isn't enough of a challenge for Columbia University cancer specialist Mukherjee. He was also moved to write a biography of a disease whose name, for millennia, could not be uttered. The eminently readable result is a weighty tale of an enigma that has remained outside the grasp of both the people who endeavored to know it and those who would prefer never to have become acquainted with it. An unauthorized biography told through the voices of people who have lived, toiled, and, yes, died under cancer's inexorable watch. Mukherjee recounts cancer's first known literary reference hence its birth, so to speak in the teachings of the Egyptian physician Imhotep in the twenty-fifth century BCE, in which it is clear that Imhotep possessed no tools with which to treat what appears to be breast cancer. His cryptic note under Therapy: There is none. Throughout cancer's subsequent years, many more physicians and scientists with names both familiar and obscure attempted and occasionally succeeded in deciphering or unlocking keys to many of the disease's mysteries. Alas, this is not a posthumous biography, but it is nonetheless a surprisingly accessible and encouraging narrative.--Chavez, Donna Copyright 2010 Booklist"
From Booklist, Copyright (c) American Library Association. Used with permission.
Publisher's Weekly Review:
"Mukherjee's magisterial history of cancer research is poorly served by Stephen Hoye's impersonal, tone-deaf narration. Mukherjee is a practicing oncologist, and his is a deeply personal account, replete with stories of his own patients and practice, that begs for an intimate reading. But Hoye is pedantic, dry, stentorian-everything that this book isn't-and his newscaster's delivery cannot convey the author's compassion for his patients or the suspense and thrill of scientific discovery that the book so brilliantly describes. A Scribner hardcover. (Nov.) (c) Copyright PWxyz, LLC. All rights reserved."
(c) Copyright PWxyz, LLC. All rights reserved
Additional Information