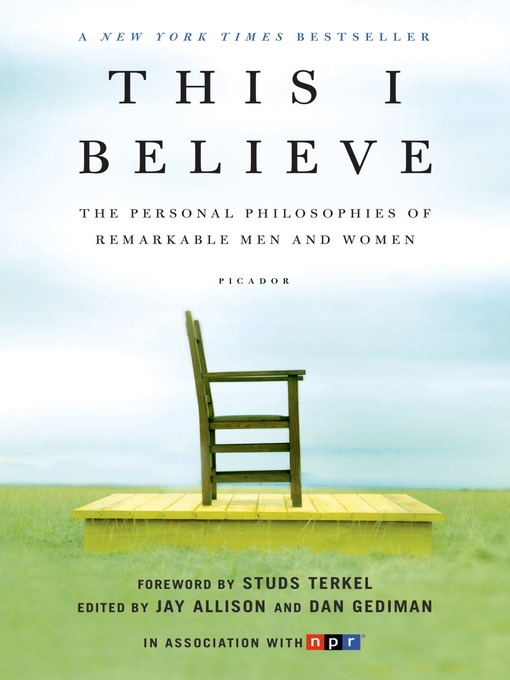 This I believe II more personal philosophies of remarkable men and women
Format:

Kindle Book

2006

2006

Adobe EPUB ebook

OverDrive Read

Availability:

Available from OverDrive

1 of 1 copy
Summary
Featuring 80 Americans--from the famous to the unknown--this series of insightful observations completes the thought that the book's title introduces. Each piece compels readers to rethink not only how they arrive at their own personal beliefs but also how they share them with others.

Contents
Introduction / Jay Allison
Finding the strength to fight our fears / Terry Ahwal
I will take my voice back / Quique Aviles
A silent night that brought healing / Steve Banko
Living with integrity / Bob Barret
The strange blessing that brought me home / Robin Baudier
Returning to what's natural / Amelia Baxter-Stoltzfus
The right to be fully American / Yasir Billoo
The person I'm supposed to be / Andy Blowers
Making it up as I go along / Alice Brock
Sticking my nose in the world's business / Brigid Daull Brockway
Teaching a bad dog new tricks / David Buetow
The learning curve of gratitude / Mary Chapin Carpenter
Failure is a good thing / Jon Carroll
The faith that brings me peace / Betsy Chalmers
The person I want to bring into this world / Laura Shipler Chico
The deeper well of memory / Christine Cleary
A marriage that's good enough / Corinne Colbert
Creating our own happiness / Wayne Coyne
A way to honor life / Cortney Davis
We never go away / Dennis Downey
The questions we must ask / Tamar Duke-Cohan
Learning true tolerance / Joel Engardio
Doing things my own way / Bela Fleck
Dancing all the dances as long as I can / Robert Fulghum
A reverence for all life / Michelle Gardner-Quinn
A feeling of wildness / David Gessner
All the joy the world contains / Jimmie Dale Gilmore
As I grow old / David Greenberger
Untold stories of kindness / Ernesto Haibi
Peace begins with one person / Ivory Harlow
Do what you love / Tony Hawk
Combating the tyranny of the positive attitude / Barbara Held
My husband will call me tomorrow / Becky Herz
The tense middle / Roald Hoffmann
Living in the here and now / Jeffrey Hollender
Becoming a parent is a gift / Chris Huntington
Finding redemption through acceptance / Interrogator
Paying attention to the silver lining / Annaliese Jakimides
There is no blame; there is only love / Ann Karasinski
The universe is conspiring to help us / Kevin Kelly
We all need mending / Susan Cooke Kittredge
Telling kids the whole truth / Martha Leathe
Every person is precious / Isabel Legarda
Navigating turbulent waters / Jimmy Liao
All beings are interconnected / James Loney
A musician of many cultures / Yo-Yo Ma
Being content with myself / Kamaal Majeed
Be cool / Christian McBride
That old piece of cloth / Frank Miller
My home is New Orleans / Mike Miller
That golden rule thing / Craig Newmark
My personal leap of faith / Bill Nunan
Admittance to a better life / Michael Oatman
Living what you do every day / Yolanda O'Bannon
The long road to forgiveness / Kim Phuc
The practice of slowing down / Phil Powers
Living my prayer / Sister Helen Prejean
The chance to move forward / Maria Mayo Robbins
Utterly humbled by mystery / Father Richard Rohr
I always have a choice / Catherine Royce
I am not my body / Lisa Sandin
Resilience is a gift / Joel Schmidt
The designated celebrator / Melinda Shoaf
Baking by senses and memories / Emily Smith
Learning to trust my intuition / Cynthia Sommer
An optimistic view of the world / Dan Tani
Community in action / Studs Terkel
Music makes me come alive / Joan Tower
God is God because he remembers / Elie Wiesel
The guts to keep going / Amy Lyles Wilson
Freeing myself through forgiveness / Yolanda Young
A potential for brutality / Yinong Young-Xu
A duty to family, heritage, and country / Ying Ying Yu
We're all different in our own ways / Joshua Yuchasz
Afterword / Dan Gediman.
Published Reviews
Booklist Review:
"National Public Radio listeners have been moved to tears by the personal essays that constitute the series This I Believe. Created in 1951 with Edward Murrow as host, the sometimes funny, often profound, and always compelling series has been revived, according to host Jay Allison, because, once again, matters of belief divide our country and the world. Oral historian Studs Terkel kicks things off, and 80 personal credos follow. Essays from the original series are interleaved with contemporary essays (selected from more than 11,000 submissions) to create a resounding chorus. English professor Sara Adams avers that one should be cool to the pizza delivery dude. John McCain states, I believe in honor, faith, and service. Iranian-born writer Azar Nafisi writes, I believe in empathy. Jackie Robinson said, I believe in the goodness of a free society. Rick Moody believes in the absolute and unlimited liberty of reading. Appendixes offer guidelines and resources because the urge to write such declarations is contagious, and schools and libraries have been coordinating This I Believe programs, which we believe is a righteous endeavor. --Donna Seaman Copyright 2006 Booklist"
From Booklist, Copyright (c) American Library Association. Used with permission.
Publisher's Weekly Review:
"In the 1950s, the Edward R. Murrow-hosted radio program This I Believe prompted Americans to briefly explain their most cherished beliefs, be they religious or purely pragmatic. Since the program's 2005 renaissance as a weekly NPR segment, Allison (the host) and Gediman (the executive producer) have collected some of the best essays from This I Believe then and now. "Your personal credo" is what Allison calls it in the book's introduction, noting that today's program is distinguished from the 1950s version in soliciting submissions from ordinary Americans from all walks of life. These make up some of the book's most powerful and memorable moments, from the surgeon whose illiterate mother changed his early life with faith and a library card to the English professor whose poetry helped him process a traumatic childhood event. And in one of the book's most unusual essays, a Burmese immigrant confides that he believes in feeding monkeys on his birthday because a Buddhist monk once prophesied that if he followed this ritual, his family would prosper. There are luminaries here, too, including Gloria Steinem, Warren Christopher, Helen Keller, Isabel Allende, Eleanor Roosevelt, John Updike and (most surprisingly, considering the book's more liberal bent) Newt Gingrich. This feast of ruminations is a treat for any reader. (Oct.) (c) Copyright PWxyz, LLC. All rights reserved"
(c) Copyright PWxyz, LLC. All rights reserved
Additional Information