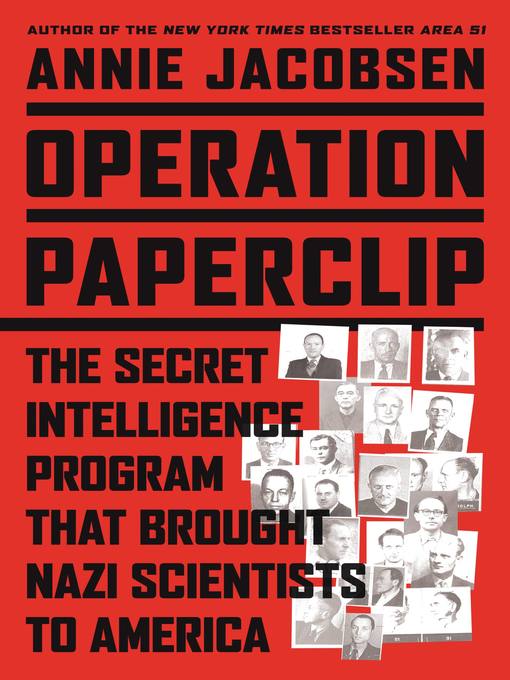 Operation Paperclip the secret intelligence program to bring Nazi scientists to America
Format:

Kindle Book

2014

2014

Adobe EPUB ebook

OverDrive Read

Availability:

Available from OverDrive

2 of 3 copies
1 person on waitlist
Summary
Details how the U.S. government embarked on a covert operation to recruit and employ Nazi scientists in the years following World War II in an effort to prevent their knowledge and expertise from falling into the hands of the Soviet Union

Contents
The war and the weapons
Destruction
The hunters and the hunted
Liberation
The captured and their interrogators
Harnessing the chariot of destruction
Hitler's doctors
Black, white and gray
Hitler's chemists
Hired or hanged
The ticking clock
Total war of apocalyptic proportions
Science at any price
Strange judgment
Chemical menace
Headless monster
Hall of mirrors
Downfall
Truth serum
In the dark shadows
Limelight
Legacy
What lasts?.
Published Reviews
Booklist Review:
"*Starred Review* By the end of 1945, the alliance of the Western powers with the Soviet Union had frayed, and the basic outlines of what would become the Cold War had taken shape. At the same time, military, scientific, and political leaders in the U.S. had become acutely aware of the value of German scientists responsible for great advances in rocketry and biological research under the Nazis. So, in August 1945, President Truman authorized the Joint Intelligence Objectives Agency (JIOA), a division of the Office of Strategic Services (OSS), to aggressively recruit German scientists to come to the U.S. and to work for various government-affiliated programs. Truman had stipulated that members of the Nazi Party were not to be included. As Jacobsen, an investigative journalist, illustrates, the JIOA adroitly sidestepped Truman's directive through an intense program of fraud and deception. Documents were forged or altered, wartime activities were covered up, and, in some cases, entirely new identities were created, all in the service of our national interest. Some of these men were only marginal Nazis, but some were fervent true believers directly responsible for war crimes. This is an engrossing and deeply disturbing expose that poses ultimate questions of means versus ends.--Freeman, Jay Copyright 2010 Booklist"
From Booklist, Copyright (c) American Library Association. Used with permission.
Publisher's Weekly Review:
"As comprehensive as it is critical, this latest expose from Jacobsen (Area 51) is perhaps her most important work to date. Though Americans are quick to remember the United States' heroic feats in WWII, they tend to be more amnesic (or allergic) toward some of our nation's shadier activities in the effort-one of which seems to have been forgotten altogether. For just as some Nazis awaited trial at Nuremburg, others-namely prominent, potentially useful scientists-were secretly smuggled into the country by the U.S. government to help prepare for an ostensibly impending "total war" with the Soviets. In fact, even an appearance at Nuremburg didn't rule out a trip to the States. Needless to say, what to do with potentially useful war criminals posed an unusual predicament. If such a claim sounds dubious, Jacobsen persuasively shows that it in fact happened and aptly frames the dilemma in terms of "Who would be hired, and who would be hanged?" Rife with hypocrisy, lies, and deceit, Jacobsen's story explores a conveniently overlooked bit of history the significance of which continues to resonate in the national security issues of today. (Feb.) (c) Copyright PWxyz, LLC. All rights reserved."
(c) Copyright PWxyz, LLC. All rights reserved
Additional Information