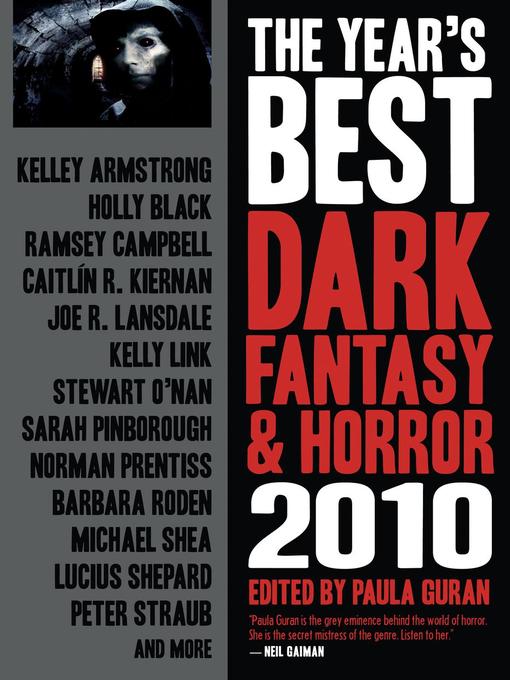 The year's best dark fantasy & horror.
Format:

Kindle Book

2010

2013

Adobe EPUB ebook

OverDrive Read

Availability:

Unavailable

0 of 1 copy
Summary
Collects short dark tales involving haunted houses, harpies, and alternate dimensions, by such famous genre authors as Peter Straub, Kelley Armstrong, and Holly Black.

Contents
Introduction / Paula Guran
Horrid glory of its wings / Elizabeth Bear
Lowland sea / Suzy McKee Charnas
Copping squid / Michael Shea
Monsters / Stewart O'Nan
Brink of eternity / Barbara Roden
Frost Mountain picnic massacre / Seth Fried
Sea-hearts / Margo Lanagan
Haunted house of her own / Kelley Armstrong
Headstone in my pocket / Paul Tremblay
Coldest girl in Coldtown / Holly Black
Strange scenes from an unfinished film / Gary McMahon
Delicate architecture / Catherynne M. Valente
Mystery / Peter Atkins
Variations of a theme from Seinfeld / Peter Straub
Wide, carnivorous sky / John Langan
Certain death for a known person / Steve Duffy
Ones who got away / Stephen Graham Jones
Leng / Marc Laidlaw
Torn away / Joe R. Lansdale
Nowhere man / Sarah Pinborough
Bone's prayer / Caitlín R. Kiernan
Water tower / John Mantooth
In the porches of my ears / Norman Prentiss
Cinderella game / Kelly Link
Jacaranda smile / Gemma Files
Other box / Gerard Houarner
White Charles / Sarah Monette
Everything dies, baby / Nadia Bulkin
Bruise for bruise / Robert Davies
Respects / Ramsey Campbell
Diamond shell / Deborah Biancotti
Nub hut / Kurt Dinan
Cabinet child / Steve Rasnic Tem
Cherrystone and shards of ice / Ekaterina Sedia
Crevasse / Dale Bailey and Nathan Balingrud
Vic / Maura McHugh
Halloween town / Lucius Shepard
Long, cold goodbye / Holly Phillips
What happens when you wake up in the night / Michael Marshall Smith.
Additional Information