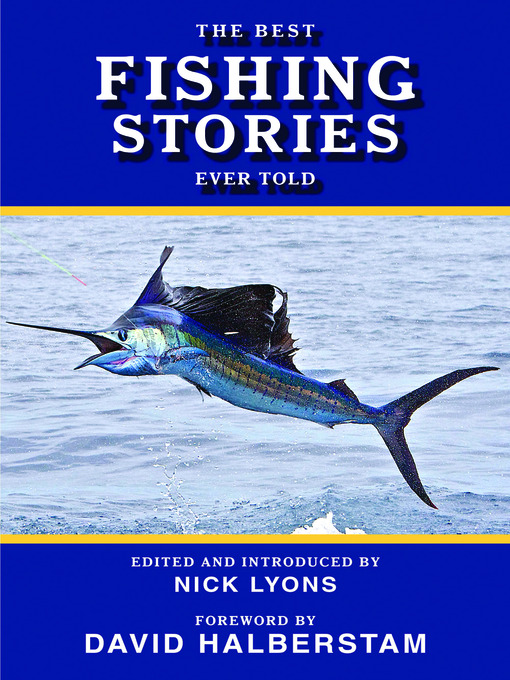 The best fishing stories ever told
Format:

Kindle Book

2010

2010

Adobe EPUB ebook

OverDrive Read

Availability:

Available from OverDrive

1 of 1 copy
Summary
Best Fishing Stories Ever Told celebrates the art of hunting fish at many angles. This ancient tradition is practiced all over the world. Tales of baiting, angling, and the watery outdoors are recounted by great writers such as Rudyard Kipling, Guy de Maupassant, and Lord Byron. In scenic rivers, lakes, and seas, praise the trout, snap up that salmon, angle, aim, and sing the fisherman's song! This superbly presented collection of fishing stories will set the reader sailing on the Loch or along the Thames and tracking down sharks or carp in many exciting waterways. You will find memories, essays, true stories, and fishing accounts more or less exaggerated or imagined. Their authors and their editor, Nick Lyons, all share a communicable passion for a great day out fishing?a passion only surpassed by the love of telling the tale with or without the catch to show! With work by more than one hundred of the world's most eminent authors and fishermen, including: ? John McPhee ? Howell Raines ? Ted Leeson ? Jimmy Carter ? Lefty Kreh ? Dave Barry ? Norman Maclean ? Rudyard Kipling

Contents
The primitive fish-hook / Barnet Phillips
Aelian the Macedonian invention, or the first mention of an artificial fly / William Radcliffe
The compleat angler (selections) / Izaak Walton and Charles Cotton
Trout : meeting them on the "June rise" / "Nessmuk"
Trouting along the Catasauqua / Frank Forester
Some memories of early days / Lord Grey of Falloden
Fishing with my daddy / Jimmy Carter
The river god / Roland Pertwee
"They're in the river" / John McPhee
The black bass as a game fish / James A. Henshall
Red, white, and bluegill / Ted Leeson
Sacred eels / James Prosek
The 'lunge / Stewart Edward White
Carp fishing / Frank Forester
Bow-fin fishing in the South Slang / Rowland E. Robinson
A big muskellunge / W. N. Hull
The shanty / Jerry Gibbs
Fishing in the Ohio / John James Audobon
The angler and the weakfish / Charles Bradford
Sharks on the shell bars / Vereen Bell
The saga of the yellowfin / Mark Sosin
Keeping busy when not on the casting deck / Lefty Kreh
The tarpon of Turner's river / A. W. Dimock
The island / Margot Page
Trailing the sea-bat / Charles F. Holder
Byme-by-tarpon / Zane Grey
Skelton's party (seletion) / Thomas McGuane
The lakes of Inhluzane / Tom Sutcliffe
2000 words of heartfelt advice / Verlyn Klinkenborg
First of April / William Senior
The evolution of a fly fisher / Joan Salvato Wulff
A bit of luck / Harry Plunket-Greene
Fishing with a worm / Bliss Perry
The value of observation / George M.L. LaBranche
Two old trout of the pools, and the little dry-fly that finally accomplished their ruin / Emlyn Gill
The finest trout in the world / Harry Plunket-Greene
Nothing fishy about trout / Dave Barry
In praise of trout and also me / Paul O'Neil
The Miramachi it ain't, so all right, it's 116th St. / John Bryan
Memories of Mahseer / P. R. Bairnsfather
The one that got away (selection) / Howell Raines
The man who lived two lives in one : Zane Grey / Robert H. Boyle
The angler / Washington Irving
What and who is an angler? / Thaddeus Norris
Note to Don Juan, Canto XIII / Lord Byron
A painter, an angler, and some others / William Scrope
Fishing / Reverend Thomas Bastard
Crazy for rivers (selection) / Bill Barich
A river runs through it (selection) / Norman Maclean
On Norman Maclean / John Maclean
A single step / George Reiger
The even-tempered angler (selection) / Louis Rubin
What's in a name? / Howard Frank Mosher
The solitary and friendly sport / R. Palmer Baker, Jr.
Midstream crisis / Lamar Underwood
Blue dun / Frank Mele
Storytelling on the Thames / Jerome K. Jerome
Ol' settler of deep hole / Irving Bacheller
The Lucy coffin / W. D. Wetherell
Crocker's hole / R. D. Blackmore
A fatal salmon / Frank Forester
A gallant poacher / John Buchan
Brannigan's trout / Nick Lyons
A fatal success / Henry van Dyke
On dry-cow fishing as a fine art / Rudyard Kipling
The hole / Guy De Maupassant
The lady or the salmon? / Andrew Lang
Fish are such liars! / Roland Pertwee
A wedding gift / John Taintor Foote
Mr. Theodore Castwell / G. E. M. Skues.
Additional Information