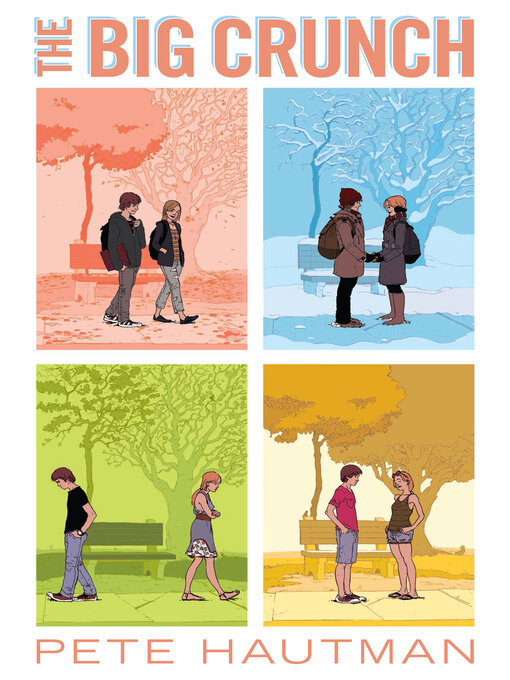 The Big Crunch
Format:

Kindle Book

2011

2011

Adobe EPUB ebook

OverDrive Read

Availability:

Available from OverDrive

1 of 1 copy
Summary
June is starting at her sixth school in four years when she meets Wes, who has just broken up with a girlfriend, and although they do not share an instant or intense connection, attraction turns to love and they wonder where it will lead

Published Reviews
Booklist Review:
"*Starred Review* When June starts her junior year of high school in Minneapolis, she isn't looking for love. Thanks to her management-consultant dad's constantly shifting positions, this is June's sixth new school in four years, and she's learned to guard against getting attached. Then she literally crashes into classmate Wes at a convenience store, and what begins with a black eye for June and a head bump for Wes turns into a true, deep romance that the teens try to sustain after June's dad moves the family once again. As in Lynne Rae Perkins' novels, this story's delight lies in the details. National Book Award-winning Hautman writes with wry humor and a comic's sense of juxtaposed phrases and timing. From guys' lunchroom conversations ( How come you didn't just go online for your porn, says Wes to a friend who excavates an old Penthouse from his neighbor's recycling bin) to June's father's corporate mantras of self-control and forward thinking, the dialogue is refreshingly honest, particularly in the bewilderingly urgent, awkward exchanges that fuel the attraction between June and Wes. Hautman skillfully subverts cliches in this subtle, authentic, heart-tugging exploration of first love, but his sharp-eyed view of high-school social dynamics and the loving friction between parents and teens on the edge of independence is just as memorable.--Engberg, Gillian Copyright 2010 Booklist"
From Booklist, Copyright (c) American Library Association. Used with permission.
Publisher's Weekly Review:
"Showing his range, Hautman (How to Steal a Car) writes a love story that's affecting despite, or perhaps because of, its ordinariness. Wes and June know each other, vaguely, from high school, but become better acquainted when he accidentally gives her a black eye. Both teens are prone to introspection. June is constantly on guard because her father's job requires the family to move often; Wes cleans out the garage when too much thinking leads to insomnia. When the two overcome obstacles to become a couple, they fall hard. Hautman's depiction of this is both sensitive and realistic-"I can't breathe when I look at you," Wes tells June-and the use of scientific imagery adds metaphorical heft to an otherwise run-of-the-mill romance (to everybody but Wes and June, of course). As she expected, June's father pulls up stakes again, and the lovers try to carry on with texting and telephone calls, leading to frustration and bad decisions. Readers who need nonstop action must look elsewhere, but those who make it to June's final declaration will arrive with a lump firmly lodged in their throats. Ages 13-up. (Jan.) (c) Copyright PWxyz, LLC. All rights reserved."
(c) Copyright PWxyz, LLC. All rights reserved
Additional Information