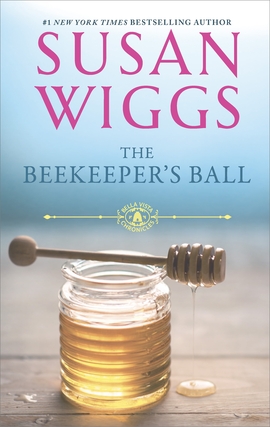 The beekeeper's ball Bella Vista Chronicles Book 2
Format:

Adobe EPUB ebook

2014

2014

OverDrive Read

Availability:

Available from OverDrive

16 of 19 copies
Summary
Isabel Johansen, a celebrated chef who grew up in the sleepy Sonoma town of Archangel, is transforming her childhood home into a destination cooking school--a unique place for other dreamers to come and learn the culinary arts. Bella Vista's rambling mission-style hacienda, with its working apple orchards, bountiful gardens and beehives, is the idyllic venue for Isabel's project...and the perfect place for her to forget the past. But Isabel's carefully ordered plans begin to go awry when swaggering, war-torn journalist Cormac O'Neill arrives to dig up old history. He's always been better at exposing the lives of others than showing his own closely guarded heart, but the pleasures of small-town life and the searing sensuality of Isabel's kitchen coax him into revealing a few truths of his own. The dreamy sweetness of summer is the perfect time of year for a grand family wedding and the enchanting Beekeeper's Ball, bringing emotions to a head in a story where the past and present collide to create an unexpected new future.

Published Reviews
Booklist Review:
"*Starred Review* The unconscionable incident with Calvin Sharp caused Isabel Johansen to leave culinary school and flee to her family's home, Bella Vista, nestled in the Sonoma wine country. Isabel continues to hone her culinary skills while turning Bella Vista into a destination for food lovers. She even adds a cooking school and is eagerly planning Bella Vista's first major event, her sister Tess' wedding. But Isabel's hard-earned happiness is shattered when Calvin, now a famous TV chef, chooses her town as the venue for his new restaurant. Things get even more hectic and complicated when former war correspondent Cormac O'Neill comes to town, ready to write her grandfather's biography, including his role in the Danish Resistance during WWII. As much as Isabel denies it, she's getting more and more attracted to Cormac, something that's definitely not on her to do list. Wiggs' carefully detailed plotlines, one contemporary and one historical, with their candid look at relationships and their long-term effects, are sure to captivate readers. The second of Wiggs' Bella Vista Chronicles, after The Apple Orchard (2013), features a nice bonus: a delightfully unique boy-meets-girl opening. Librarians will want to stay with this entire series.--Mosley, Shelley Copyright 2010 Booklist"
From Booklist, Copyright (c) American Library Association. Used with permission.
Publisher's Weekly Review:
"Wiggs's second in her Bella Vista Chronicles series (The Apple Orchard) juggles a modern love story with a heart-pounding chronicle of the Danish resistance in Nazi-occupied Copenhagen, creating a dazzling intergenerational tale of courage and hope. No-frills, 30-year-old Isabelle Johansen is busy organizing the opening of her cooking school, a new beekeeping business, and the wedding of her half-sister, Tess. She's doing all this from her grandparents' mission-style hacienda and farm in Sonoma, but gets thrown off balance by the handsome, globe-trotting journalist Cormac O'Neill. He's arrived to interview Isabelle's grandfather, Magnus, for a biography about his youth thwarting the Nazi occupation, protecting Jewish families, and his ultimate flight to America. The attraction between Isabelle and Cormac is immediate, but Isabelle's cautious heart won't open until she reconciles with the loss of parents she never knew - and confronts a violent lover who broke her trust and confidence. It will be Magnus's story of bravery, along with that of his late Jewish wife, Eva, and her best friend and resistance fighter Annelise-who bears a baby for the childless couple-that will help Isabelle finally face her own fears. Isabelle and Cormac's love story plays out sweetly. What makes this moving narrative so memorable is the fearlessness of families and friends who find strength in each other through the horrors of war and loss. The revelation of Isabelle's new family links with her dead mother and her father preview Wiggs's next installment. (July) © Copyright PWxyz, LLC. All rights reserved."
Additional Information