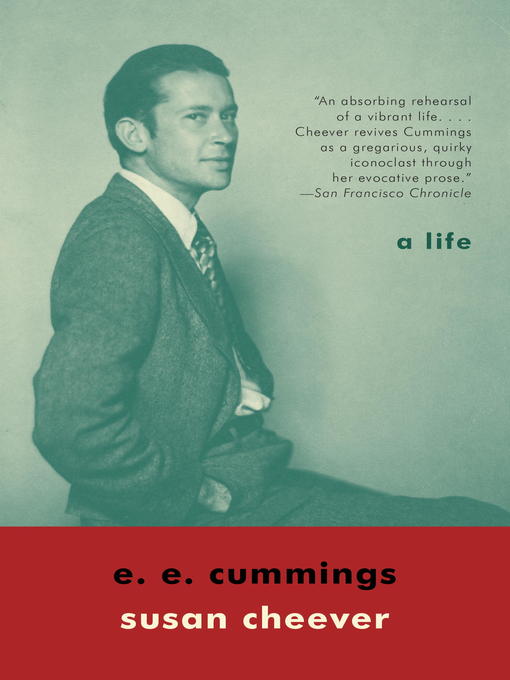 E.E. Cummings a life
Format:

Kindle Book

2014

2014

Adobe EPUB ebook

OverDrive Read

Availability:

Available from OverDrive

1 of 1 copy
Summary
A reassessment of the life and work of the preeminent twentieth-century poet examines the idiosyncratic expressions that led to critical disagreements about his achievements, and covers his Cambridge youth, Harvard education, and relationships with fellow writers.

Contents
Preface: A visit to the masters school
Odysseus returns to Cambridge
104 Irving Street
Harvard
The Western Front
The enormous room
Greenwich Village. Elaine and Nancy
Anne Barton and Joseph Stalin
Eimi and Marion Morehouse
No thanks
Ezra Pound and Santa Claus
Rebecca and Nancy
"I think I am falling in love with you"
Readings: a new career
Victory and defeat
Cummings' reputation in the twenty-first century
Afterword: Patchin place.
Published Reviews
Booklist Review:
"*Starred Review* Cheever, the author of discerning books about writers, alcoholism, and problematic sexuality, begins this dramatic portrait of modernist poet E. E. Cummings, of when the world is mud- / luscious fame, with her memories of Cummings performing one of his famed readings and of listening intently in the backseat as her father, fiction writer John Cheever, drove the poet, his good friend, back to Greenwich Village. This intimacy shapes her telling of the up-and-down story of this unlikely rebel--a handsome, flexible and slight, rigorously educated Harvard aristocrat who discovered a kind of poetic sweet spot of scintillating innovation and complex lyric power. Cheever analyzes Cummings' subterranean anger, anti-Semitism, excessive carousing, and flagrant antiauthoritarianism in France after enlisting during WWI, which landed him in a camp for undesirables. Cheever incisively dissects Cummings' two disastrous marriages and the shocking abduction of his adored only child, Nancy Thayer, who became an artist and poet unaware of who her father actually was. With Ezra Pound as friend and mentor, Cummings deftly created wild, expressive syntax and wielded his signature lower-case i as critical response ran hot and cold, and ardent fans left flowers on his doorstep. Cheever's reconsideration of Cummings and his work charms, rattles, and enlightens in emulation of Cummings' radically disarming, tender, sexy, plangent, and furious poems.--Seaman, Donna Copyright 2014 Booklist"
From Booklist, Copyright (c) American Library Association. Used with permission.
Publisher's Weekly Review:
""[T]oo popular for the academy and often too sassy to be taught in high school," Cummings today is frequently overlooked in the canon of great 20th-century American poets. Born in 1894, Cummings left blueblood New England for Greenwich Village, where his peers would include Hart Crane, Marianne Moore, Djuna Barnes, and others. Cummings's innovations in poetic form and syntax made him a true original, and his kinship to Ezra Pound placed him in league with a variety of modernists. However, his career moved in fits and starts, ultimately succeeding late in life with the 1938 publication of his Collected Poems, and as a touring reader and lecturer in the '50s and '60s. Though Cummings's poems enliven the narrative, Cheever (Home Before Dark) rarely provides any analysis to help unfamiliar readers. Instead, the book focuses on his romantic relationships and his eventual reunion with his estranged daughter. Cheever rends excellent dramatic scenes out of climactic personal moments, but elsewhere the narrative sags. The biography returns frequently to the poet's crotchety conservatism and troubling antisemitism, acknowledging how he "was suffused by rage and delight at the same time," but the explanations thereof are mostly boilerplate. Cheever draws upon biographies by Charles Norman and Richard Kennedy and to good effect, but her own stance, beyond giving a psychological reading, remains unclear. 28 pages of b&w images. Agent: Gail Hochman, Brandt & Hochman Literary Agency. (Feb.) (c) Copyright PWxyz, LLC. All rights reserved."
(c) Copyright PWxyz, LLC. All rights reserved
Additional Information