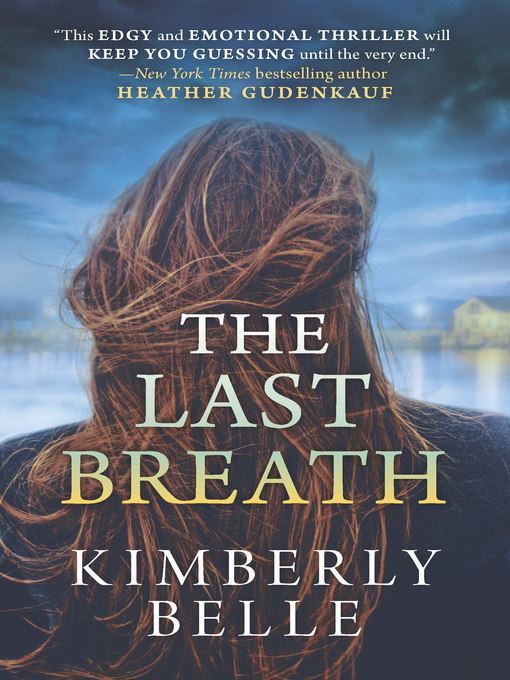 The last breath
Format:

Adobe EPUB ebook

2014

2014

OverDrive Read

Availability:

Unavailable

0 of 2 copies
2 people on waitlist
Summary
Humanitarian aid worker Gia Andrews chases disasters around the globe for a living. It's the perfect lifestyle to keep her far away from her own personal ground zero. Sixteen years ago, Gia's father was imprisoned for brutally killing her stepmother. Now he's come home to die of cancer, and she's responsible for his care--and coming to terms with his guilt.

Published Reviews
Booklist Review:
"Belle's engaging debut brings the reader into the emotionally tangled world of the Andrews family of Rogersville, Tennessee. Gia, a humanitarian aid worker, is returning there after 16 years of traveling from one global hotspot to another. She's coming back to help care for her father, now dying of cancer, who's just been released from prison after serving 16 years for the murder of his wife Ella Mae Gia's stepmother. After Gia's father's incarceration, her older sister Lexi and brother Bo both stayed in Rogersville where Lexi is still called the murderer's daughter, and the family tragedy has become local folklore. As Gia finally begins to cope with the family's tragic past, she gradually becomes privy to details of the murder that never surfaced at their father's trial leading her to wonder if he actually was the murderer. On shaky emotional ground, Gia is aided in her quest for the truth by the single and very attractive local bartender, who has his own unique link to the Andrews family and provides the sexy ingredient to Belle's sometimes overwrought family saga.--Donovan, Deborah Copyright 2014 Booklist"
From Booklist, Copyright (c) American Library Association. Used with permission.
Publisher's Weekly Review:
"Belle's multi-layered page-turner explores justice, forgiveness, and guilt through the eyes of a convicted murderer's daughter. Sixteen years ago, Ray Andrews was sentenced to life in prison for the brutal murder of his wife, Ella Mae. Near the end of a battle with terminal cancer, Ray is granted compassionate leave to live out his last days under house arrest, sending the entire town of Rogersville, Tenn., into an uproar. Ray's youngest daughter, Gia, who has never been fully convinced of his guilt, has left her globe-trotting job as a disaster relief specialist and returned to care for him. Coming back to small-town Appalachia to care for a dying parent would be hard enough without protestors on the front lawn and a chilly reception from an older brother and sister who want nothing to do with the whole situation. As she starts to dig into her family's past, Gia uncovers a wealth of new facts about the night of Ella Mae's murder that further complicates her feelings on the incident. With a keen sense of setting and a cast of well-drawn characters, Belle delivers a fresh premise with a few novel twists. Flashbacks to Ella Mae's last days add an additional level of complexity. Unfortunately, some twists are more believable and organic than others, and the final scenes take a slightly hackneyed action-movie turn that feels at odds with the rest of the story. Nevertheless, Belle's debut is thoroughly satisfying. (Oct.) © Copyright PWxyz, LLC. All rights reserved."
Additional Information