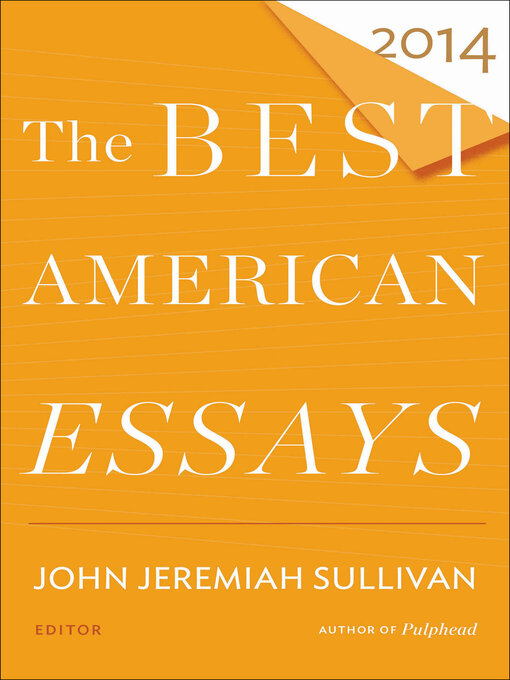 The best American essays 2014
Format:

Kindle Book

2014

2014

Adobe EPUB ebook

OverDrive Read

Availability:

Available from OverDrive

1 of 1 copy
Summary
"A creature from an alternative universe . . . wanting to understand what is on the American mind should rush to the nearest bookstore and buy a copy of this distinguished anthology . . . Exhilarating. "-- Publishers WeeklyNew York Times Book Review."

Contents
A matter of life and death / Timothy Aubry
Strange beads / Wendy Brenner
The final day in Rome / John H. Culver
Letter from Williamsburg / Kristin Dombek
The man at the river / Dave Eggers
At sixty-five / Emily Fox Gordon
On enmity / Mary Gordon
Letter from Greenwich Village / Vivian Gornick
Slickheads / Lawrence Jackson
The devil's bait / Leslie Jamison
Thanksgiving in Mongolia / Ariel Levy
Dear friend, from my life I write to you in your life / Yiyun Li
Sliver of sky / Barry Lopez
Someone else / Chris Offutt
Joy / Zadie Smith
Little X / Elizabeth Tallent
The old man at Burning Man / Wells Tower
How to make a slave / Jerald Walker
On being introduced / Paul West
Becoming them / James Wood
Legend : Willem de Kooning / Baron Wormser.
Published Reviews
Publisher's Weekly Review:
"This illustrious annual anthology returns for its 29th year with a vengeance, featuring 21 of the year's most urgent and at times painfully truthful pieces of nonfiction published in U.S. periodicals. The introduction from editor Sullivan (Pulphead) traces the tangled etymological history of the term "essay," asking "How could we honestly trust any creature that comes into the world wearing such a caul of ambiguity?" Series editor Atwan's preface also touches on this theme, referencing the recent spate of dishonest memoirs but deeming the offerings here "simultaneously intense, intellectual and inventive." This multifaceted approach to narrative can be seen in Wendy Brenner's "Strange Beads," wherein she takes on the unfathomable burden of mourning her ex-fiancé's recent death while also facing her own ongoing struggle with cancer. It also appears in Barry Lopez's "Sliver of Sky," in which Lopez bravely revisits his horrific experience of sexual abuse during his 1950s childhood. Other impactful selections include Wells Tower's "The Old Man at Burning Man," Jerald Walker's "How to Make a Slave," and James Wood's "Becoming Them." This eclectic, powerful array of thought-provoking essays is sure to appeal to a broad array of readers. Agent: Gerald McCauley, Gerard McCauley Agency, and Jin Auh, Wylie Agency. (Oct.) © Copyright PWxyz, LLC. All rights reserved."
Additional Information