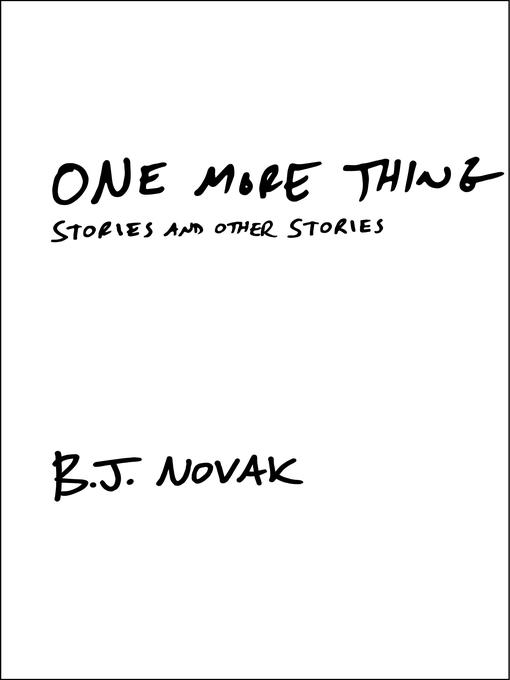 One more thing stories and other stories
Format:

Kindle Book

2014

2014

Adobe EPUB ebook

OverDrive Read

Availability:

Available from OverDrive

3 of 6 copies
1 person on waitlist
Summary
"B.J. Novak's One More Thing: Stories and Other Stories is an endlessly entertaining, surprisingly sensitive, and startlingly original debut that signals the arrival of a brilliant new voice in American fiction. A boy wins a $100,000 prize in a box of Frosted Flakes--only to discover how claiming the winnings might unravel his family. A woman sets out to seduce motivational speaker Tony Robbins--turning for help to the famed motivator himself. A new arrival in Heaven, overwhelmed with options, procrastinates over a long-ago promise to visit his grandmother. We also meet Sophia, the first artificially intelligent being capable of love, who falls for a man who might not be ready for it himself; a vengeance-minded hare, obsessed with scoring a rematch against the tortoise who ruined his life; and post-college friends who try to figure out how to host an intervention in the era of Facebook. Along the way, we learn why wearing a red T-shirt every day is the key to finding love, how February got its name, and why the stock market is sometimes just. down. Finding inspiration in questions from the nature of perfection to the icing on carrot cake, One More Thing has at its heart the most human of phenomena: love, fear, hope, ambition, and the inner stirring for the one elusive element that might just make a person complete. Across a dazzling range of subjects, themes, tones, and narrative voices, the many pieces in this collection are like nothing else, but they have one thing in common: they share the playful humor, deep heart, sharp eye, inquisitive mind, and altogether electrifying spirit of a writer with a fierce devotion to the entertainment of the reader"--

Contents
The rematch
Dark matter
No one goes to heaven to see Dan Fogelberg
Romance, chapter one
Julie and the warlord
The something by John Grisham
The girl who gave great advice
All you have to do
'Rithmetic
The ambulance driver
Walking on eggshells (or: when I loved Tony Robbins)
The impatient billionaire and the mirror for Earth
Missed connection: grocery spill at 21st and 6th 2:30 pm on Wednesday
I never want to walk on the moon
Sophia
The Comedy Central roast of Nelson Mandela
They kept driving faster and outran the rain
The man who invented the calendar
The ghost of Mark Twain
The beautiful girl in the bookstore
MONSTER: the roller coaster
Kellogg's (or: the last wholesome fantasy of the middle-school boy)
The man who posted pictures of everything he ate
Closure
Kindness among cakes
Quantum nonlocality and the death of Elvis Presley
If I had a nickel
A good problem to have
Johnny Depp, fate, and the double-decker Hollywood tour bus
Being young was her thing
Angel Echeverria, comediante superpopular
The market was down
The vague restaurant critic
One of these days, we have to do something about Willie
Wikipedia Brown and the case of the missing bicycle
Regret is just perfectionism plus time
Chris Hansen at the Justin Bieber concert
Great writers steal
Confucius at home
War
If you love something
Just an idea
Heyyyyy, rabbits
The best thing in the world awards
Bingo
Marie's stupid boyfriend
Pick a lane
"Everyone was singing the same song": the Duke of Earl recalls his trip to America in June of 1962
The pleasure of being right
Strange news
Never fall in love
The world's biggest rip-off
The walk to school on the day after Labor Day
Kate Moss
Welcome to Camp Fantastic for gifted teens
There is a fine line between why and why not
The man who told us about inflatable women
A new Hitler
Constructive criticism
The bravest thing I ever did
Rome
The literalist's love poem
J. C. Audetat, translator of Don Quixote
Discussion questions.
Published Reviews
Booklist Review:
"*Starred Review* Novak's high-concept, hilarious, and disarmingly commiserative fiction debut stems from his stand-up performances and his Emmy Award-winning work on the comedy series, The Office, as writer, actor, director, and executive producer. Accordingly, his more concise stories come across as brainy comedy bits, while his sustained tales covertly encompass deep emotional and psychological dimensions. An adept zeitgeist miner, Novak excels at topsy-turvy improvisations on a dizzying array of subjects, from Aesop's fables to tabloid Elvis to our oracular enthrallment to the stock market. A master of cringe, Novak imagines a blind date with a warlord, a Comedy Central TV roast of Nelson Mandela, and a mortifying misunderstanding between mega-best-selling novelist John Grisham and his new editor. Writing with zing and humor in the spirit of Woody Allen and Steve Martin, Novak also ventures into the realm of George Saunders and David Foster Wallace. A boy wins a breakfast-cereal contest and discovers a shocking family secret. A sex robot falls in love. A man reveals the heartbreak behind the universally dreaded math problem about the two trains leaving the stations at different times. Baseline clever and fresh, at best spectacularly perceptive, and always commanding, Novak's ingeniously ambushing stories of longing, fear, pretension, and confusion reveal the quintessential absurdities and transcendent beauty of our catch-as-catch-can lives. HIGH-DEMAND BACKSTORY: Novak's television fame is an instant lure, one that will be pitched far and wide as Novak appears on major talk shows and travels to 20 cities in concert with an immense print and online ad campaign.--Seaman, Donna Copyright 2010 Booklist"
From Booklist, Copyright (c) American Library Association. Used with permission.
Publisher's Weekly Review:
"Novak's quirky, humorous short stories translate well to audio. And the author's dry, deadpan reading-as if all the book's odd happenings are perfectly normal-makes this audio edition even funnier. The guest narrators perform admirably, with Schwartzman turning in a truly hilarious cameo as a bloodthirsty African warlord on a blind date with a giggly American woman. As the warlord makes small talk with his date, Schwartzman's jovial, booming voice shifts seamlessly from describing his job of murder, rape, and destruction to a Seinfeldian rant about flourless chocolate cake. Fans of offbeat humor with unexpected punch lines in the vein of Jack Handey's "Deep Thoughts" will enjoy this amusing and often insightful potpourri. A Knopf hardcover. (Feb.) (c) Copyright PWxyz, LLC. All rights reserved."
(c) Copyright PWxyz, LLC. All rights reserved
Additional Information