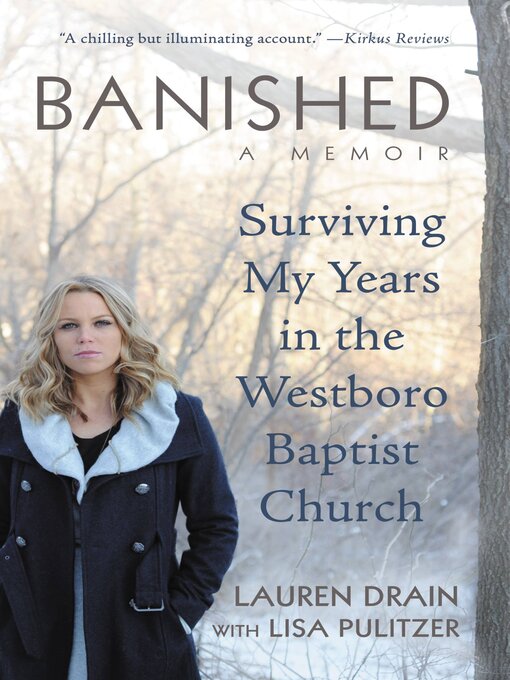 Banished surviving my years in the Westboro Baptist Church
Format:

Kindle Book

2013

2013

Adobe EPUB ebook

OverDrive Read

Availability:

Available from OverDrive

2 of 3 copies
Summary
Lauren Drain's childhood seemed average American, but when her liberal-minded father set out to film a documentary about the audacious and cultish hate group, the Westboro Baptist Church, he found himself seduced. At 14, Lauren was moved with her family to Kansas to live in the Westboro compound. There, Lauren found a new community offering both a warm welcome and a complex set of rules and regulations, including curbs on her teenage freedom and punishments meted out unjustly. The WBC's modus operandi is its aggressive and vitriolic campaigns against anyone and everyone it deems immoral or sinful--the U.S.military, the Catholic Church, homosexuals, and more. Overthe next seven years, Lauren would try to assimilate their extreme beliefs. She traveled the country as an active and vocal picketer, spouting the church's message of hate at public events, with shockingly offensive signs promoting their agenda. But as she matured and began to question and bristle against some of the church's tenets, she was unceremoniously cast out, and permanently cut off from her family.

Published Reviews
Publisher's Weekly Review:
"A move with her family to Topeka, Kans., in 2001 precipitated years of immersion in a virulently antigay, hate-fueled church, which Drain, now in her late 20s, depicts in this somewhat incongruously matter-of-fact, emotionally one-note memoir. The Drain family moved from Florida at the instigation of her father, a documentary filmmaker whose critical work about the notorious gay rights-picketing Westboro Baptist Church evolved into a highly admiring portrait of this small Calvinistic sect that believed in the imminent end of the world, the frightening wrath of God before the innate sin of mankind, with a slim few chosen for "election." A small, insular sect started in 1955 by the loud curbside preacher Fred Phelps, the WBC was mostly run by his dozen children and grandchildren, who all lived in a compound around the Topeka church, maintained tight control over communal behavior, and regularly picketed events such as gay pride and AIDS marches with incendiary language and signs designed to provoke outrage (e.g., "God hates fags"). Obedience and conformity were pillars of the church, and increasingly hard to swallow for the then-teenage author whose few forays into adolescent flirting got her branded a "whore." Her narrative of these horrifying pickets are detailed ("we became almost possessed") and particularly chilling in her recitation of being absolutely cast out by her own family without any compunction. Agent, Lisa Grubka, Fletcher & Co. (Mar.) (c) Copyright PWxyz, LLC. All rights reserved."
(c) Copyright PWxyz, LLC. All rights reserved
Additional Information