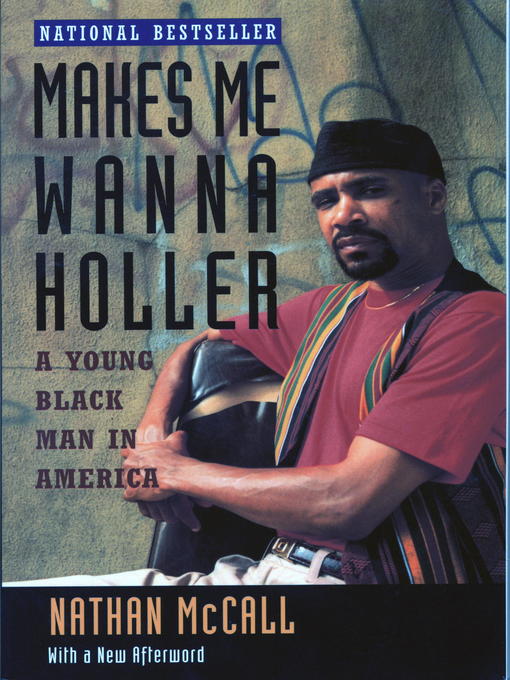 Makes me wanna holler a young Black man in America
Format:

Kindle Book

2011

2011

Adobe EPUB ebook

OverDrive Read

Availability:

Available from OverDrive

1 of 1 copy
1 person on waitlist
Summary
Examining the complexities of the problems of Black youths from an insider's perspective, an African-American journalist recalls his troubled childhood, his rehabilitation while in prison, and his successful career.

Contents
Pt. one
Chpt. 1: Get-back
Chpt. 2: Cavalier Manor
Chpt. 3: Nigger
Chpt. 4: W. E. Waters
Chpt. 5: Hanging
Chpt. 6: Trains
Chpt. 7: Respect
Chpt. 8: Power
Chpt. 9: War
Chpt. 10: Work
Chpt. 11: B & Es
Chpt. 12: Superfly
Chpt. 13: Mr. Manor
Chpt. 14: Falling
Chpt. 15: trapped
Chpt. 16: Busted
Pt. two
Chpt. 17: Denial
Chpt. 18: Native son
Chpt. 19: Homecoming
Chpt. 20: Homecoming
Chpt. 21: Sex
Chpt. 22: Jim
Chpt. 23: Freedom
Chpt. 24: Home
Chpt. 25: Norfolk State
Chpt. 26: Islam
Chpt. 27: The Auction block
Chpt. 28: Culture shock
Chpt. 29: Clashes
Chpt. 30: Fathers
Chpt. 31: Dating
Chpt. 32: The Black Mecca
Chpt. 33: Blending
Chpt. 34: A Measure of peace
Chpt. 35: Babylon
Chpt. 36: Running
Chpt. 37: Danny
Chpt. 38: Yankees
Chpt. 39: The Past
Chpt. 40: The Brothers
Chpt. 41: Hell
Chpt. 42: The Big time
Chpt. 43: Cycles
Chpt. 44: Choices
Acknowledgments.
Published Reviews
Booklist Review:
"One of the more harrowing passages of McCall's autobiography describes the practice of lulling teenaged girls into "trains," or gang bangs. But almost everything is harrowing in this story of a black man succeeding in a white world--rivalries among gangs, drug use, violent crime; even the efforts of a strong mother and stern stepfather, and the fact that McCall was a good student, were not enough to keep him out of prison. There he became a Christian, then a Muslim, all the while reading voraciously. He learned the printing trade and began to write. At last he returned to college, graduated, and made a steady, if tortuous, ascent to the Washington Post. The latter portions of his book detail his attempts to come to terms with his destructive youth, whether it's through raising his son or looking up the victim of a train. He also comments on the ongoing newsroom wars between white men and white women--still another process, he feels, by which black journalists are excluded from real power. Despite McCall's success--and some celebrations of that success, as in his coverage of and travels with Andrew Young--this is no triumphant memoir. It's frustrated, angry, and worried, as if the story were far from complete. A good companion would be Jill Nelson's account of working at the Post, Volunteer Slavery [BKL My 1 93]. ~--John Mort"
From Booklist, Copyright (c) American Library Association. Used with permission.
Publisher's Weekly Review:
"McCall's autobiography'a seven-week PW bestseller'tracks his trajectory from the streets of Portsmouth, Va., to prison, rehabilitation and a job at the Washington Post; features a new introduction by the author. (Feb.) (c) Copyright PWxyz, LLC. All rights reserved"
(c) Copyright PWxyz, LLC. All rights reserved
Additional Information