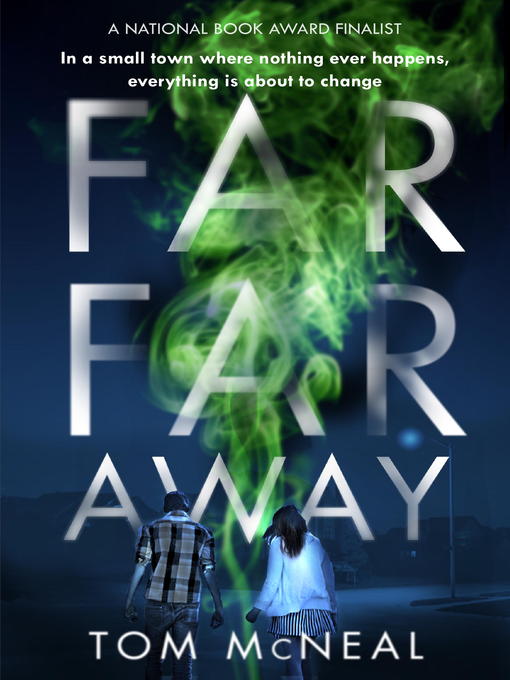 Far far away
Format:

Kindle Book

2013

2013

Adobe EPUB ebook

OverDrive Read

Availability:

Available from OverDrive

3 of 3 copies
Summary
"When Jeremy Johnson Johnson's strange ability to speak to the ghost of Jacob Grimm draws the interest of his classmate, Ginger Boltinghouse, the two find themselves at the center of a series of disappearances in their hometown"--

Published Reviews
Booklist Review:
"*Starred Review* So it begins: What follows is the strange and fateful tale of a boy, a girl, and a ghost. Ghostly Jacob Grimm, of the famous Brothers, narrates this tale of Jeremy and Ginger and their near-tragic encounter with town baker Sten Blix, whose long-held grudges figure in the disappearance of several village children. Unappreciated as a youngster, Blix has elevated revenge to a sweet art, and he holds Jeremy, Ginger, and an additional victim, Frank Bailey, in a hidden dungeon under the bakery, while Jacob desperately tries to tell parents and friends of the predicament. If he fails, the three may become grist in the baker's next batch of Prince Cakes. Reminiscent of Hansel and Gretel and rife with allusions to the Brothers Grimm tales, this is a masterful story of outcasts, the power of faith, and the triumph of good over evil. McNeal's deft touch extends to the characterizations, where the ritual speech of traditional tales (Listen, if you will) establishes Jacob's phantasmagoric presence amid the modernist American West. There are moments of horror (as there were in the Brothers Grimm original tales), but they are accomplished through the power of suggestion. Details aplenty about Jacob and his famous sibling make this a fiction connector to both fairy tales and Grimm biographies, too.--Welch, Cindy Copyright 2010 Booklist"
From Booklist, Copyright (c) American Library Association. Used with permission.
Publisher's Weekly Review:
"The ghost of Jacob Grimm-one of the famous fairy-tale collecting brothers-communicates with a lonely boy who is a clairaudient (someone who hears spirits) in this rich and often bone-chilling story. Trapped in "the space between" Earth and the afterlife, Jacob constantly accompanies Jeremy, offering him comfort, affection, and cerebral commentary about Jeremy's life that only the boy can hear. Jacob believes that by protecting Jeremy he can finally move on after 200 years and reunite with his deceased brother. But when Jacob fails to see the source of the danger threatening Jeremy, he must harness all of his ethereal resources to save the boy he loves and ensure a chance at a happy ending. In addition to recounting pieces from the Grimms' stories, McNeal-in his first solo novel for teens-weaves in fantastical fairy-tale details into this inventive and deeply poignant narrative, creating a world that hovers between realism and enchantment. Jacob's tale is menacing, at times terrifying, and often strange-much like the stories collected by the Brothers Grimm. Ages 12-up. Agent: George Nicholson, Sterling Lord Literistic. (June) © Copyright PWxyz, LLC. All rights reserved."
Additional Information