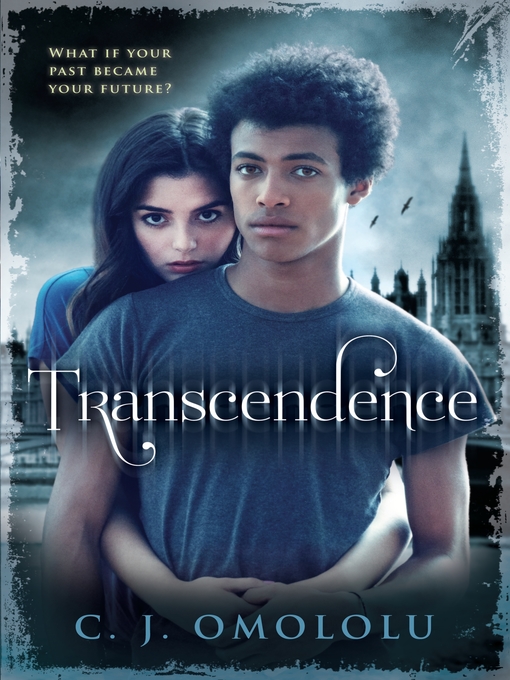 Transcendence
Format:

Kindle Book

2012

2012

Adobe EPUB ebook

OverDrive Read

Availability:

Available from OverDrive

1 of 1 copy
Summary
After handsome Griffon Hall tells sixteen-year-old Cole Ryan that her strange visions are of past lives, he introduces her to the Akhet, a group of people with the same ability, one of whom seeks to love and protect her and another, vengeance.

Published Reviews
Booklist Review:
"Teen cello prodigy Cole Ryan starts experiencing strange visions of the past when she visits England. One is so strong that she passes out during a trip to the Tower of London, where she is assisted by a handsome and mysterious boy named Griffon Hall. Soon, Cole's visions start to appear more frequently and with greater urgency, even after she returns to her hometown of San Francisco. There she again runs into Griffon, who slowly explains the coincidence of their reunion and hints at why her visions can help keep her safe from those who might use Cole's budding talents for nefarious purposes. The action-packed last third makes up for the slow pacing during the first part of this supernatural mystery. Fans of Libba Bray's Gemma Doyle trilogy and the film Dead Again will enjoy discovering Cole and Griffon's secrets.--Mack, Candice Copyright 2010 Booklist"
From Booklist, Copyright (c) American Library Association. Used with permission.
Publisher's Weekly Review:
"In a departure from Omololu's debut novel about hoarding, Dirty Little Secret, her sophomore outing is a romantic if initially slow-moving story about reincarnation. Sixteen-year-old Nicole "Cole" Ryan has inexplicable visions. For six chapters, the book is a slice-of-life, first-person narrative about a contemporary cello-playing prodigy from San Francisco-except for Cole's recurring memories of various time periods in the past (rendered in italic passages), which can be triggered by anything from a location, like the Tower of London, to physical contact or a smell. Cole herself isn't the most engaging of heroines, though she is realistic in her prickliness and indecision. She withholds herself from family, friends, and even her new crush, Griffon. However, once Griffon reveals that he knows the secret of Cole's visions, the plot takes off. Cole and Griffin are Akhet, people who remember past lives, and while most Akhet are out to save the world, a group of rogues are out for revenge. As the romance and mystery finally unfold, this becomes an intriguing read. Ages 12-up. Agent: Erin Murphy, Erin Murphy Literary Agency. (June) (c) Copyright PWxyz, LLC. All rights reserved."
(c) Copyright PWxyz, LLC. All rights reserved
Additional Information