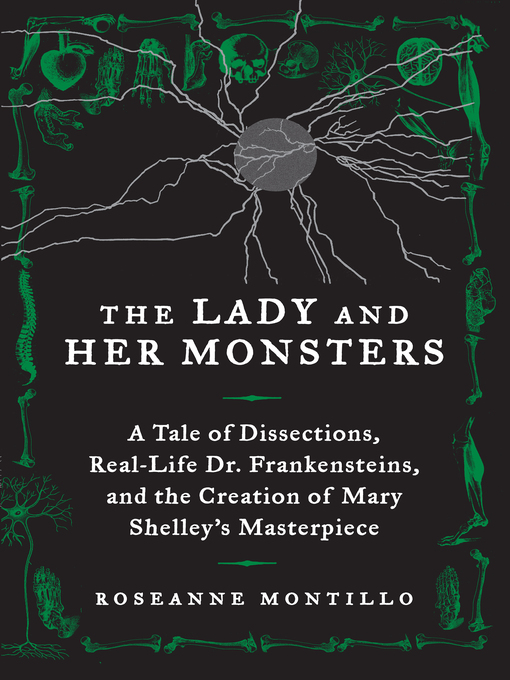 The lady and her monsters a tale of dissections, attempts to reanimate dead tissue, and the writing of Mary Shelley's Frankenstein
Format:

Kindle Book

2013

2013

Adobe EPUB ebook

OverDrive Read

Availability:

Available from OverDrive

1 of 1 copy
Summary
Motillo brings to life the fascinating times, startling science, and real-life horrors behind Mary Shelley's gothic masterpiece, Frankenstein.

Published Reviews
Booklist Review:
"*Starred Review* Scores of books and movies have retold the infamous tale of the ghost-story contest that gave rise to Mary Shelley's Frankenstein, but Montillo digs deeper (so to speak) in this dual history of literature and science. Half the book is simply one of the most readable biographical portraits you'll find of Mary Shelley the standoffish, spiteful, but brilliant daughter of a famous feminist mother and philosopher father, and whose torrid love affair with the wild poet Percy Shelley (aka Mad Shelley ) kicked off with premarital midnight sex in a cemetery and only got weirder from there. Alternating with Mary's narrative is the hellacious history of the rock-star anatomists of the 1700s, who enthralled Percy, and, by extension, Mary, with their grotesque forays into galvanism, the manipulation of dead muscle via electrical current. Both plots come lumbering at each other like, well, monsters until that fateful summer in Geneva when Mary stitched her various influences together into a single literary beast. Montillo is an academic but unafraid of salaciousness, injecting into her tale an invigorating solution of sex, gore, and gossip as we reach both the end of Mary's woeful life and the end of the anatomists' grave-robbing free-for-all as it ceded to the Anatomy Act. Sick, smart, shocking, and spellbinding.--Kraus, Daniel Copyright 2010 Booklist"
From Booklist, Copyright (c) American Library Association. Used with permission.
Publisher's Weekly Review:
"Montillo's debut, a macabre romp through 18th and 19th century Europe, illuminates the circumstances and inspiration behind one of gothic literature's most notorious tales. Walking a fine line between historical fact and logical conjecture, the book deftly weaves details of Mary Shelley's early life into the cultural and scientific map of the time in which she was writing. Grim body snatchers, cadaver-carving surgeons, and nefarious alchemists litter the pages. In her retelling of the genesis story of Frankenstein, Montillo offers a constellation of personalities that surrounded Shelley during her hasty writing of the tale. Heavily referencing letters and personal journals, Montillo analyzes Shelley's literary cohorts, providing insight into the motives of her famous literary companions, the haunted Percy Shelley and womanizing Lord Byron. The picture painted provides much room for speculation, stripping long-embellished versions of the story down to the verifiable facts. Who really gave Shelley the technical know-how to write what she did? What were the true origins of her long-standing depression? Fraught with suicides, superstitions, natural disasters, and love affairs, the life of Mary Shelley shares much emotionally with the harrowing tale of her great protagonist, Victor Frankenstein. A delicious and enticing journey into the origins of a masterpiece. Illus. Agent: Rob Weisbach, Rob Weisbach Creative Management. (Feb.) (c) Copyright PWxyz, LLC. All rights reserved."
(c) Copyright PWxyz, LLC. All rights reserved
Additional Information