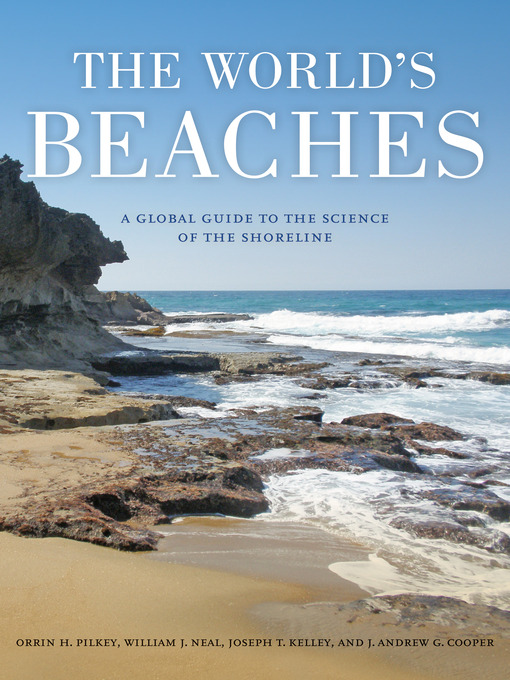 The World's Beaches A Global Guide to the Science of the Shoreline
Format:

Kindle Book

2011

2011

Adobe EPUB ebook

OverDrive Read

Availability:

Available from OverDrive

1 of 1 copy
Summary
"Take this book to the beach; it will open up a whole new world. Illustrated throughout with color photographs, maps, and graphics, it explores one of the planet's most dynamic environments-from tourist beaches to Arctic beaches strewn with ice chunks to steaming hot tropical shores. The World's Beaches tells how beaches work, explains why they vary so much, and shows how dramatic changes can occur on them in a matter of hours. It discusses tides, waves, and wind; the patterns of dunes, washover fans, and wrack lines; and the shape of berms, bars, shell lags, cusps, ripples, and blisters. What is the world's longest beach? Why do some beaches sing when you walk on them? Why do some have dark rings on their surface and tiny holes scattered far and wide? This fascinating, comprehensive guide also considers the future of beaches, and explains how extensively people have affected them-from coastal engineering to pollution, oil spills, and rising sea levels."--

Contents
Machine generated contents note: pt. I THE GLOBAL CHARACTER OF BEACHES
1. A World of Beaches
Crossroads of History
Avenues of Commerce
Nature's Most Dynamic Environment
Varied Materials
Obstacle Courses
To Be or Not to Be
Comber's Delight or Nature's Trash Collector?
Sidebar: Beach Stuff
A Natural Laboratory
2. Beaches of the World
What Is a Beach?
Recipe for Making a Beach
Classification of Coasts and Beaches
Classifications and a Global Model
Beach Sediments and the Plate Tectonic Setting
Beaches as Landforms
Climate and Types of Coasts
Sidebar: The World's Longest Beach
We Stand on Their Shoulders
Sidebar: Societal Classification of Beaches
3. Of What Are Beaches Made? Sediments
Beach Sediments
Terrigenous Sediments
Heavy Minerals
Carbonate Sediments
Other Beach Materials
Sidebar: Terrigenous Beach Minerals
Sidebar: Beach Mining
Sidebar: Beach Rock
4. How Beaches Work: Waves, Currents, Tides, and Wind
The Most Dynamic Place on Earth
Waves
Currents (Longshore, Onshore, Offshore)
Tides
Other Water-Level Changes
Wind
Sidebar: Sea-Level Rise
The Global Picture
5. The Form of the Beach: Crab's-Eye and Bird's-Eye Views
Beach Profiles: The Crab's-Eye View
Beach Plans: The Bird's-Eye View
pt. II HOW TO READ A BEACH
6. The Beach Surface Up Close: Imprints of Tides, Currents, and Waves
Nearshore, Beach, and Tidal-Flat Features
Swash and Backwash Features
Sidebar: Foam
Other Surface Features
7. Escape from Within: Air and Water in the Beach
Knee-Deep in Sand: Airy Beaches
Air Escape Structures
Watery Beaches and Water Escape Structures
8. Whichever Way the Wind Blows: Reworking the Beach Surface
Wind on Wet Sand and Mud
Wet-to-Dry Transition Structures
Wind on Dry Sediment
Dunes and Dune Structures
Sidebar: Sounds of the Sand
Dune Plants: Surviving in a Desert
Sidebar: Fulgurites
9. Beach Creatures: Tracks, Trails, and Traces
Beach Animals from Micro to Macro
Macrofaunal Clues
Evidence of the Habitat Role of Animals
10. Carbonate Beaches: Seashells and the Stories They Tell
Carbonate Shells, Skeletons, and Secretions
Other Carbonate-Producing Organisms
Other Carbonate Sediments
Noncalcareous Plant and Animal Remains
Shell Abundance
Where Do Seashells Come From?
The Significance of Broken Seashells
Shell Rounding
Orientation of Shells on the Beach
Secondary Shell Color
Shell Collecting: An Environmental Afterthought
11. Digging the Beach: Into the Third Dimension
Bedding
Black Sands and Cross Bedding
Burrows and Bioturbation
Sidebar: Evidence of a Retreating Beach
pt. III THE GLOBAL THREAT TO BEACHES
12. Beaches at Risk: Sea-Level Rise and the Human Response
Coastal Engineering
Other Damaging Activities
Water Pollution
Oil Spills
Sidebar: A Toxic Green Wave on the Beach
The Environmental Truths About Beaches
13. The Urbanized Beach: From Middens to the Maelstrom of Development.
Additional Information
Subjects
Nature
Nonfiction
Electronic books.

Publisher

Berkeley :University of California Press2011




2011



Contributors
Cooper, J. A. G., author.
Neal, William J., author.
OverDrive, Inc.

Language

English



System Details

Mode of access: World Wide Web.




Format: OverDrive READ




Format: Kindle Book




Format: Adobe PDF eBook




Format: Adobe EPUB eBook




Requires Amazon Kindle or Adobe Digital Editions or Adobe Digital Editions



Description

1 online resource



ISBN
9780520948945
9780520948945

Other
Classic View