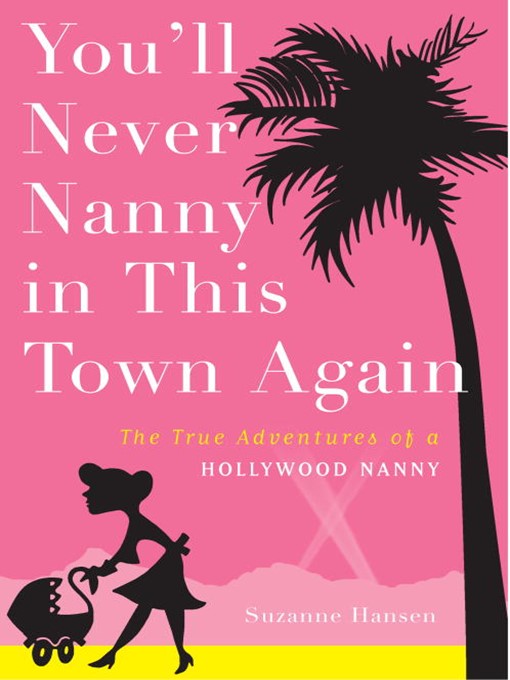 You'll never nanny in this town again the true adventures of a Hollywood nanny
Format:

Kindle Book

2005

2005

Adobe EPUB ebook

OverDrive Read

Availability:

Available from OverDrive

2 of 2 copies
Summary
When Oregon native Suzanne Hansen becomes a live-in nanny to the children of Hollywood über-agent Michael Ovitz, she gets much more than she bargained for: working twenty-four hours a day, juggling the shifting demands of the Hollywood elite, and struggling to comprehend wealth unimaginable to most Americans, not to mention dealing with the expected tantrums and the unexpected tense atmosphere in the house where she lives with her employers. When she finally quits, her boss threatens to blackball her from ever nannying in Hollywood again. Discouraged but determined, Hansen manages to land gigs with Debra Winger and then Danny DeVito and Rhea Perlman. Attentive, welcoming parents with a relaxed attitude toward celebrity--looks like Hansen's fallen into a real-life happy ending. But the round-the-clock workdays continue, rubbing some of the glitter off L.A. living, and Hansen's not sure how much longer she can pretend to be Mary Poppins.--From publisher description.

Contents
Chapter 1 Hotel california 7
Chapter 2 King and I 17
Chapter 3 Small town girl 29
Chapter 4 Hollywood or bust 41
Chapter 5 Dazed and confused 51
Chapter 6 Working girl 65
Chapter 7 Crimes and misdemeanors 79
Chapter 8 Doc hollywood 89
Chapter 9 Beauty shop 99
Chapter 10 It's a mad mad mad mad world 113
Chapter 11 LA confidential 125
Chapter 12 Nothing but trouble 139
Chapter 13 House party 151
Chapter 14 Beverly hillbillies 163
Chapter 15 Room service 177
Chapter 16 Nightmare before christmas 187
Chapter 17 Great escape 197
Chapter 18 Searching for debra winger 207
Chapter 19 Down and out in beverly hills 223
Chapter 20 Get shorty 235
Chapter 21 Irreconcilable differences 249
Chapter 22 Goodbye girl 261
Chapter 23 Back to the future 269
Chapter 24 Almost famous 275.
Published Reviews
Publisher's Weekly Review:
""Misadventures in nannyhood" is how Hansen, an Oregon teen who'd trained at the Northwest Nannies Institute, characterizes her amusing account of several years as live-in drudge to the stars. Readers of James B. Stewart's DisneyWar are already acquainted with her first employer, Michael Ovitz, then still the superagent commander of the CAA talent agency, and parent, with his wife, of three children. Hansen isn't a flippant writer; she doesn't try to score easy shots; and she cites her own inexperience and shyness, but it becomes increasingly clear through her account (backed up by the diary she kept) that the portraits drawn by other writers-of a cold, shrewd, controlling man-are accurate. Still, there was glamour, which at first made up for the grueling 24/7 workload and a curious chintziness. However, Hansen lasted just a year. She later found work with the charming Debra Winger and left only because it became clear that the doting Winger didn't really need a full-time nanny. Her next and last nanny job was with the wonderful and thoughtful Rhea Perlman and Danny DeVito and their three kids. Hardly backstabbing, this entertaining book possesses a sincerity other nannying tomes lack. Agent, Sharlene Martin. (On sale Dec. 27) (c) Copyright PWxyz, LLC. All rights reserved"
(c) Copyright PWxyz, LLC. All rights reserved
Additional Information