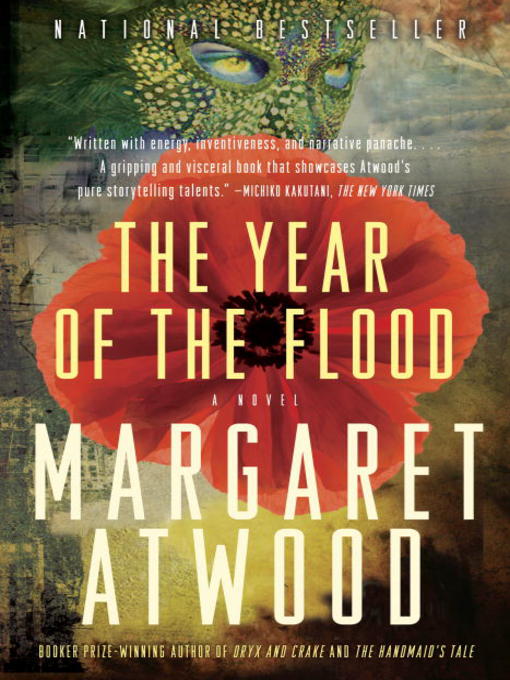 The year of the flood a novel
Format:

Kindle Book

2009

2009

Adobe EPUB ebook

OverDrive Read

Availability:

Available from OverDrive

2 of 3 copies
1 person on waitlist
Summary
When a natural disaster predicted by God's Gardeners leader Adam One obliterates most human life, two survivors trapped inside respective establishments that metaphorically represent paradise and hell wonder if any of their loved ones have survived.

Contents
The garden
The year of the flood
Creation day
The feast of Adam and all primates
The festival of arks
Saint Euell of wild foods
Mole day
April fish
The feast of serpent wisdom
Pollination day
Saint Dian, martyr
Predator day
Saint Rachel and all birds
Saint Terry and all wayfarers
Saint Julian and all souls.
Published Reviews
Booklist Review:
"*Starred Review* Toby goes up on the roof to survey the still and empty city. Birds are singing, but have any other humans survived the Waterless Flood, a swift and devastating pandemic? Ren, a younger woman alone in another abandoned building, wonders the same thing. Atwood returns to the decimated world she first explored in Oryx and Crake (2003), paralleling and intersecting the story line. Toby and Ren had found sanctuary among the God's Gardeners, a resistance group that grows their own food and medicinal plants and keeps bees, while perched precariously on the ragged edge of a tyrannical corporate empire dispensing synthetic food, deliberately induced illnesses, and dubious hybrid creatures, such as the liobam--half-lion, half-lamb. Atwood's villains are despicable, while her heroes are thorny, resilient, and contemplative, and their adventures hair-raising. Add to that Atwood's playfully brilliant infusion of scientific knowledge and ecological and ethical insights into the Gardners' lively theology. The holiness of nature is celebrated and the precepts of sustainable living taught in funny and righteous hymns, while saint days honor Rachel Carson, Jacques Cousteau, and Dian Fossey. Atwood's mischievous, suspenseful, and sagacious dystopian novel follows the trajectory of current environmental debacles to a shattering possible conclusion with passionate concern and arch humor.--Seaman, Donna Copyright 2009 Booklist"
From Booklist, Copyright (c) American Library Association. Used with permission.
Publisher's Weekly Review:
"In her 2002 speculative novel, Oryx and Crake, Margaret Atwood depicted a dystopic planet tumbling toward apocalypse. The world she envisaged was in the throes of catastrophic climate change, its wealthy inhabitants dwelling in sterile secure compounds, its poor ones in the dangerous "pleeblands" of decaying inner cities. Mass extinctions had taken place, while genetic experiments had populated the planet with strange new breeds of animal: liobams, Mo'Hairs, rakunks. At the end of the book, we left its central character, Jimmy, in the aftermath of a devastating man-made plague, as he wondered whether to befriend or attack a ragged band of strangers. The novel seemed complete, closing on a moment of suspense, as though Atwood was content simply to hint at the direction life would now take. In her profoundly imagined new book, The Year of the Flood, she revisits that same world and its catastrophe. Like Oryx and Crake, Year of the Flood begins just after the catastrophe and then tracks back in time over the corrupt and degenerate world that preceded it. But while the first novel focused on the privileged elite in the compounds and the morally bankrupt corporations, The Year of the Flood depicts more of the world of the pleebs, an edgy no-man's land inhabited by criminals, sex workers, dropouts and the few individuals who are trying to resist the grip of the corporations. The novel centers on the lives of Ren and Toby, female members of a fundamentalist sect of Christian environmentalists, the God's Gardeners. Led by the charismatic Adam One, whose sermons and eco-hymns punctuate the narrative, the God's Gardeners are preparing for life after the prophesied Waterless Flood. Atwood plays some of their religion for laughs: their hymns have a comically bouncing, churchy rhythm, and we learn that both Ren and Toby have been drawn toward the sect for nonreligious reasons. Yet the gentleness and benignity of the Gardeners is a source of hope as well as humor. As absurd as some of their beliefs appear, Atwood seems to be suggesting that they're a better option than the naked materialism of the corporations. This is a gutsy and expansive novel, rich with ideas and conceits, but overall it's more optimistic than Oryx and Crake. Its characters have a compassion and energy lacking in Jimmy, the wounded and floating lothario at the previous novel's center. Each novel can be enjoyed independently of the other, but what's perhaps most impressive is the degree of connection between them. Together, they form halves of a single epic. Characters intersect. Plots overlap. Even the tiniest details tessellate into an intricate whole. In the final pages, we catch up with Jimmy once more, as he waits to encounter the strangers. This time around, Atwood commits herself to a dramatic and hopeful denouement that's in keeping with this novel's spirit of redemption. Marcel Theroux's most recent novel, Far North, was published by Farrar, Straus & Giroux in June. (c) Copyright PWxyz, LLC. All rights reserved"
(c) Copyright PWxyz, LLC. All rights reserved
Additional Information