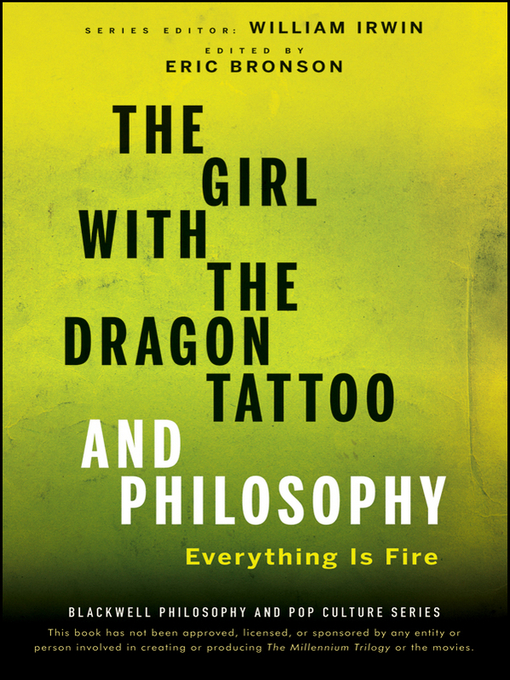 The girl with the dragon tattoo and philosophy everything is fire
Format:

Kindle Book

2011

2011

Adobe EPUB ebook

OverDrive Read

Availability:

Available from OverDrive

1 of 1 copy
Summary
"The essential companion to Stieg Larsson's bestselling trilogy and director David Fincher's 2011 film adaptation. Stieg Larsson's bestselling Millennium Trilogy--The Girl with the Dragon Tattoo, The Girl Who Played with Fire, and The Girl Who Kicked the Hornet's Nest--is an international phenomenon. These books express Larsson's lifelong war against injustice, his ethical beliefs, and his deep concern for women's rights. The Girl with the Dragon Tattoo and Philosophy probes the compelling philosophical issues behind the entire trilogy. What philosophies do Lisbeth Salander and Kant have in common? To catch a criminal, can Lisbeth and Mikael be criminals themselves? Can revenge be ethical? Drawing on some of history's greatest philosophical minds, this book gives fresh insights into Larsson's ingeniously plotted tale of crime and corruption. Looks at compelling philosophical issues such as a feminist reading of Lisbeth Salander, Aristotelian arguments for why we love revenge, how Kant can explain why so many women sleep with Mikael Blomkvist, and many more. Includes a chapter from a colleague of Larsson's--who worked with him in anti-Nazi activities--that explores Larsson's philosophical views on skepticism and quotes from never-before-seen correspondence with Larsson. Offers new insights into the novels' key characters, including Lisbeth Salander and Mikael Blomkvist, and investigates the author, Stieg Larsson. As engrossing as the quest to free Lisbeth Salander from her past, The Girl with the Dragon Tattoo and Philosophy is ideal reading for anyone interested in unraveling the subtext and exploring the greater issues at work in the story"--

Contents
The girl who kicked the sophists' nest
Lisbeth "The idiot" Salander. Labeling Lisbeth : Sti(e)gma and spoiled identity / Aryn Martin and Mary Simms ; The mis-education of Lisbeth Salander and the alchemy of the at-risk child / Chad William Timm ; The girl who turned the tables : a queer reading of Lisbeth Salander / Kim Surkan
Mikael "Do-gooder" Blomkvist. Why are so many women f**ing Kalle Blomkvist? : Larsson's philosophy of female attraction / Andrew Terjesen and Jenny Terjesen ; Why journalists and geniuses love coffee and hate themselves / Eric Bronson ; The making of Kalle Blomkvist : crime journalism in postwar Sweden / Ester Pollack
Stieg Larsson, mystery man. The philosopher who knew Stieg Larsson : a brief memoir / Sven Ove Hansson ; "This isn't some damned locked-room mystery novel" : is The millennium trilogy popular fiction or literature? / Tyler Shores ; Why we enjoy reading about men who hate women : Aristotle;s cathartic appeal / Dennis Knepp ; The dragon tattoo and the voyeuristic reader / Jaime Weida
"Everyone has secrets." Hacker's republic : information junkies in a free society / Andrew Zimmerman Jones ; Kicking the hornet's nest : the hidden "section" in every institution / Adriel M. Trott ; Secret meetings : the truth is in the gossip / Karen C. Adkins
75,000 volts of vengeance can't be wrong, can it? The principled pleasure : Lisbeth's Aristotelian revenge / Emma L.E. Rees ; Acting out of duty or just acting out? : Salander and Kant / Tanja Barazon ; To catch a thief : the ethics of deceiving bad people / James Edwin Mahon.
Additional Information
Series
Blackwell philosophy and popculture series ; 40.
Subjects
Larsson, Stieg, 1954-2004 Criticism and interpretation
Larsson, Stieg, 1954-2004. Män som hatar kvinnor
Larsson, Stieg, 1954-2004. Flickan som lekte med elden
Larsson, Stieg, 1954-2004. Luftslottet som sprängdes
Larsson, Stieg, 1954-2004 Philosophy
Philosophy in literature
Nonfiction
Current Events
Philosophy
Electronic books.
1954-2004
1954-2004.

Publisher

New York :John Wiley & Sons, Ltd.,2011




Wiley2011



Contributors
Bronson, Eric, 1971-
OverDrive, Inc.

Language

English



System Details

Mode of access: World Wide Web.




Format: Adobe EPUB eBook




Format: Adobe PDF eBook




Format: Kindle Book




Format: OverDrive READ




Requires Adobe Digital Editions or Adobe Digital Editions or Amazon Kindle



Description

1 online resource.



Bibliography Notes

Includes bibliographical references and index.



ISBN
9781118132937
9781118132913

Other
Classic View