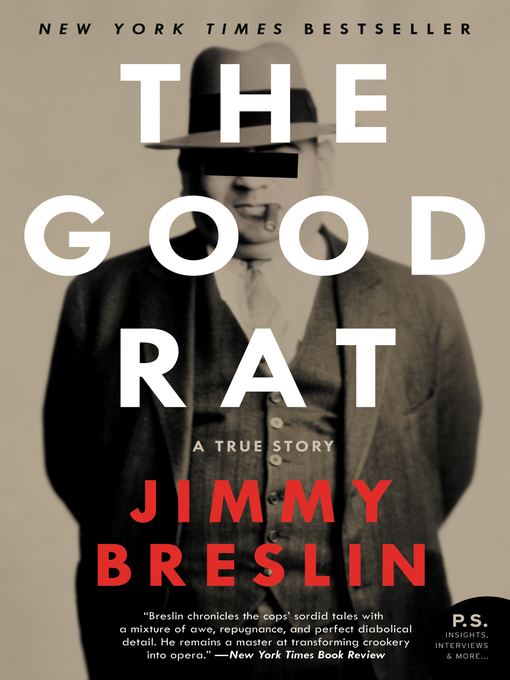 The good rat a true story
Format:

Kindle Book

2009

2009

Adobe EPUB ebook

OverDrive Read

Availability:

Available from OverDrive

2 of 2 copies
Summary
A street-savvy journey behind the scenes of the Mafia during its golden era chronicles the people, places, and events that defined organized crime and traces the rise and fall of the mob in New York.

Published Reviews
Booklist Review:
"*Starred Review* Star crime reporter Breslin delivers the obituary for the U.S. Mafia. It's an obit made possible by the RICO Act. As Breslin notes, this legislation, passed in 1970 and gaining strength ever since, was named after Rico, the tough-as-nails racketeer played by Edward G. Robinson in Little Caesar. RICO revolutionized gangsterdom by upping jail terms from the traditional 5 years to 50 years or more. Once it became clear that testifying against other gangsters could erase jail terms, gangsters started ratting on each other big time. This no-holds-barred memoir (of the Mafia and of Breslin's own life) centers on one rat, Burton Kaplan, longtime New York mobster, money launderer, kidnapper, and murderer, who testified against Mob-connected NYPD detectives Stephen Caracappa and Louis Eppolito. More important for Breslin, Kaplan's testimony shone the light on Mafia dealings, language, customs, and humor. Breslin shuttles between court testimony in the Eppolito/Caracappa case (direct transcripts are never boring when Breslin excerpts them); his commentary on judge, jury, defendants, and witnesses; and further observations from his own front-row seat (at Pep McGuire's Bar, where gangsters approached him and reviled him through the years) on the waxing and waning of the American Mafia. Breslin is a delighted tour guide through the underworld (the greatest felony, as he argues, is committed by legit people who are boring). Nobody does it better.--Fletcher, Connie Copyright 2007 Booklist"
From Booklist, Copyright (c) American Library Association. Used with permission.
Publisher's Weekly Review:
"Breslin, renowned journalist and author of The Gang That Couldn't Shoot Straight, revisits a familiar wise-guy milieu in this collection of stories and anecdotes about the mob. His writing, like the Mafia itself, breezily transitions from humorous to horrifying as he regales the reader with loosely connected tales of mistaken identity, crooked cops, snitches and murder. Unlike the Sopranos and the many other touchstones of the American love affair with organized crime, for Breslin, there's good and there's evil, with little in between. As always, however, nicknames are half the fun, as Sammy "The Bull" Gravano, Tony Cafe and Gaspipe Casso take the stage in the Mafia hotspots of the five boroughs, including Greenpoint, in Brooklyn, and Ozone Park, in Queens, as Breslin delights with stories from the Mafia's heyday. Breslin's storytelling is set to the sweet background music of one of the mob's biggest canaries, Burton Kaplan, as he sings to a grand jury. The author's vernacular precision contrasts sharply with the plodding sterility of Kaplan's grand jury testimony, and as we find out, good guys can often tell ugly stories more authentically than the bad guys. The effect is tragicomic as Kaplan's testimony sounds the death knell for his associates. These stories unveil the strict code of conduct, often broken, of a dying breed. According to Kaplan, however, while illegal gambling and extortion may be waning industries, the myth of the American Mafia will never die. (Feb.) (c) Copyright PWxyz, LLC. All rights reserved"
(c) Copyright PWxyz, LLC. All rights reserved
Additional Information