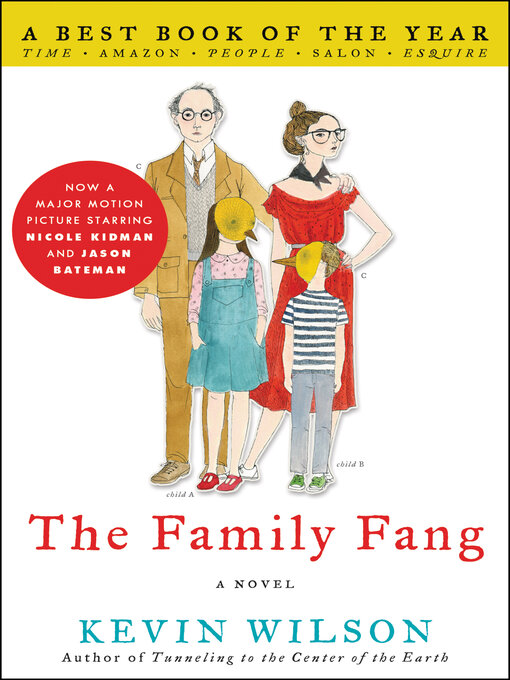 The family Fang
Format:

Kindle Book

2011

2011

Adobe EPUB ebook

OverDrive Read

Availability:

Unavailable

0 of 3 copies
8 people on waitlist
Summary
Performance artists Caleb and Camille Fang dedicated themselves to making great art. But when an artist's work lies in subverting normality, it can be difficult to raise well-adjusted children. Just ask Buster and Annie Fang. For as long as they can remember, they starred (unwillingly) in their parents' madcap pieces. But now that they are grown up, the chaos of their childhood has made it difficult to cope with life outside the fishbowl of their parents' strange world. When the lives they've built come crashing down, brother and sister have nowhere to go but home, where they discover that Caleb and Camille are planning one last performance-- their magnum opus-- whether the kids agree to participate or not. Soon, ambition breeds conflict, bringing the Fangs to face the difficult decision about what's ultimately more important: their family or their art. The novel displays a keen sense of the complex performances that unfold in the relationships of people who love one another.

Published Reviews
Booklist Review:
"*Starred Review* Delivering on the high promise of his new-weirdness story collection, Tunneling to the Center of the Earth (2009), Wilson's first novel is more realistic but still no docudrama. The titular family are husband-and-wife performance artists Caleb and Camille Fang and their children, Annie and Buster, obliged from early childhood to collaborate in their parents' performances (the kids call them mischief), in the exhibited videos of which they are Child A and Child B. The stories of more than a dozen of their works are the flashback latter parts of chapters that begin with the contemporary main story, in which, after professional setbacks for each, late-twentysomethings Annie, a rising movie actress, and Buster, a novelist barely surviving as a tabloid journalist, come home. Shortly thereafter, Caleb and Camille disappear, possibly as victims of a serial killer. Annie and Buster aren't buying that; they think it's another performance. Taking Annie and Buster's side throughout, Wilson mixes dire humor and melancholy in the dysfunctional family chronicle that is the novel's ostensibly real-world basic structure. On that he mounts satire of modern-becoming-postmodern art (the Fangs' performances are exercises in making public disturbances, in which ordinary people are unwitting player-victims) and an implicit, scathing critique of how the baby-boom generation maltreated Gen X. Don't be surprised if this becomes one of the most discussed novels of the year.--Olson, Ra. Copyright 2010 Booklist"
From Booklist, Copyright (c) American Library Association. Used with permission.
Publisher's Weekly Review:
"Wilson's bizarre, mirthful debut novel (after his collection, Tunneling to the Center of the Earth) traces the genesis of the Fang family, art world darlings who make "strange and memorable things." That is, they instigate and record public chaos. In one piece, "The Portrait of a Lady, 1988," fragile nine-year-old Buster Fang dons a wig and sequined gown to undermine the Little Miss Crimson Clover beauty pageant, though he secretly desires the crown himself. In "A Modest Proposal, July 1988," Buster and his older sister, Annie, watch their father, Caleb, propose to mother, Camille, over an airliner's intercom and get turned down ("[A] plane crash would have been welcomed to avoid the embarrassment of what had happened"). Over the years, more projects consume Child A and Child B-what art lovers (and their parents) call the children-but it is not until the parents disappear from an interstate rest stop that the lines separating art and life dissolve. Though leavened with humor, the closing chapters still face hard truths about family relationships, which often leave us, like the grown-up Buster and Annie, wondering if we are constructing our own lives, or merely taking part in others'. (Aug.) (c) Copyright PWxyz, LLC. All rights reserved."
(c) Copyright PWxyz, LLC. All rights reserved
Additional Information