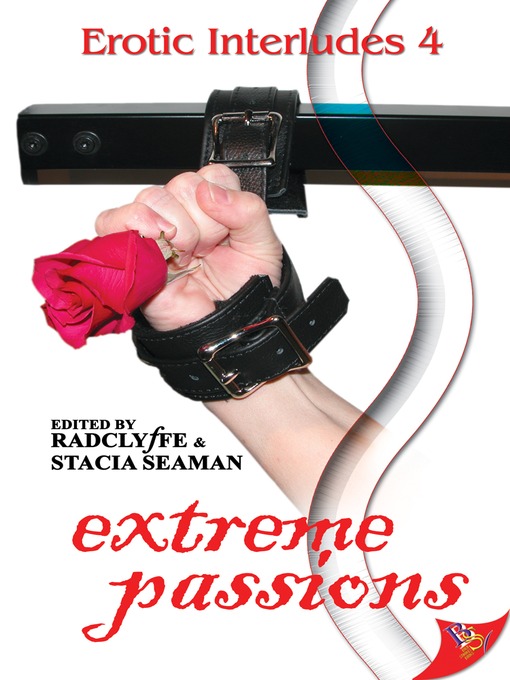 Extreme passions
Format:

Kindle Book

2006

2006

Adobe EPUB ebook

OverDrive Read

Availability:

Unavailable

0 of 1 copy
1 person on waitlist
Summary
Forbidden Fruits: Over thirty tales of love and lust that know no bounds – or boundaries.Today's hottest erotica writers explore just how far women will go to get the girl. Seduction, abduction, champagne and flowers, bondage ... extreme moves that are sooo ero, they're too good to miss.

Contents
Dessert, anyone? / V.K. Powell
Dream girl / Meghan O'Brien
Bizarre love triangle / J.D. Glass
Executive agenda / Radclyffe
10 quick & easy salads / Karin Kallmaker
Too hot to handle / Aunt Fanny
Play per view / Evecho
Bois will be boys / Crin Claxton
Team players / Eva Vandetuin
Traffic report / Angela Koenig
Last chance likker / Annie Fuller
The bartender and the dancer / Shadylady
Skin / Fiona Cooper
Diva / Georgia Beers
Tongue-tied / K.I. Thompson
Inferno I: fire woman / Nell Stark
Inferno II: flash / Lindsey Downing-Greenes
On fire / Rachel Kramer Bussel
Escort / Cheri Crystal
Too late / Dillon Watson
Prey / Renée Strider
The happiest place on earth / Julie Cannon
Driven / Pam Graham
Imagined pleasures / Radclyffe
Se habla español / Magdalena Benaroyo
Making her mine / Kim Baldwin
The problem with academics / Lynne Jamneck
Not another Buffy rerun / Therese Szymanski
Slow climb / Deborah Barry
A compromising position / Saskia Walker
April in Paris / Claire Martin
Private caller / Radclyffe.
Additional Information
Series
Erotic interludes ; 4.
Subjects
Lesbians Fiction
LGBTQIA+ (Fiction)
Short Stories
Erotic Literature
Fiction
Electronic books.
Erotic fiction.
Short stories.

Publisher

Johnsonville :Bold Strokes Books, Inc.,2006




Bold Strokes Books, Inc.2006



Contributors
Radclyffe, 1950-
Seaman, Stacia.
Powell, V. K.
O'Brien, Meghan.
Fanny, Aunt.
Baldwin, Kim.
Barry, Deborah.
Beers, Georgia.
Benaroyo, Magdalena.
Bussel, Rachel Kramer.
Cannon, Julie, 1959-
Chen, J.C.
Claxton, Crin.
Cooper, Fiona.
Crystal, Cheri.
Downing-Greenes, Lindsey.
Evecho.
Fuller, Annie.
Glass, J. D.
Graham, Pam.
Jamneck, Lynne.
Kallmaker, Karin, 1960-
Koenig, Angela.
Martin, Claire.
Shadylady.
Stark, Nell.
Strider, Renée.
Szymanski, Therese, 1968-
Thompson, K. I.
Vandetuin, Eva.
Walker, Saskia.
Watson, Dillon.
OverDrive, Inc.

Language

English



System Details

Mode of access: World Wide Web.




Format: Adobe EPUB eBook




Format: Adobe PDF eBook




Format: Kindle Book




Format: OverDrive READ




Requires Adobe Digital Editions or Adobe Digital Editions or Amazon Kindle



Description

1 online resource.



ISBN
9781602822740
9781602822740

Other
Classic View