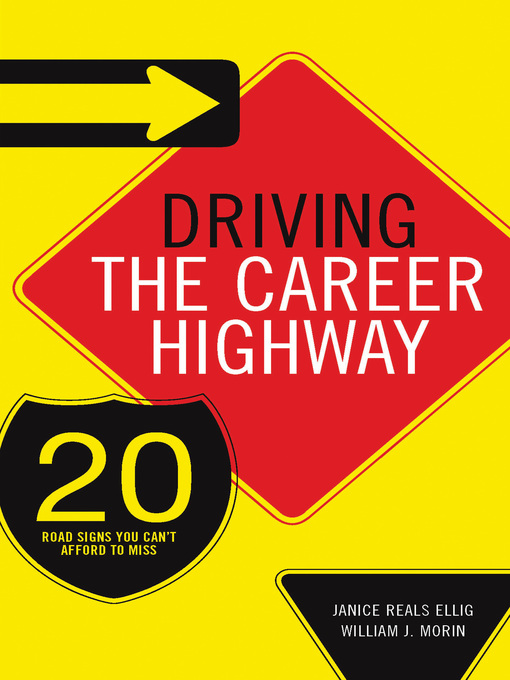 Driving the career highway 20 road signs you can't afford to miss
Format:

Kindle Book

2007

2009

Adobe EPUB ebook

OverDrive Read

Availability:

Available from OverDrive

1 of 1 copy
Summary
As leaders of prestigious executive search firms and organizational consulting firms, Janice Reals Ellig and William J. Morin have decades of experience working with people who failed to see the signs of trouble in their careers-or to read them right. These two experts have distilled the twenty most compelling problems and situations that can cause a person to detour, stall, get lost, or crash and burn on their career highway."Career changes are a fact of life in today's world, and they will accelerate tomorrow. Knowing how best to compete is critical for people from 30 to 70. Reals Ellig and Morin give you the tools to make your next job yours . . . Read it cover to cover-then read it again."-Jon A. Boscia, Chairman & CEO, Lincoln Financial Group"I wish I had had the opportunity to read a book like Driving the Career Highway when I was starting my career. The 'warning signs' would have saved me hitting several 'bumps' in my career road. Very useful read!" -Susan Whiting, CEO, Nielsen Media"This book is unique in that it provides insightful and useful help for those faced with or considering mid career change. Packed with pragmatic advice as well as tremendous tools to assist in doing a self assessment and planning career changes. In this rapidly changing world with constantly changing organizations, almost everyone will at some time need to read this book."-David A. Nadler, PhD.Vice Chairman, Marsh & McLennan Companies, Inc."As we manage to get through the traffic every day it has become second nature to us to watch for signals and road signs. Why would that be any different as we are trying to manage our careers?"-Ulrike Hildebrand General Manager, Human Resources Mercedes-Benz USA"Janice Reals Ellig and Bill Morin have done it again. For anyone whose career could use an overhaul-or even just a tune-up-Driving the Career Highway is a must-read. Loaded with fresh insights and practical, down-to-earth wisdom, it's an indispensable guidebook for navigating the murky terrain of corporate success today." - Fortune Magazine's expert career columnist Ms. Anne Fisher ("Ask Annie"), Career columnist, CNNmoney.com"Organizations have changed and as a result so have careers. This is a valuable road map of the new career highways."-Professor Edward E. Lawler, III, Marshall School of Business, University of Southern California and Author of Built to Change"The prospect of a job search change or a career change can be a frightening experience, especially for those in mid-career. Reals Ellig and Morin provide simple and straight forward tips for how to make career transitions more manageable and successful."-Charles Tharp, Ph.D., Professor Human Resource Management, Rutgers University"When career change occurs-especially when it's not of our choosing-even the smartest and most successful of us struggle with how to cope and survive. Reals Ellig and Morin offer professionals specific, practical ways to manage their careers through what are often very frightening periods."-Johnny C. Taylor, Jr., J.D., SPHRSr. Vice President, Human ResourcesIAC/InterActiveCorp"A practical guidebook for almost any point on the career highway. It's the next best thing to a personal coaching session with Bill or Janice. Share it with your coach/mentor and get ready to hit the accelerator !"-Diane Gulyas, Group Vice President Dupont"This is an inspirational and optimistic book because it gives the reader a clear road-map on how to self-manage a career."-Mike Critelli, Chairman & CEO, Pitney Bowes "Bill and Janice...

Contents
Foreword / Anne Fisher
Introduction : Your career highway : where is it going? What are the road conditions? How's your driving? Enjoy the ride
it's your life!
Road sign 1. Stop : Who are you? Where have you been? Where do you really want to go?
Road sign 2. Exit : Live your dream : make a career change
Road sign 3. Dead end : Don't be burned out, bummed our, unfulfilled : strategize a way out of the dead-end career
Road sign 4. Deer crossing : Avoid being a victim : mobilize the power within you
- Road sign 5. Sharp curves ahead : Reinvent yourself : be prepared for stuff to happen!
Road sign 6. Yield : Adapt : fit in or find a new road
Road sign 7. Slippery when wet : Drive carefully : don't skid on corporate politics
Road sign 8. Tunnel : Bosses matter : learn how to manage your boss
Road sign 9. Falling rocks : Avoid being crushed : learn to manage the people around you
Road sign 10. Road narrows : Get in the fast lane : learn how to compete so you win
Road sign 11. danger zone : Control your speed : romantic involvement in the office
Road sign 12. Watch children : Caution : family matters
Road sign 13. Emergency stopping only : Integrate life and work : resume speed
Road sign 14. Adopt a highway : Give back to the community : expand yourself as a person
Road sign 15. Sortie/Eintritt : Cracking the corporate code : learn the language of success
Road sign 16. Do not enter : Don't be held back by gender, race, pedigree : learn how to get invited to the party
Road sign 17. Soft shoulder : Ethics and you : how not to compromise your values or tarnish your reputation
Road sign 18. Traffic fines doubled in work zones : The business of etiquette : a tool for competitive advantage
Road sign 19. Passing lane : Choose your car : learn how to market yourself
Road sign 20. End of road : your career highway
About the authors
Acknowledgments
Notes.
Additional Information