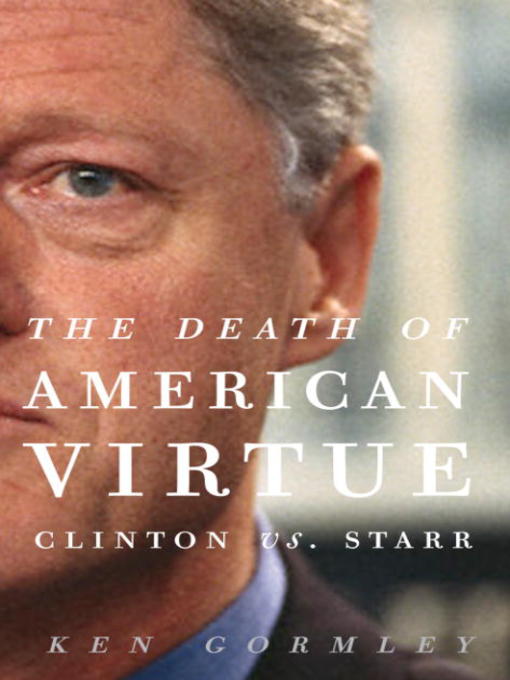 The death of American virtue Clinton vs. Starr
Format:

Kindle Book

2010

2010

Adobe EPUB ebook

OverDrive Read

Availability:

Available from OverDrive

1 of 1 copy
Summary
Ten years after one of the most polarizing political scandals in American history, author Ken Gormley offers an insightful, balanced, and revealing analysis of the events leading up to the impeachment trial of President William Jefferson Clinton. From Ken Starr's initial Whitewater investigation through the Paula Jones sexual harassment suit, to the Monica Lewinsky affair and Brett Kavanaugh's role in the subsequent inquiry, The Death of American Virtue is a gripping chronicle of an ever-escalating political feeding frenzy.In exclusive interviews, Bill Clinton, Ken Starr, Monica Lewinsky, Paula Jones, Susan McDougal, and many more key players offer candid reflections on that period. Drawing on never-before-released records and documents—including the Justice Department's internal investigation into Starr, new details concerning the death of Vince Foster, and evidence from lawyers on both sides—Gormley sheds new light on a dark and divisive chapter, the aftereffects of which are still being felt in today's political climate.

Published Reviews
Booklist Review:
"*Starred Review* In 1999, the shocking revelation of President Clinton's affair with a White House intern captivated the nation and nearly sank his career as well as that of prosecutor Ken Starr. Legal scholar Gormley offers new revelations: Starr drafted an impeachment referral long before the Monica Lewinsky scandal emerged, and investigators considered indicting First Lady Hillary Clinton for Whitewater irregularities. Gormley draws on newly released documents, including transcripts of depositions and grand jury testimony, and interviews with major figures, including Clinton and Starr, to offer a deliciously detailed account of the investigation that nearly led to the impeachment of the president and continues to reverberate in American politics. Starr's initial charge to investigate the Clintons' involvement in Arkansas real-estate deals morphed into an investigation of the suicide of Vince Foster and Paula Jones' allegations of sexual harassment and the ostensible connection of an affair with Lewinsky. Gormley chronicles the behind-the-scenes political machinations of Republican elves out to get the Clintons and White House efforts to save his presidency, playing out in a titanic political clash as Americans were repulsed by Clinton's actions and Starr's excessive zeal. Gormley recalls the missteps and irregularities on both sides as partisan politics poisoned efforts to get at the truth. Gormley is masterful at building the high drama of stranger-than-fiction political skulduggery and nuttiness with a cast of fascinating characters.--Bush, Vanessa Copyright 2010 Booklist"
From Booklist, Copyright (c) American Library Association. Used with permission.
Publisher's Weekly Review:
"This book's readers will quickly think of water. Facts overwhelm you like Niagara. And when you've finished reading about President Clinton and special prosecutor Ken Starr, you may want to take a long shower. Gormley, a professor of law at Duquesne (Archibald Cox), reviews the entire sordid business of Clinton's foolishness and his enemies' efforts to bring down his presidency. It's not an edifying tale. Very few of the book's cast come off well, except for Secret Service officials and a judge or two. If there's a sympathetic character, it's Susan McDougal, who refused to rat on her friends. Starr makes error after error and confuses vindictiveness with duty. While not altering the basic story in any way, Gormley gains much from effective interviews 10 years after with participants and his use of newly available documents. While his book is too long, Gormley remains in control of the details, and this riveting first look at events that only future history will put into full relief shows how affairs of sex and enmity can become affairs of state. 24 pages of b&w photos. (Feb.) (c) Copyright PWxyz, LLC. All rights reserved"
(c) Copyright PWxyz, LLC. All rights reserved
Additional Information
Subjects
Clinton, Bill, 1946-
Clinton, Bill, 1946- Relations with women
Clinton, Hillary Rodham
Starr, Kenneth, 1946-
Lewinsky, Monica S. (Monica Samille), 1973-
Clinton, Bill, 1946- Impeachment
Political ethics United States
Misconduct in office United States
Whitewater Inquiry, 1993-2000
Governmental investigations United States
Special prosecutors United States
Biography & Autobiography
Nonfiction
Politics
History
United States Politics and government 1993-2001.
Electronic books.
1946-
1973-
1993-2001.

Publisher

New York :Crown2010




2010



Other Titles
Clinton vs. Starr

Contributors
OverDrive, Inc.

Language

English



System Details

Mode of access: World Wide Web.




Format: Adobe EPUB eBook




Format: Kindle Book




Format: OverDrive READ




Requires Adobe Digital Editions or Amazon Kindle



Description

1 online resource



Bibliography Notes

Includes bibliographical references.



ISBN
9780307459787
9780307459787

Other
Classic View