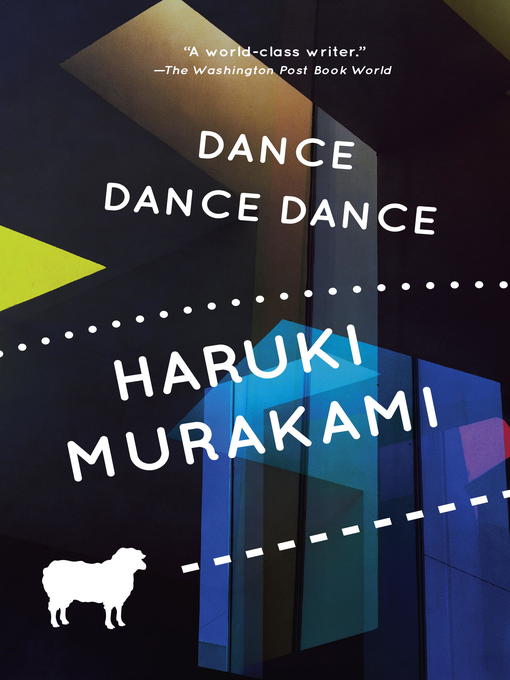 Dance dance dance
Format:

Kindle Book

2010

2010

Adobe EPUB ebook

OverDrive Read

Availability:

Available from OverDrive

1 of 1 copy
Summary
As he searches for a mysteriously vanished girlfriend, the protagonist plunges into a wind tunnel of sexual violence and metaphysical dread in which he collides with call girls and receives cryptic instructions from a shabby but oracular Sheep Man.

Published Reviews
Booklist Review:
"There are only a handful of writers in the world who have the ability to thrill like Murakami. Skipping lightly, he has managed to dodge the triple curse of late-twentieth century literary fashion. No political realism, no magic realism, and no postmodernist retooling here. Leaping straight out of the slightly slow-witted but earthy and vigorous head of genre fiction, he has landed on the other side of our age, bypassing altogether the school of elegant repetition and self-conscious significance so admired by the publishing houses of London, New York, and Paris. Employing the flat tone of American writers like Dashiell Hammet and Raymond Carver and peppering his narratives with allusions to the plastic and materialistic world around him, Murakami yet manages to spin fantastic and surprisingly spiritual yarns as odd and riveting--though a good deal more uplifting--as the paintings of Hieronymous Bosch. As in almost all his other works, the protagonist of Dance is an ordinary guy, a reluctant but curious participant in events revolving around the intersection of our world with one very unlike it. The real hero of the tale is a sheepman living in a different dimension within the heart of a modern hotel, a sort of shaman the narrator met before in Wild Sheep Chase (1989), the novel which first established Murakami's reputation in this country. Along with these characters is a clairvoyant teenage girl, a one-armed beach-combing poet, two or three extremely erotic prostitutes, a lonely and slightly sinister filmstar, and a nervous desk clerk. How these odd characters fit into Murakami's wild and hilarious idea of a plot is impossible to describe, but once picked up, Dance is hard to put down. Unfortunately, while the twists in Murakami's imagination carry the reader along, the novel wilts in one or two places, which may disappoint some readers after the never-takes-a-breath action of the finer Hardboilded Wonderland and the End of the World (1991). Still, this is a wholly endearing tale, very sexy, very adult, and in its own way very tender. Murakami is truly a novelist like no other. (Reviewed Nov. 1, 1993)4770016832Stuart Whitwell"
From Booklist, Copyright (c) American Library Association. Used with permission.
Publisher's Weekly Review:
"In this impressive sequel to A Wild Sheep Chase , Murakami displays his talent to brilliant effect. The unnamed narrator, a muddled freelance writer, is 34 and no closer to finding happiness than he was in the previous book. Divorced, bereaved and abandoned by his various lovers, he is drawn to the Dolphin Hotel--a strange and lonely establishment where Kiki, a woman he once lived with, ``upped and vanished.'' Kiki and the Sheep Man, an odd fellow who wears a sheepskin and speaks in a toneless rush, visit the narrator in visions that lead him to two mysteries, one metaphysical (how to survive the unsurvivable) and the other physical (a call girl's murder). In his searchings, he encounters a clairvoyant 13-year-old, her misguided parents and a one-armed poet. All the hallmarks of Murakami's greatness are here: restless and sensitive characters, disturbing shifts into altered reality, silky smooth turns of phrase and a narrative with all the momentum of a roller coaster. If Mishima had ever learned the value of gentleness, this is the sort of page-turner he might have written. Paperback rights to Vintage. (Jan.) (c) Copyright PWxyz, LLC. All rights reserved"
(c) Copyright PWxyz, LLC. All rights reserved
Additional Information