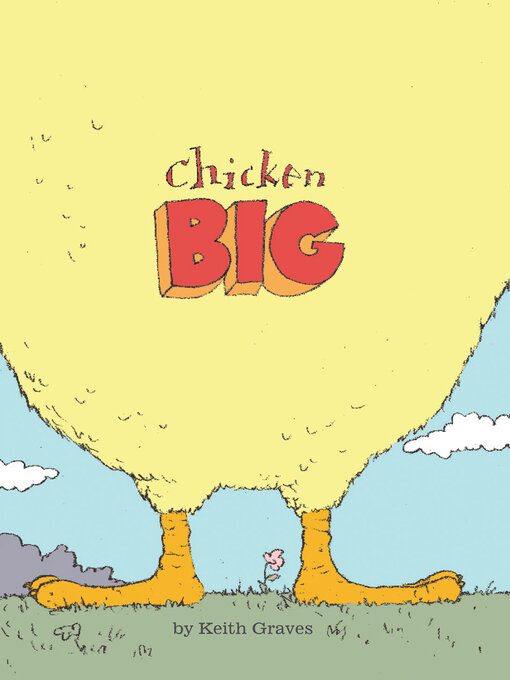 Chicken Big
Format:

Kindle Book

2010

2010

Adobe EPUB ebook

OverDrive Read

Availability:

Unavailable

0 of 1 copy
Summary
A giant chicken hatches from an enormous egg, but the other chickens cannot accept that he is one of them.

Published Reviews
Booklist Review:
"In a sort of mash-up of Chicken Little and Blind Men and the Elephant, henhouse residents are set aflutter by the arrival of an enormous new hatchling. What is it? An elephant, opines the smallest chicken. But when that same hen ( not the sharpest beak in the flock ) is hit in succession by an acorn ( The sky is falling! ), a drop of rain ( The sky is leaking! ), and a cold breeze ( Someone has put the world in the refrigerator! We're all going to freeze! ), the monster provides both common sense and protective bulk and in return is identified as a squirrel, then an umbrella, then a sweater. Graves illustrates this crowd-pleaser with simple cartoon scenes in which the new chick looms hugely, rolling its eyes at the antics of a quartet of scraggly, pop-eyed, appropriately silly-looking poultry. In a satisfying resolution, the chick dashes off heroically to rescue a clutch of stolen eggs from a marauding fox, earning proper recognition, acceptance and, most likely, loud requests for repeat readings from delighted audiences.--Peters, John Copyright 2010 Booklist"
From Booklist, Copyright (c) American Library Association. Used with permission.
Publisher's Weekly Review:
"Compared to panicky Chicken Little, Chicken Big is unflappable. Born "on a teeny little farm, in an itty-bitty coop," this newborn towers over four fellow chickens, who decide he must be an elephant (his stature recalls the "Hyde and Go Tweet" Merrie Melodies cartoon featuring Tweety and Sylvester). When something drops on the smallest hen, she yelps, "The sky is falling!" Chicken Big calmly says, "It's only an acorn. They're actually quite tasty." He is equally placid and helpful when the ditsy chickens freak out over the rain and wind, revising their guesses about his identity-"Apparently, he is an umbrella!" When a fox steals their eggs and Chicken Big foils the crime, they finally figure it out: "Only one thing could be so smart, so kind, so warm, and so brave." Graves (Desert Rose and Her Highfalutin Hog) renders his fowl in a palette of gray-blue, taupe, and wheat yellow, with exuberant voice bubbles that highlight the ridiculousness of the smaller chickens' assertions. Graves has great fun at their expense-preserving the message that fools jump to hasty conclusions-and kids will, too. Ages 4-8. (Sept.) (c) Copyright PWxyz, LLC. All rights reserved."
(c) Copyright PWxyz, LLC. All rights reserved
Additional Information