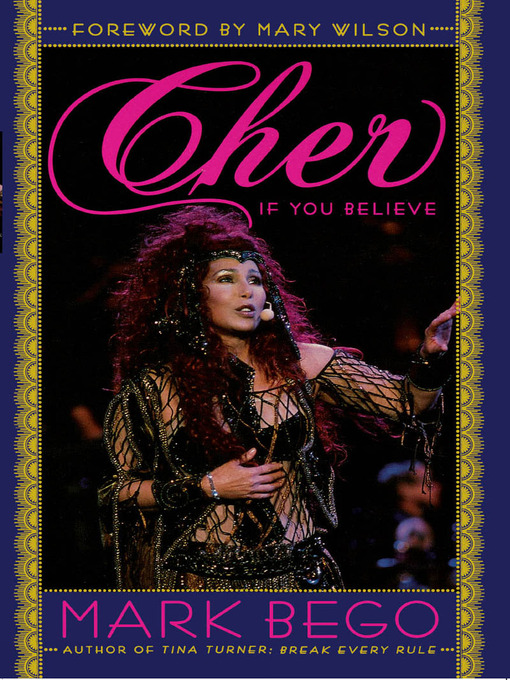 Cher if you believe
Format:

Adobe EPUB ebook

2004

2004

OverDrive Read

Availability:

Available from OverDrive

1 of 1 copy
Summary
Pop phenomenon Cher has had one of the most surprising and long-lasting careers in American entertainment. Her run of hits and comebacks have continued to defy expectations, right up to her Grammy Award-winning song "Believe" and subsequent tour and HBO special. Cher's string of successes includes dozens of hit songs from the '60s onward, two top-10 rated television shows, a critically acclaimed appearance on Broadway, and a succession of award-winning films roles, the latest being in Tea with Mussolini. In this brand new book pop music authority Mark Bego tackles all the recent developments including her well-documented grief after ex-husband Sonny Bono's tragic death. Cher: If You Believe also includes the most complete discography ever of her career as well as a "boyfriend-ography"!

Published Reviews
Booklist Review:
"As the subtitle, "If You Believe," suggests, Cher is quite capable of inspiring disbelief, and her recent ascent into kitsch immortality seems just another chapter in an outsize career that Bego celebrates sympathetically. Cher started in pop music, but by now her accomplishments have taken a backseat to her presence. So Bego lingers over pure, talentless aspects of that presence, like the highly public ordeals of ex-husband Sonny Bono's death and daughter Chastity's coming out. More to the point for her collectibles fans, the book includes a discography, a filmography, and such other lists as a "Boyfriendography," from which reference workers may learn at a glance that Warren Beatty ("actor," the entry helpfully clarifies) was a 1962 date; that Sonny was a premarital live-in, 1964-69, and a proper spouse, 1969-75; and that the great dame dated Bernie Taupin, David Geffen, and Gregg Allman while still married to Bono, which must set a record for tolerance--or bad judgment (but whose?). Just the treatment Cher would want and richly deserves. --Mike Tribby"
From Booklist, Copyright (c) American Library Association. Used with permission.
Publisher's Weekly Review:
"Someone once joked that after a nuclear holocaust, the only living creatures will be cockroaches and Cher. Cherlyn Sarkisian Bono Allman (aka Cher) has certainly demonstrated her survival instincts with career successes that range from hit songs in the 1960s through her first Grammy Award in 2001. Along the way, the outrageous chameleon defied nay-sayers by moving fluidly and successfully between a recording career (she and Aretha Franklin are the only women to have a top-10 hit in each of the last four decades) and film work (winning an Oscar for 1987's Moonstruck; a Golden Globe for 1983's Silkwood; and a Cannes Film Festival Award for 1985's Mask), with brief forays on Broadway (Come Back to the Five & Dime Jimmy Dean, Jimmy Dean) and in print (her exercise book, Forever Fit). The prolific Bego (who co-authored Dancing in the Streets with Martha Reeves and I'm a Believer with Mickey Dolenz) has assembled a fast-paced and knowledgeable tribute, which, while admiring of the diva, isn't afraid to broach such subjects as plastic surgery. Fans will find a lot more meat here than they did in the diva's own scattershot quasi-memoir, The First Time. Along with the lively writing, Bego offers fans a comprehensive Cher almanac at the back of the book a filmography and discography; the credits for the Sonny & Cher Show; awards; memorable lines from her films; and even a "Boyfriendography" listing all the men she dated between 1962 and 1991. The Supremes' Mary Wilson provides the book's introduction. Photos. Agent, Sasha Goodman. (Sept. 15) (c) Copyright PWxyz, LLC. All rights reserved"
(c) Copyright PWxyz, LLC. All rights reserved
Additional Information