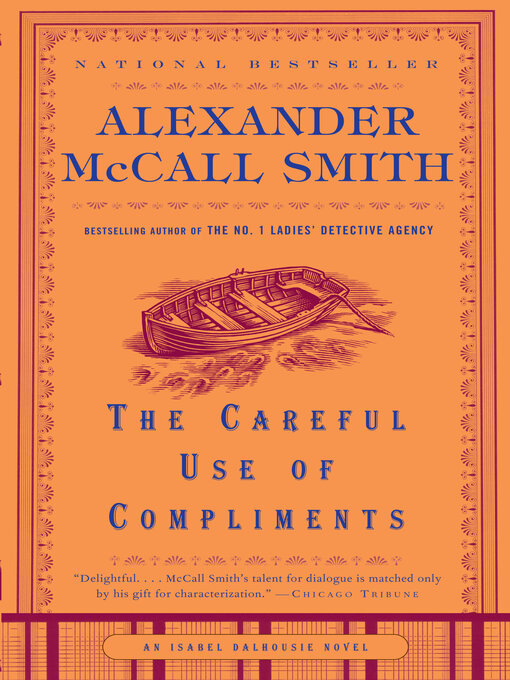 The careful use of compliments Isabel Dalhousie Series, Book 4
Format:

Kindle Book

2007

2007

Adobe EPUB ebook

OverDrive Read

Availability:

Available from OverDrive

1 of 1 copy
Summary
Isabel Dalhousie--the nosiest and most sympathetic philosopher you are likely to meet--now has a son, Charlie, whose doting father Jamie has an intriguing idea to pose to Isabel: marriage. But Isabel wonders if Jamie is too young to be serious? And how would Cat respond? On top of these matters, the ambitious Professor Dove has seized Isabel's position as editor of the Review of Applied Ethics. However, nothing it seems can diminish Isabel's innate curiosity. And when she recognizes that two paintings attributed to a deceased artist have simultaneously appeared on the market, she can't help but think that they're forgeries. So Isabel begins an investigation and soon finds herself diverted from her musings about parenthood and onto a path of inquiry into the soul of an artist.

Published Reviews
Booklist Review:
""The fourth installment in McCall Smith's mystery series featuring moral philosopher Isabel Dalhousie finds the fortysomething Edinburgh resident reveling in her new role as mother to newborn son Charlie. The baby's father is Jamie, Isabel's much younger lover and the ex-boyfriend of her niece. (The once-close relationship between the two women is now precarious at best.) Alas, that's not the only predicament plaguing Isabel. She has also been fired from her post as editor of the Review of Applied Ethics. (An unscrupulous colleague is surely behind the unsavory turn of events.) She is soon distracted from her woes by two works of a late Scottish painter that go up for sale at the same time. Ever insightful (and curious) Isabel can't shake the uneasy feeling that the haunting landscapes are fakes. McCall Smith, an emeritus professor at the University of Edinburgh, is the acclaimed author of more than 50 books, including the internationally best-selling No. 1 Ladies' Detective Agency series. Here he vividly renders his native Scotland, from lively Edinburgh to the surreal isle of Jura, where George Orwell completed his masterpiece, 1984. With his trademark wisdom and gentle wit, McCall Smith explores the flaws and foibles of humankind and the powerful bond between mother and child."--"Block, Allison" Copyright 2007 Booklist"
From Booklist, Copyright (c) American Library Association. Used with permission.
Publisher's Weekly Review:
"Best known for the No. 1 Ladies Detective Agency series, bestseller Smith shows he's just as adept at exploring mysteries of the heart in his fourth book to feature Edinburgh philosopher-sleuth Isabel Dalhousie (after The Right Attitude to Rain). Isabel has recently become a mother, but she has an ambiguous relationship with her son's father, Jamie, whose attempts to formalize their connection have been unsuccessful. Their ties are further strained by Jamie's ex-girlfriend, Cat, who not only still harbors strong feelings for him but is Isabel's niece. Isabel must also deal with petty academic politics aimed at depriving her of her position as editor of the Review of Applied Ethics. Smith throws in a mystery subplot-did an obscure but talented Scottish painter drown, commit suicide or fall victim to foul play?-but the resolution of that plot thread is more noteworthy for its insights into Isabel's humanistic and optimistic philosophy than for any surprise twists. Once again, Smith displays his skill at illustrating subtle nuances of human nature. (Aug.) (c) Copyright PWxyz, LLC. All rights reserved"
(c) Copyright PWxyz, LLC. All rights reserved
Additional Information