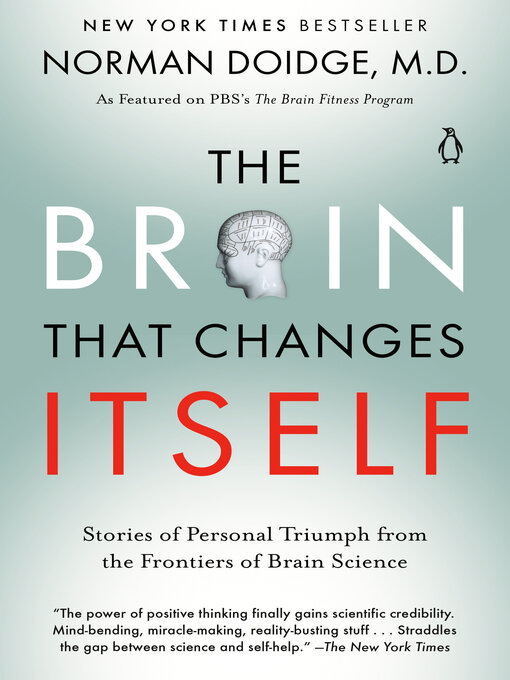 The brain that changes itself stories of personal triumph from the frontiers of brain science
Format:

Kindle Book

2007

2007

Adobe EPUB ebook

OverDrive Read

Availability:

Unavailable

0 of 2 copies
7 people on waitlist
Summary
A new science called neuroplasticity is overthrowing the old notion that the human brain is immutable. Psychoanalyst Doidge traveled the country to meet both the brilliant scientists championing neuroplasticity and the people whose lives they've transformed--people whose mental limitations or brain damage were seen as unalterable. We see a woman born with half a brain that rewired itself to work as a whole, blind people who learn to see, learning disorders cured, IQs raised, aging brains rejuvenated, stroke patients learning to speak, children with cerebral palsy learning to move with more grace, depression and anxiety disorders successfully treated, and lifelong character traits changed. Using these stories to probe mysteries of the body, emotion, love, sex, culture, and education, Dr. Doidge has written an inspiring book that will permanently alter the way we look at our brains, human nature, and human potential.--From publisher description.

Contents
A woman perpetually falling : rescued by the man who discovered the plasticity of our senses
Building herself a better brain : a woman labeled "retarded" discovers how to heal herself
Redesigning the brain : a scientist changes brains to sharpen perception and memory, increase speed of thought, and heal learning problems
Acquiring tastes and loves : what neuroplasticity teaches about sexual attraction and love
Midnight resurrections : stroke victims learn to move and speak again
Brain lock unlocked : using plasticity to stop worries, obsessions, compulsions, and bad habits
Pain : the dark side of plasticity
Imagination : how thinking makes it so
Turning our ghosts into ancestors : psychoanalysis as a neuroplastic therapy
Rejuvenation : the discovery of the neuronal stem cell and lessons for preserving our brains
More than the sum of her parts : a woman shows us how radically plastic the brain can be
The culturally modified brain
Plasticity and the idea of progress.
Published Reviews
Publisher's Weekly Review:
"For years the doctrine of neuroscientists has been that the brain is a machine: break a part and you lose that function permanently. But more and more evidence is turning up to show that the brain can rewire itself, even in the face of catastrophic trauma: essentially, the functions of the brain can be strengthened just like a weak muscle. Scientists have taught a woman with damaged inner ears, who for five years had had "a sense of perpetual falling," to regain her sense of balance with a sensor on her tongue, and a stroke victim to recover the ability to walk although 97% of the nerves from the cerebral cortex to the spine were destroyed. With detailed case studies reminiscent of Oliver Sachs, combined with extensive interviews with lead researchers, Doidge, a research psychiatrist and psychoanalyst at Columbia and the University of Toronto, slowly turns everything we thought we knew about the brain upside down. He is, perhaps, overenthusiastic about the possibilities, believing that this new science can fix every neurological problem, from learning disabilities to blindness. But Doidge writes interestingly and engagingly about some of the least understood marvels of the brain. (Mar. 19) (c) Copyright PWxyz, LLC. All rights reserved"
(c) Copyright PWxyz, LLC. All rights reserved
Additional Information