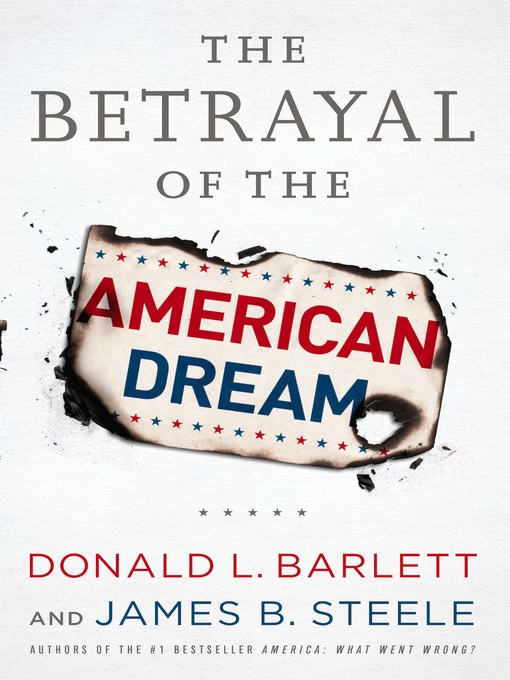 The betrayal of the American dream
Format:

Adobe EPUB ebook

2012

2012

OverDrive Read

Availability:

Available from OverDrive

1 of 1 copy
Summary
A fiercely-reported indictment of how the American middle class has been condemned to terminal decline, from the authors of the New York Times bestseller America: What Went Wrong

Contents
Contents; Prologue; 1. Assault on the Middle Class; 2. The Cost of Free Trade; 3. Made in America?; 4. Phantom Jobs; 5. The Great Tax Heist; 6. The End of Retirement; 7. Deregulation: Economic Chaos; 8. Globalization Shanghaied; 9. Restoring the American Dream; Appendix; Acknowledgments; A Note on Sources; Index
Published Reviews
Booklist Review:
"*Starred Review* Billionaire Warren Buffet famously observed that class warfare has been going on for decades, and my class is winning. Pulitzer Prize and National Magazine Award winners Barlett and Steele scored a best-seller decrying such class warfare with America: What Went Wrong? (1992). Betrayal carries their powerful critique forward into the present. For Barlett and Steele, middle class working households earned $35,000-$85,000 in 2009; that's 34 million households, with 58 million earning less and 24 million more. The ruling class betraying middle Americans is a mix of politicians and special interests who've gamed the system on behalf of the richest Americans. The authors trace the process of that betrayal from early deregulation fever (airlines and trucking) in the 1970s through today's warnings of debt infernos, unaffordable entitlements, and the need for austerity. Working in collaboration with American University's Investigation Reporting Workshop, Barlett and Steele address key elements of this betrayal (globalization, outsourcing, taxes, pensions, financial-sector dominance), then offer suggestions for reversing it, including progressive tax reform, fair trade, infrastructure investment, focused retraining, and criminal prosecution of white-collar criminals. Expect demand.--Carroll, Mary Copyright 2010 Booklist"
From Booklist, Copyright (c) American Library Association. Used with permission.
Publisher's Weekly Review:
"The ostensibly willful destruction of the American middle class is laid bare in this villains and underdogs story from the Pulitzer Prize-winning reporting duo, Barlett and Steele (coauthors, America: What Went Wrong?). The authors describe economic policy changes in the decades since WWII, and demonstrate how fiscal rejiggering at the governmental level has produced a powerful and unchecked economic elite in America. Addressing issues like outsourcing, "the skewing of the tax code in favor of the rich," and the deregulation of major industries, and investigating case studies like Boeing, Apple, and PricewaterhouseCoopers, the authors paint a sobering picture of collusion between a money-hungry Congress, big business, and the "financial cowboys" of Wall Street, who have dismantled the opportunities and hopes of the American middle class in order to increase the rate of cash flow to the rich. Stories of hard-working employees and business owners watching their jobs and retirement accounts vanish will pull on readers' heartstrings, while inflammatory language accompanies descriptions of the "charlatans" and "financial bandits" engineering Joe Mainstreet's downfall. The book is simplistic in its depiction of the good guys versus the bad, and policy wonks will be disappointed with the surface-level analysis of complex economic theory and history. But for folks bowled over by the recent financial meltdown, Barlett and Steele's book will resonate. (July) © Copyright PWxyz, LLC. All rights reserved."
Additional Information