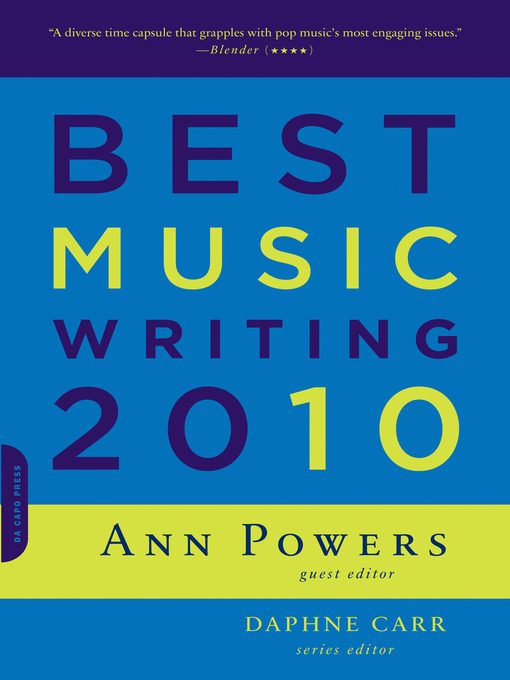 Best music writing 2010
Format:

Adobe EPUB ebook

2010

2010

OverDrive Read

Availability:

Available from OverDrive

1 of 1 copy
Summary
Presents a collection of essays and articles about music and its culture published in 2009, covering a diversity of music styles, including rock, pop, rap, jazz, blues, and country

Contents
The gossip takes Paris / Michelle Tea
Michael Jackson : the man in our mirror / Greg Tate
Michael Jackson : an appreciation of his talent / Jason King
Living on the radio : the-dream is everywhere / Sasha Frere-Jones
Twitter & the death of rock criticism / Christopher R. Weingarten
On 'JayZ ft. Alicia Keys
empire state of mind / Erika Villani
Kanye West : back to reality? / Maura Johnston
The end of white America? / Hua Hsu
Paisley's progress / Robert Christgau
Mexican bands hear success calling / Josh Kun
BeauSoleil : Beau brothers / Geoffrey Himes
On the road to Burma : globetrotting with Ozomatli, unlikely U.S. diplomats / Randall Roberts
The passion of David Bazan / Jessica Hopper
The decade in Indie / Nitsuh Abebe
My hilarious Warner Bros. royalty statement / Timothy Quirk
Biscuits and jam with a side of mud / Evie Nagy
Stompin' at The Grand Terrace : excerpts from a jazz memoir in verse / Philip S. Bryant
Still ill / Timmhotep Aku, Carl Chery, Clover Hope, Rob Markman, Starrene Rhett, and Anslem Samuel
The revolution will be harmonized / Barry Walters
The Orange Line revolution / Aaron Leitko
One on one with Maria Schneider / Eugene Holley, Jr.
Conducting 101 / Mark Swed
Drake : rookie of the year / Lola Ogunnaike
50 Cent : one dethroned king out to reclaim his crown ... / Phillip Mlynar
Regret, divorce, compromise / Greg Pratt
The fighter: the life & times of Merle Haggard / Jason Fine
A very Dylan Christmas / Chris Willman
Appropriate for destruction / Nikki Darling
Help from his friends : the return of a fallen idol / Jon Caramanica
Another love TKO : teens grapple with Rihanna vs. Chris Brown / Raquel Cepeda
Let's (not) get it on / Sean Nelson
Lady Gaga in hell / May Gaitskill
Phil Ochs greatest hits / Chris Estey
Adam's return / Tavia Nyong'o
Voice of the century : celebrating Marian Anderson / Alex Ross
Vanishing act : in search of Eva Tanguay, the first rock star / Jody Rosen.
Published Reviews
Booklist Review:
"This year's collection of disparate commentary on current pop-music doings is guest-edited by Ann Powers of the Los Angeles Times, who describes her current listening as everything, that's my job. Her picks constitute a more general survey of the pop-music continuum than has been the case in previous installments. This volume is chock-full of music writing from all over the stylistic spectrum; the selection is an argument that all of these approaches merit attention. Familiar names return: Robert Christgau mulls Brad Paisley's country stylings, though Greil Marcus (last year's guest editor) is consigned to the Other Notable Music Writing bibliography. Jason Fine updates the Merle Haggard story, Greg Tate and Jason King contribute Michael Jackson retrospectives, Christopher R. Weingarten considers Twitter's democratizing effect on rock criticism, and Michelle Tea ponders lunch with Stella McCartney's dad, among a dizzying array of other music and celebrity matters, including the Muppets. Mary Gaitskill's Lady Gaga in Hell, it should be noted, is neither a wish nor a curse, but an insightful if brief William Blake-inspired deconstruction of the Lady's music video for Poker Face. Wide ranging and incisive, this collection merits consideration.--Tribby, Mike Copyright 2010 Booklist"
From Booklist, Copyright (c) American Library Association. Used with permission.
Publisher's Weekly Review:
"In the 11th installment, guest editor Powers and series editor Carr offer what could be one of the most prescient compilations of all, exemplified by a transcription of writer Christopher Weingarten's speech at the 140 Characters Conference in New York City. In it, Weingarten states that he and other music writers will soon be out of jobs because the internet has let anyone become a music writer. Weingarten argues that the fallout will be the increasing difficulty to experience new music outside of one's comfort zone, an incredible value to music writers. This is the axis around which the book revolves. Readers are exposed to a wide variety of compelling essays and articles they likely missed, from a profile of the 28-year-old conductor of the Gothenburg Symphony, Gustavo Dudamel, to an examination of the pivotal role mobile phones have had in exposing new Latino artists, to an essay on screwy record company accounting practices. There are still the lengthy profiles of artists like Merle Haggard and The Gossip's Beth Ditto, but the compilation's breadth is its real appeal. While it functions as a snapshot of the events, trends, and personalities that made up 2010, it also works as a portrait of an industry and an art form in transition. (Nov.) © Copyright PWxyz, LLC. All rights reserved."
Additional Information