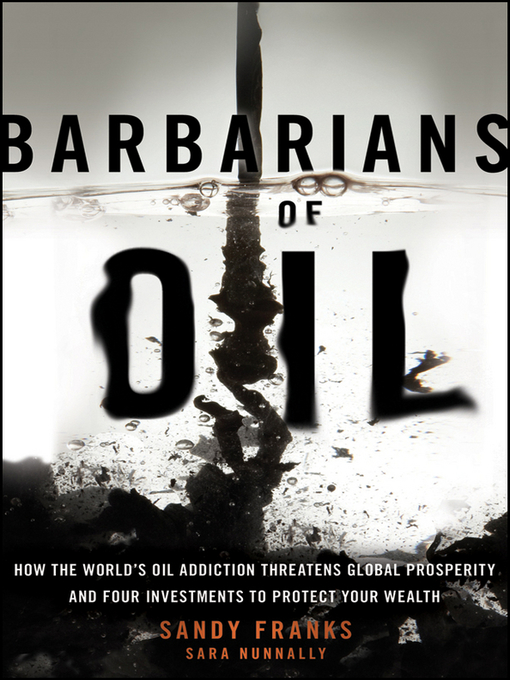 Barbarians of oil how the world's oil addiction threatens global prosperity and four investments to protect your wealth
Format:

Adobe EPUB ebook

2011

2011

OverDrive Read

Availability:

Available from OverDrive

1 of 1 copy
Summary
"An engaging look at the global oil industry and how to navigate the price volatility and new policies associated with it. Oil is a constantly changing industry, and with the recent BP oil spill in the Gulf of Mexico, more changes are expected. From extra equipment, higher-cost insurance, and expensive technology to mandatory third-party inspections, costly delays, and shifting investments, analysts say the price tag of regulation will be stiff and not confined to the Gulf. The oil industry affects everyone, and the machinations of a few industry heads, the "Barbarians of Oil," can drastically change the lives of investors and consumers. In Barbarians of Oil author Sandy Franks offers the tips needed to avoid future market dips and dives as well as safeguard your investments and profit in the future. Details the petro-land grab in Africa, the Bush-Halliburton Era, the Gulf Wars, and the political dangers to the United States in Iran, Iraq, and other oil-rich nations. Looks at the BP oil spill in the Gulf of Mexico and the impending long-term effects on investments and policy. Explores the evolution of the modern oil industry including major corporations such as ExxonMobil, ConocoPhillips, Chevron, and BP Barbarians of Oil is a timely must read for hard-working Americans concerned with their prosperity, as well as for those fascinated with the inner workings of the oil industry."--Provided by publisher.

Contents
pt. 1. History of oil
pt. 2. Oil dynasties
pt. 3. Dangerous liaisons
pt. 4. Oil's political allies
pt. 5. Dangerous addiction
pt. 6. Where to invest now and why.
Additional Information