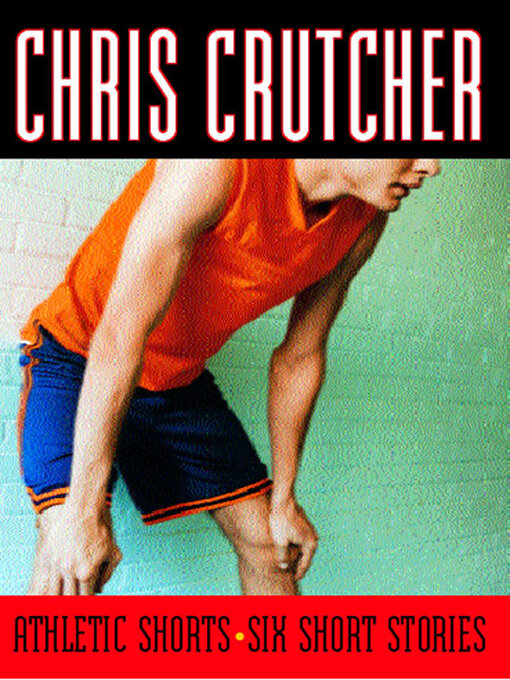 Athletic shorts six short stories
Format:

Kindle Book

2009

2009

Adobe EPUB ebook

OverDrive Read

Availability:

Available from OverDrive

1 of 1 copy
Summary
A collection of short stories featuring characters from earlier books by Chris Crutcher.

Contents
A brief moment in the life of Angus Bethune
The pin
The other pin
Goin' fishin'
Telephone man
In the time I get.
Published Reviews
Booklist Review:
"Gr. 8-12. That Crutcher's derived all but one of the principal characters found in these stories from his novels won't restrict this to his full-length-fiction fans. The best story, "A Brief Moment in the Life of Angus Bethune," has, in fact, nothing to do with prequels or sequels at all, though it has been published previously. In it Angus, a wonderfully humorous, self-deprecating fat kid from an alternative family (two sets of gay parents), gets a well-deserved, longed-for moment with the girl of his dreams, who turns out to be not only beautiful, but also nice. In "The Telephone Man," which calls up a character that originally appeared in Crazy Horse Electric Game, emotionally disabled Jack, whose belt full of phone equipment constitutes his identity, is rescued from a vicious Chinese gang by a black classmate. The incident puts lie to the racist rhetoric Jack's father spouts, leaving Jack loving his dad but no longer believing him. Not all the stories are as strong as these two, but Crutcher knows teen issues and how kids think and talk. His themes--father-son friction, insecurity, friendship--have great YA appeal, his plots are straightforward, and he mixes poignancy and humor in just the right proportion to keep readers involved. And they will also appreciate the insights he supplies about himself in the collection's introduction and in story headnotes. ~--Stephanie Zvirin"
From Booklist, Copyright (c) American Library Association. Used with permission.
Publisher's Weekly Review:
"If the stereotype of the ``bonehead jock'' is ever to be defeated, it will be at Crutcher's hands. In these six short stories, he and his athlete protagonists take on such weighty issues as racism, homophobia, sexism and the teenager's essential task of coming to terms with his parents. At the same time the author makes the world of sports compelling enough to engage even the most sedentary readers. Three of the stories revolve around characters featured in Crutcher's The Crazy Horse Electric Game , including the memorable eccentric known as Telephone Man. Also starring in his own story is Lionel Serbousek, the orphaned artist and swimmer of Stotan! In the book's final tale, Louie Banks (from Running Loose ) is befriended by a young man with AIDS and must cope once again with the untimely death of a loved one. The stories' locales--mostly small towns in Montana and Idaho--are vividly evoked, and make a satisfying change from the well-known big cities and bland suburbs where so many YA novels are set. Ages 12-up. (Oct.) (c) Copyright PWxyz, LLC. All rights reserved"
(c) Copyright PWxyz, LLC. All rights reserved
Additional Information