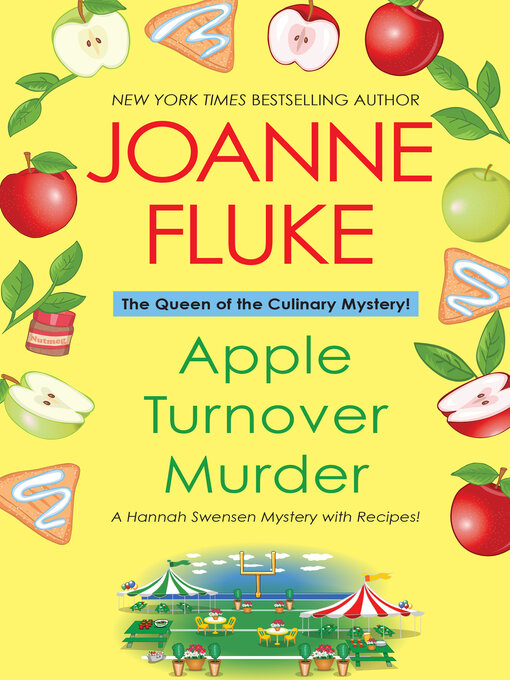 Apple turnover murder bundle
Format:

Kindle Book

2010

2011

Adobe EPUB ebook

OverDrive Read

Availability:

Available from OverDrive

2 of 2 copies
Summary
The Luscious Los Angeles Times And USA Today Bestseller! Early summer brings plenty of work for baker Hannah Swensen, even before Mayor Bascomb's wife drops by The Cookie Jar to place an order for her charity event...for eleven-hundred cookies! And Hannah almost flips when her business partner, Lisa, suggests setting up an apple turnover stand. But she places her faith in Lisa and agrees to be a magician's assistant in the fundraiser's talent show... The only snag is the show's host, college professor Bradford Ramsey. Hannah and her sister, Michelle, each had unfortunate romances with Ramsey, and when the cad comes sniffing around between acts, Hannah tells him off. But when the curtain doesn't go up, she discovers Ramsey backstage--dead, with a turnover in his hand. Now Hannah must find a killer who's flakier than puff pastry--and far more dangerous... Includes Over Ten Cookie and Dessert Recipes From The Cookie Jar, Including Chocolate Sugar Cookies and Breakfast in a Muffin! The ever popular Fluke writes engaging cozies with one part great characters, one part gentle story, and three parts the best recipes in the genre. ?Library Journal Catch up with the gang in this delightful, thoroughly entertaining series that keeps readers coming back for more. ?Romantic Times

Contents
Apple turnover murder
Key lime pie murder
Cherry cheesecake murder
Lemon meringue pie murder.
Published Reviews
Publisher's Weekly Review:
"Cozy fans will welcome bestseller Fluke's charming 13th Hannah Swensen mystery (after 2009's Plum Pudding Murder). Hannah is working long hours at her bakery, the Cookie Jar, in Lake Eden, Minn., as well as dating two men, dentist Norman Rhodes and local sheriff Mike Kingston. Her personal life gets more complicated with the reappearance of Bradford Ramsey, a college professor with whom Hannah had a brief fling when she was a naive graduate student. Hannah hopes ladies' man Bradford has forgotten the embarrassing episode. When Hannah winds up serving as a magician's assistant for a charity show, she has the misfortune to find Bradford, the show's host, backstage "stone cold dead." With her usual wit and flair, amateur sleuth Hannah narrows down the list of suspects in Bradford's murder, but can she catch the culprit before she becomes the next victim? Scrumptious recipes include mocha nut butterballs and chocolate marshmallow cookie bars. Author tour. (Mar.) (c) Copyright PWxyz, LLC. All rights reserved"
(c) Copyright PWxyz, LLC. All rights reserved
Additional Information
Series
1943- Hannah Swensen mystery.


Features Hannah Swensen, manager of The Cookie Jar in Lake Eden, Minnesota


#1 - Chocolate chip cookie murder
#2 - Strawberry shortcake murder
#3 - Blueberry muffin murder
#4 - Lemon meringue pie murder
#5 - Fudge cupcake murder
#6 - Sugar cookie murder
#7 - Peach cobbler murder
#8 - Cherry cheesecake murder
#9 - Key lime pie murder
#10 - Carrot cake murder
#11 - Cream puff murder
#12 - Plum pudding murder
#13 - Apple turnover murder
#14 - Devil's food cake murder
#15 - Cinnamon roll murder
#16 - Red velvet cupcake murder
#17 - Blackberry pie murder
#18 - Double fudge brownie murder
#19 - Wedding cake murder
#20 - Christmas caramel murder
#21 - Banana cream pie murder
#22 - Raspberry danish murder
#23 - Christmas cake murder
#24 - Chocolate cream pie murder
#25 - Coconut layer cake murder
#26 - Christmas cupcake murder
#27 - Triple chocolate cheesecake murder

Subjects
Swensen, Hannah (Fictitious character) Fiction
Bakers Fiction
Bakeries Fiction
Women detectives Fiction
Murder Investigation Fiction
Mystery
Fiction
Minnesota Fiction.
Electronic books.
Mystery fiction.

Publisher

New York :Kensington Books2010




2011



Other Titles
Apple turnover murder.
Key lime pie murder.
Cherry cheesecake murder.
Lemon meringue pie murder.

Contributors
Fluke, Joanne, 1943- Apple turnover murder.
Fluke, Joanne, 1943- Key lime pie murder.
Fluke, Joanne, 1943- Cherry cheesecake murder.
Fluke, Joanne, 1943- Lemon meringue pie murder.
OverDrive, Inc.

Language

English



System Details

Mode of access: World Wide Web.




Format: Adobe EPUB eBook




Format: Kindle Book




Format: OverDrive READ




Requires Adobe Digital Editions or Amazon Kindle



Description

1 online resource.



ISBN
9780758268297
9780758268297

Other
Classic View