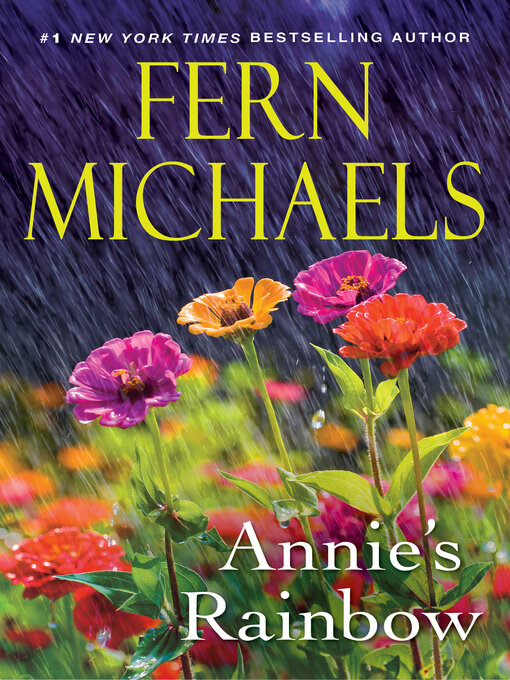 Annie's rainbow
Format:

Kindle Book

2007

2011

Adobe EPUB ebook

OverDrive Read

Availability:

Available from OverDrive

1 of 1 copy
Summary
Anna Daisy Clark turned the half-million dollars she found on graduation day into a thriving chain of coffee houses and is engaged to a handsome coffee grower. Annie is returning the money to the bank from which it was stolen, but she is faced with a determined detective and an irate thief.

Published Reviews
Publisher's Weekly Review:
"Poor girl Annie Daisy Clark finds a bag containing half a million dollars. Even though she knows the money comes from a bank heist, she decides to use it, launching a successful coffee-shop franchise and getting her mother, who suffers from Alzheimer's, out of a bad nursing home. Annie becomes a savvy, hard-driving businesswoman, all the while seeking a little romance. When the man who first catches her eyeÄa handsome Hawaiian coffee growerÄturns out to think that woman should happily take second place to men, she turns her attentions to a widowed ex-FBI man. But Annie has other things to worry about now: an insurance agent is obsessed with tracking down the missing cash, and the bank robber blames her for his long jail term. Annie is tough, and sometimes tough to like: she enjoys throwing around her power and wealth, but she is kind to those who maintain their loyalty to her. In the end, Michaels's latest (after Celebration) turns out to be a disappointing read in which secondary characters are for the most part one-dimensional. Annie wrestles with her conscience for too long, taking 15 years to return the stolen money, after both the romance and the suspense have long ceased to thrill. (Apr.) (c) Copyright PWxyz, LLC. All rights reserved"
(c) Copyright PWxyz, LLC. All rights reserved
Additional Information