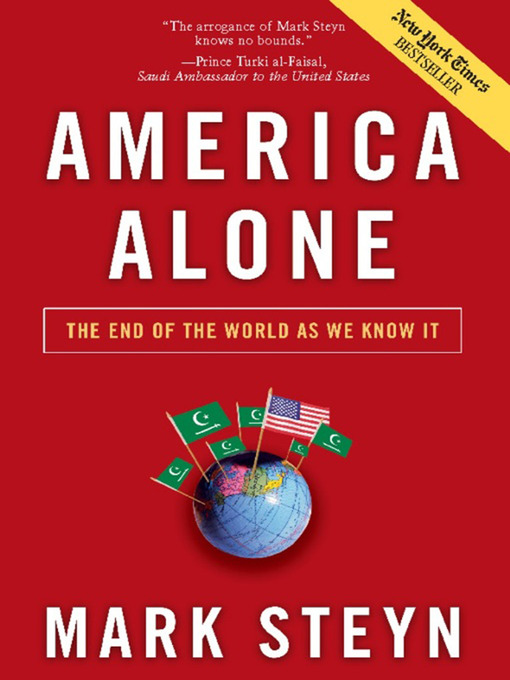 America alone the end of the world as we know it
Format:

Kindle Book

2006

2006

Adobe EPUB ebook

OverDrive Read

Availability:

Available from OverDrive

1 of 1 copy
Summary
In his first major book, concervative columnist Steyn takes on the anti-Americanism that fuels both Old Europe and radical Islam. America, Steyn argues, will have to stand alone. The future, Steyn shows, belongs to the fecund and the confident. The Islamists are both, while the West--wedded to a multiculturalism that undercuts its own confidence, a welfare state that nudges it toward sloth and self-indulgence, and a childlessness that consigns it to oblivion--is looking ever more like the ruins of a civilization. Europe is almost certainly a goner. The future, if the West has one, belongs to America alone--with maybe its cousins in brave Australia. But America can survive, prosper, and defend its freedom only if it continues to believe in itself, in the sturdier virtues of self-reliance (not government), in the centrality of family, and in the conviction that our country really is the world's last best hope.--From publisher description.

Contents
Pt. I. The gelded age. The coming of age: births vs. deaths ; Going... going... gone: demography vs. delusion ; Men are from Venus: primary impulses vs. secondary impulses.
Pt. II. Arabian night. Flying the coop: big Mo vs. Big Mac ; The anything they'll believe in: church vs. state ; The four horsemen of the Eupocalypse: Eutopia vs. Eurabia.
Pt. III. The new dark ages... and how to lighten up. The state-of-the-art primitive: the known unknowns vs. the knowingly unknowing ; The unipole apart: America vs. everyone else ; The importance of being exceptional: citizens vs. dependents ; The falling camel: last legs.
Additional Information