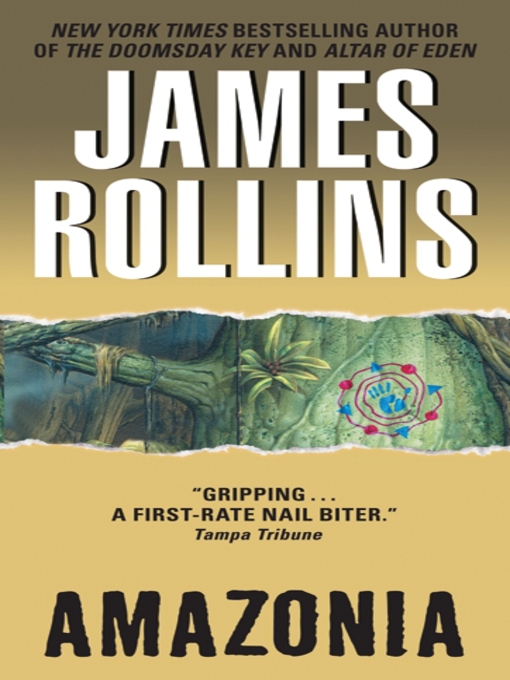 Amazonia
Format:

Kindle Book

2009

2009

Adobe EPUB ebook

OverDrive Read

Availability:

Unavailable

0 of 2 copies
Summary
The Rand scientific expedition entered the lush wilderness of the Amazon and never returned. Years later, one of its members has stumbled out of the world's most inhospitable rainforest--a former Special Forces soldier, scarred, mutilated, terrified, and mere hours from death, who went in with one arm missing . . . and came out with both intact. Unable to comprehend this inexplicable event, the government sends Nathan Rand into this impenetrable secret world of undreamed-of perils, to follow the trail of his vanished father . . . toward mysteries that must be solved at any cost. But the nightmare that is awaiting Nate and his team of scientists and seasoned U.S. Rangers dwarfs any danger they anticipated . . . an ancient, unspoken terror--a power beyond human imagining--that can forever alter the world beyond the dark, lethal confines of . . .

Published Reviews
Booklist Review:
"Rollins' latest thriller takes us to the unexplored depths of the Brazilian rain forest, a particularly apt setting for mystery and adventure, both of which are amply woven into this new novel. When the search is called off for a scientific and military expedition that disappeared into the depths of the Amazon rain forest, Nathan Rand must come to terms with his father's death. Four years later, a member of the lost expedition stumbles into a small village and dies from a mysterious disease, unable to reveal the fate of the other explorers. A new scientific expedition, backed by the military and a pharmaceutical company, hopes to find out what happened, but as a trail of contagion and outbreak follows the body back to the U.S., the team must also find a way to check the spread of this mysterious disease. At the mercy of an unseen tribe rumored to have mythical powers, the group delves deeper into the jungle, hoping desperately for answers yet fearing what they might find. Rollins reveals increasingly fanciful details as events unfold, giving something of a deus ex machina feel to the story when everything is finally explained. Nonetheless, the pace is fast, and readers willing to suspend disbelief will find this a gripping and exciting tale. --Gavin Quinn"
From Booklist, Copyright (c) American Library Association. Used with permission.
Publisher's Weekly Review:
"The use of mass market originals as a farm team for hardcovers has lost popularity, but still works occasionally, as with Rollins, whose three mass markets (Deep Fathom, Excavation and Subterranean) displayed a flair for brawny adventure within an exotic locale a flair put to good use in his hardcover debut. A U.S. Special Forces agent walks out of the Amazon jungle and quickly dies of rampant tumors; what's especially bizarre is that this man has two arms, but when he entered the jungle five years before as part of a biopharmaceutical exploratory expedition, which has been lost track of, he had only one. The rest of the novel follows a group of scientists and U.S. military guardians as they trek deep into the jungle in search of the missing expedition and, hopefully, the secret to the regrown arm a secret that takes on vast importance when the dead agent's body, shipped to the States, spreads a disease that threatens to wipe out the American population. Meanwhile, a second, predatory expedition, led by a French psychopath, surreptitiously follows the first, aiming to steal whatever cure the searchers uncover; both expeditions wind up at the isolated home of a legendary tribe and the malignant, giant tree that sustains it. Rollins won't win awards for his prose or characters, though both function smoothly in this boldly drawn entertainment, and there's little here that isn't a variation of some classic adventure trope. His pacing is forceful, however, and his atmospherics rich, with giant caimans and jaguars, mutant amphibians and hungry locusts adding to the mayhem, a high body count and a congenial sense of the ridiculous although Rollins plays it deadpan. This is old-fashioned, rugged adventure in the tradition of Haggard and Crichton, told with energy, excitement and a sense of fun. (Mar.) Forecast: National print ads and California regional author appearances will win Rollins some fans, but the simultaneous release of 12-copy prepacks of his three mass markets manifest this novel's likely fate: respectable hardcover, bestselling paperback. (c) Copyright PWxyz, LLC. All rights reserved"
(c) Copyright PWxyz, LLC. All rights reserved
Additional Information