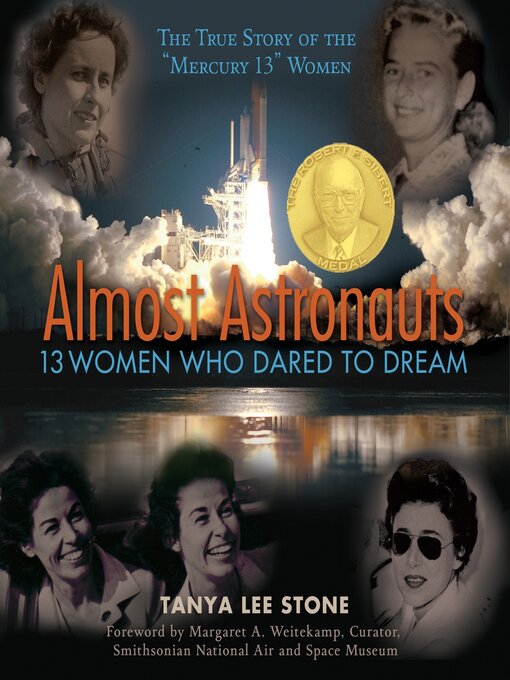 Almost astronauts 13 women who dared to dream
Format:

Adobe PDF eBook

2009

2011

Availability:

Available from OverDrive

1 of 1 copy
Summary
What does it take to be an astronaut? Excellence at flying, courage, intelligence, resistance to stress, top physical shape, any checklist would include these. But when America created NASA in 1958, there was another unspoken rule: you had to be a man. Here is the tale of thirteen women who proved that they were not only as tough as the toughest man but also brave enough to challenge the government. They were blocked by prejudice, jealousy, and the scrawled note of one of the most powerful men in Washington. But even though the Mercury 13 women did not make it into space, they did not lose, for their example empowered young women to take their place in the sky, piloting jets and commanding space capsules. Almost Astronauts is the story of thirteen true pioneers of the space age.

Contents
T minus thirty-eight years
I jumped at the offer
Not a meaningful test!
Mommy's going to the moon!
Too good to be true
Regret to advise
Let's stop this now!
Jerrie Cobb isn't running this program. I am!
The men go off and fight the wars and fly the airplanes
NASA never had any intention of putting those women in space
We want to see a woman driving the bus, not sitting in the back
I am living proof that dreams do come true.
Published Reviews
Booklist Review:
"Space gals. Astronettes. Astrodolls . . . Who do these women think they are? The media mocked them. Male astronauts did not want them, and neither did then vice-president Lyndon Johnson. If they were to let women into the space program, blacks and other minorities would be next. Nearly 20 years before the U.S. officially admitted women into the astronaut program, 13 women, known as the Mercury 13, fought for the right to soar into space. This dramatic, large-size photo-essay covers their stories, along with the exciting politics of the women's liberation struggle in the 1950s and '60s ( What is a woman's place? ) and the breakthrough science and technology surrounding space exploration, including details of the would-be astronauts' tests and training. The chatty, immediate style ( Picture this ) and full-page photos make for a fast read, and the crucial civil-rights history will stay with readers. The long, spacious back matter is part of the story, with detailed chapter notes and a bibliography.--Rochman, Hazel Copyright 2009 Booklist"
From Booklist, Copyright (c) American Library Association. Used with permission.
Publisher's Weekly Review:
"Enlivened by numerous b&w and color photographs, this thorough book takes readers back to the early 1960s to tell the story of 13 women who underwent a battery of physical endurance tests (including hours spent in a deprivation tank) and psychological analysis to determine their readiness to travel in space. A gripping narrative surfaces in Stone's text, as the women are repeatedly thwarted by NASA, discriminated against and patronized by society ("Gene Nora Stumbough's boss said she couldn't have time off. So she quit. Sarah Gorelick had the same problem.... So she quit"). Readers with an interest in history and in women's struggle for equality will undoubtedly be moved. Ages 10-up. (Feb.) (c) Copyright PWxyz, LLC. All rights reserved"
(c) Copyright PWxyz, LLC. All rights reserved
Additional Information