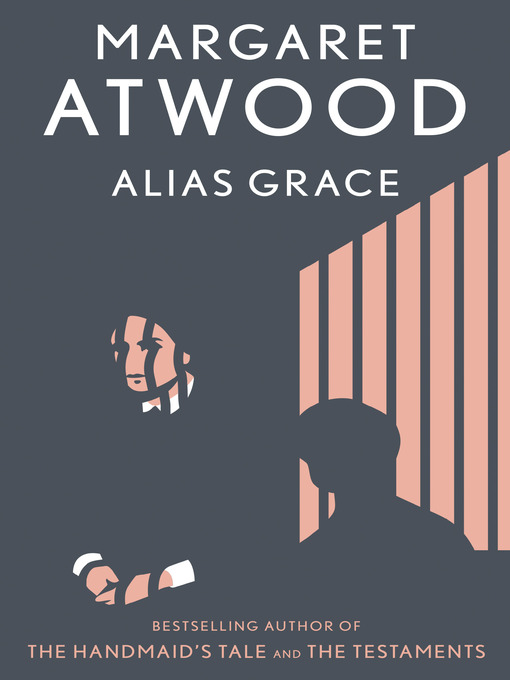 Alias Grace
Format:

Kindle Book

2011

2011

Adobe EPUB ebook

OverDrive Read

Availability:

Available from OverDrive

15 of 23 copies
Summary
Takes readers into the life and mind of Grace Marks, one of the most notorious women of the 1840s, who is serving a life sentence for murders she claims she cannot remember. Y.

Contents
1. Jagged edge
2. Rocky road
3. Puss in the corner
4. Young man's fancy
5. Broken dishes
6. Secret drawer
7. Snake fence
8. Fox and geese
9. Hearts and gizzards
10. Lady of the lake
11. Falling timbers
12. Solomon's temple
13. Pandora's box
14. The letter x
15. The tree of paradise.
Published Reviews
Booklist Review:
"Since she was a child, Atwood has been fascinated by the true story of Grace Marks, a 16-year-old, nineteenth-century Canadian domestic worker convicted of the murder of her employer, Thomas Kinnear. Now, in Atwood's first historical novel and perhaps her strongest work to date, she tells us why. Grace's enduringly enigmatic tale embodies Atwood's signature theme--the myriad ironies and injustices of women's lives--and, as she portrays a fictionalized Grace in prose as elegant as Eliot's or Wharton's, she also gleefully exposes all the hypocrisy, sexism, ignorance, and fear embedded in Victorian culture. We learn Grace's story, or, at least, Grace's carefully modulated version of it, during the course of her sessions with a naive American "doctor of the mind" named Simon Jordan. Grace claims to have no memory of the murder of Kinnear, or of Nancy Montgomery, his housekeeper and lover, and denies having had sexual relations with James McDermott, who was hung for his part in the crime. When Jordan arrives, determined to help her regain her memory and, hopefully, clear her name, she has already served 15 years of a life sentence, some in an asylum. Atwood uses their conversations, which are electric with suppressed desire and suspense, as a forum for considering everything from the class system to treatment of the insane, prostitution, spiritualism, and sensationalized journalism. Atwood's humor has never been slier, her command of complex material more adept, her eroticism franker, or her descriptive passages more lyrical. This is a stupendous performance and bound to win Atwood even greater acclaim. --Donna Seaman"
From Booklist, Copyright (c) American Library Association. Used with permission.
Publisher's Weekly Review:
"In Atwood's latest, the notorious 19th-century murderess Grace Marks tells her story in a Toronto asylum. (Nov.) (c) Copyright PWxyz, LLC. All rights reserved"
(c) Copyright PWxyz, LLC. All rights reserved
Additional Information