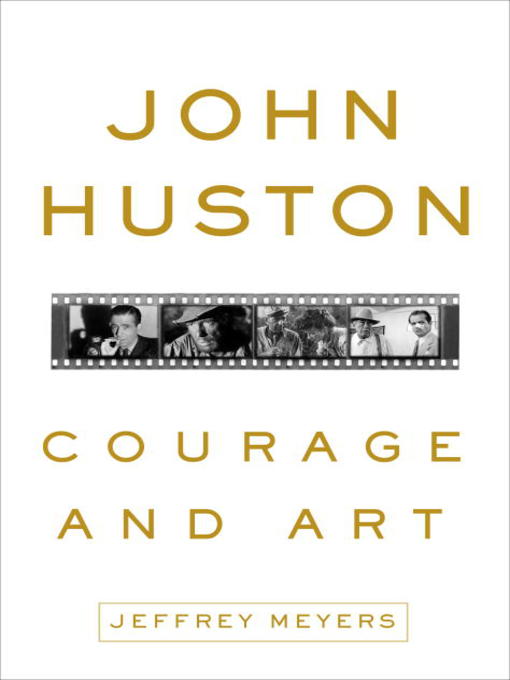 John Huston courage and art
Format:

Adobe EPUB ebook

2011

2011

OverDrive Read

Availability:

Available from OverDrive

1 of 1 copy
Summary
"An actor in the 1920s and scriptwriter in the 1930s, John Huston made his dazzling directorial debut in 1941 with 'The Maltese Falcon'. His career as a filmmaker spanned some fifty-seven years and yielded thirty-seven feature films. He made most of his movies abroad, spent much of his life in Ireland and Mexico, and remains one of the most intelligent and influential filmmakers in history. With equal attention given to Huston's impressive artistic output and tempestuous personal relationships, biographer Jeffrey Meyers presents a vivid narrative of Huston's remarkably rich creative life." -- Book Jacket.

Contents
Prologue: Huston and Hemingway
Braving the waterfall, 1906-1923
Restless youth, 1924-1935
Many talents, 1936-1940
Return to Hollywood, 1936-1940
Black bird, 1941
Huston touch, 1941-1942
Into battle, 1942-1945
Women in love, 1946-50
Witch hunts, 1947
Gold in Mexico, 1948
Crime and the city, 1948-1950
Sultanate of St. Clarens, 1950-1960
Heart of darkness, 1951-1952
Paris and Italy, 1953-1954
White whale, 1955-1956
Tobago, Japan and Africa, 1957-1958
Mustangs and misfits, 1959-1961
Mysteries of the mind, 1962
Lovers, 1962
Iguana and the flood, 1963-1966
Love and death, 1967-1969
Spies and boxing, 1970-1972
Celeste Shane and a desert idyll, 1972-1975
Morocco and Mexico, 1973-1978
Failures, 1979-1982
Triumphs, 1983-1985
Raising the dead, 1986-1987
Epilogue.
Additional Information