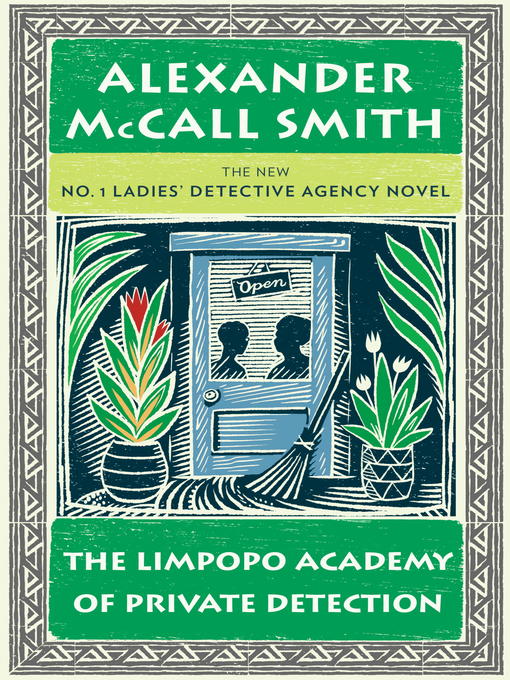 The Limpopo Academy of Private Detection
Format:

Adobe EPUB ebook

2012

2012

OverDrive Read

Availability:

Available from OverDrive

2 of 3 copies
Summary
Precious Ramotswe is haunted by a repeated dream: a vision of a tall, strange man who waits for her beneath an acacia tree. Odd as this is, she's far too busy to worry about it. The best apprentice at Tlokweng Road Speedy Motors is in trouble with the law and stuck with the worst lawyer in Gaborone. Grace Makutsi and Phuti Radiphuti are building the house of their dreams, but their builder is not completely on the up and up. And, most shockingly, Mma Potokwane, defender of Botswana's weak and downtrodden, has been dismissed from her post as matron at the orphan farm. Can the No. 1 Ladies' Detective Agency help restore the beloved matron to her rightful position? As wealthy and powerful influences at the orphan farm become allied against their friend, help arrives from an unexpected visitor: the tall stranger from Mma Ramotswe's dreams.

Published Reviews
Booklist Review:
"*Starred Review* The No. 1 Ladies' Detective Agency is located off a dusty, rutted road in cattle-rich Botswana, housed in a tiny office next to an auto-repair shop. Two women work there: Precious Ramotswe, who is Botswana's only private detective, and her associate, Grace Makutsi (now Mrs. Phuti Radiphuti). Grace never fails to mention her 97 percent average from the Botswana Secretarial College to everyone who enters. And, it seems, everyone does: women worried that their men are philandering; people concerned over their relatives' disappearances; seekers of goods and lost people. Part of the brilliance of this series (now in its thirteenth entry) is that what may seem like tiny cases expand into considerations of virtue, love, ambition, greed, and evil. And these meditations on life come as naturally as Precious looking up into the blue Botswana sky. In the latest, the person who has been Precious' and Grace's most quoted and most esteemed fellow detective enters the premises Clovis Andersen, author of The Principles of Private Detection. Now Precious can consult with the great man himself (who shows a surprising forgetfulness about passages in his own book) about two troubling crises in her own life. A wealthy businessman has fired Precious' longtime friend Mma Potokwane, the director of the orphan farm, and one of the apprentices at Speedy Motors has been wrongly accused of a crime. The trio embark on these cases with gusto. McCall Smith's novels are both very meditative and laugh-out-loud funny. If you've never read a No. 1 Ladies', now's the time. HIGH-DEMAND BACKSTORY: McCall Smith's latest Precious Ramotswe novel will get all the marketing attention it deserves, but it hardly needs much. Just hang the open-for-business sign on the door of the Ladies' No. 1 Detective Agency, and the fans will come.--Fletcher, Connie Copyright 2010 Booklist"
From Booklist, Copyright (c) American Library Association. Used with permission.
Publisher's Weekly Review:
"Smith wisely doesn't tamper with his winning recipe for literary comfort food in his 13th excursion to Gaborone, Botswana, in the company of bighearted PI Precious Ramotswe (after 2011's The Saturday Big Tent Wedding Party). An unknown tall man appears in a dream to Mma Ramotswe, and before long, one shows up for real, in the person of American Clovis Andersen, author of the bible of the No. 1 Ladies' Detective Agency, The Principles of Private Detection. Invited to the country by a woman working on an American project to build school libraries, Anderson ends up assisting his biggest fan in looking into the dirty laundry of a businessman whose plans to make the local orphanage more efficient threaten the role of its matron and its successful operation. As always, the detection is secondary to Smith's continuing exploration of the rhythms and social dynamics of smalltown African life. Agent: Robin Straus, Robin Straus Agency. (Apr.) (c) Copyright PWxyz, LLC. All rights reserved."
(c) Copyright PWxyz, LLC. All rights reserved
Additional Information