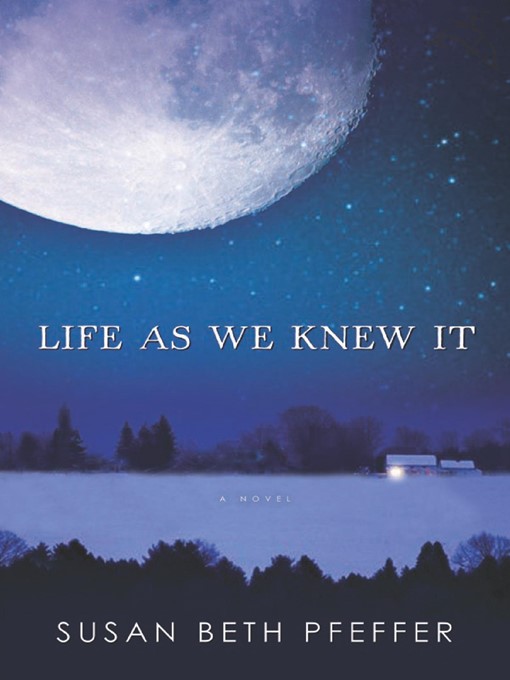 Life as we knew it
Format:

Kindle Book

2008

2008

Adobe EPUB ebook

OverDrive Read

Availability:

Available from OverDrive

2 of 3 copies
1 person on waitlist
Summary
Through journal entries sixteen-year-old Miranda describes her family's struggle to survive after a meteor hits the moon, causing worldwide tsunamis, earthquakes, and volcanic eruptions.

Published Reviews
Booklist Review:
"A meteor is going to hit the moon, and 16-year-old Miranda, like the rest of her family and neighbors in rural Pennsylvania, intends to watch it from the comfort of a lawn chair in her yard. But the event is not the benign impact predicted. The moon is knocked closer to Earth, setting off a chain of horrific occurrences: tsunamis, earthquakes, and, later, volcanic eruptions that disrupt life across the planet. Written in the form of Miranda's diary, this disquieting and involving story depicts one family's struggle to survive in a world where food, warmth, and well-being disappear in the blink of an eye. As life goes from bad to worse, Miranda struggles to find a way to survive both mentally and physically, discovering strength in her family members and herself. This novel will inevitably be compared to Meg Rosoff's Printz Award Book, How I Live Now (2004). Pfeffer doesn't write with Rosoff's startling eloquence, and her setup is not as smooth (Why don't scientists predict the possibility of this outcome?). But Miranda and her family are much more familiar than Rosoff's characters, and readers will respond to the authenticity and immediacy of their plight. Each page is filled with events both wearying and terrifying and infused with honest emotions. Pfeffer brings cataclysmic tragedy very close. --Ilene Cooper Copyright 2006 Booklist"
From Booklist, Copyright (c) American Library Association. Used with permission.
Publisher's Weekly Review:
"When an asteroid collides with the moon, causing natural disasters tidal waves, volcanoes, earthquakes and climate changes on Earth, life as 16-year-old Miranda knows it will never be the same. Suddenly, things she has taken for granted electricity, news from the outside world and three square meals a day are a thing of the past. Thanks to her mother's foresight and preparedness, Miranda and her two brothers are better off than many families in their Pennsylvania community. They have a pantry filled with canned goods and plenty of logs to fuel their wood-burning stove. Yet their situation becomes more critical as other unexpected disasters arise. The book may be lengthy, but most readers will find it absorbing from first page to last. This survival tale by the author of The Year Without Michael celebrates the fortitude and resourcefulness of human beings during critical times. The story unfolds through Miranda's journal entries, from May, when the asteroid strikes, to the following March. Though the entries paint a grim picture of a rapidly shrinking civilization ("I write stuff down in here and I don't read it. Things are bad enough without having to remind myself of just how bad things are," she explains), her words also evoke a strain of hope which proves to be her most essential survival tool. Miranda's changing priorities, undying love for her family and heightened appreciation of simple pleasures will likely provoke discussion and inspire gratitude for life as we know it now. Ages 12-up. (Oct.) (c) Copyright PWxyz, LLC. All rights reserved"
(c) Copyright PWxyz, LLC. All rights reserved
Additional Information