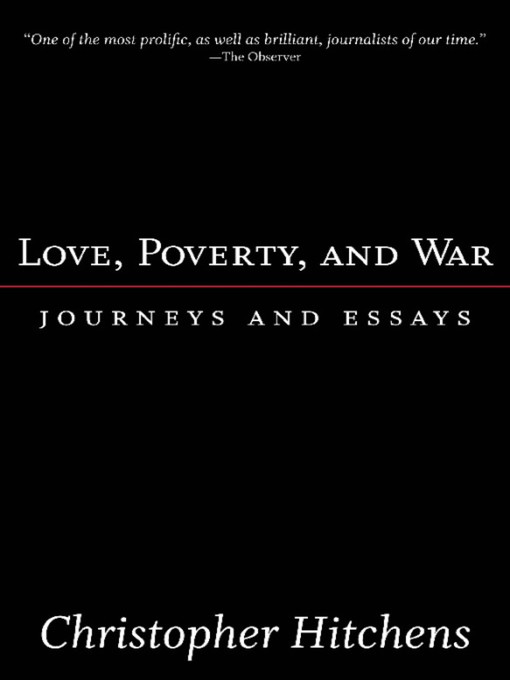 Love, poverty, and war journeys and essays
Format:

Adobe EPUB ebook

2004

2004

OverDrive Read

Availability:

Available from OverDrive

1 of 1 copy
Summary
Showcases America's leading polemicist's rejection of consensus and cliché, whether he's reporting from abroad in Indonesia, Kurdistan, Iraq, North Korea, or Cuba, or when his pen is targeted mercilessly at the likes of William Clinton, Mother Theresa ("a fanatic, a fundamentalist and a fraud"), the Dalai Lama, Noam Chomsky, Mel Gibson and Michael Bloomberg. Hitchens began the nineties as a "darling of the Left" but has become more of an "unaffiliated radical" whose targets include those on the Left, who he accuses of "fudging" the issue of military intervention in the Balkans, Afghanistan and Iraq. Yet, as Hitchens shows in his reportage, cultural and literary criticism, and opinion essays from the 1990s to 2004, he has not jumped ship and joined the Right but is faithful to the internationalist, contrarian and democratic ideals that have always informed his work.--From publisher description.

Contents
The medals of his defeats
A man of permanent contradictions
The old man
Huxley and Brave New World
Greeneland
Scoop
The man of feeling
The misfortune of poetry
The acutest ear in Paris
Joyce in bloom
The immortal
It happened on Sunset
The ballad of Route 66
The adventures of Augie March
Rebel ghosts
America's poet? : Bob Dylan's achievement
I fought the law in Bloomberg's New York
For Patriot dreams
Martha Inc.
Scenes from an execution
In sickness and by stealth
The strange case of David Irving
Why Americans are not taught history
A hundred years of muggery
Unfairenheit 9/11 : the lies of Michael Moore
Virginity regained
The divine one
The devil and Mother Teresa
Blessed are the phrasemakers
Jewish powers, Jewish peril
The future of an illusion
The gospel according to Mel
The struggle of the Kurds
Thunder in the Black Mountains
Visit to a small planet
Havana can wait
The Clinton-Douglas debates
We're still standing
The morning after
Against rationalization
Of sin, the Left, & Islamic fascism
A rejoinder to Noam Chomsky
Blaming Bin Laden first
The ends of war
Pakistan : on the frontier of apocalypse
Saddam's long good-bye
A liberating experience.
Published Reviews
Booklist Review:
"Agree or disagree with polemicist Hitchens, there is no denying the clarity of his thinking, the depth of his reading, the thoroughness of his inquiries, the independence of his opinions, and the brio of his superbly fashioned prose. An expat Brit who has written for the Nation and Vanity Fair and authored a number of stinging books, Hitchens cannot abide fuzzy logic, cant, hypocrisy, or lies and has enraged the Right and the Left with his vehement criticism of religion and his thrashing of Michael Moore and Bill Clinton. Hitchens writes astutely about post-9/11 patriotism and war and about why history is no longer taught in American schools. But this daring political analyst is also passionate about literature and offers discerning interpretations of Proust, Huxley, and Bellow. And he even shares glimpses of his less toxic self, reading Kipling to Borges in Buenos Aires, and driving across southern Illinois in a red Corvette looking for sites commemorating Abraham Lincoln. Hitchens' compassion is as sure as his ire is hot, making for a bracing and provocative collection. --Donna Seaman Copyright 2005 Booklist"
From Booklist, Copyright (c) American Library Association. Used with permission.
Publisher's Weekly Review:
"Branded an apostate by the left for his post-9/11 embrace of the U.S.'s war on terror, former Nation columnist Hitchens reprints some of the offending pieces, along with lighter fare. The title names the book's three sections. "Love" turns out to be "of literature"; displaying an eclectic range, Hitchens analyzes the new English translations of Marcel Proust as perceptively as he attacks Christopher Ricks's Dylan's Vision of Sin, among other works. When he shifts to "Poverty," Hitchens's caustic intolerance for the hypocrisy he sees in public figures comes to the fore. Some objects of his scorn are familiar-Mother Teresa, Bill Clinton-but he also finds new targets ranging from Martha Stewart to the Dalai Lama and Mel Gibson, with special opprobrium for Michael Moore, whose Fahrenheit 9/11 is dubbed "a sinister exercise in moral frivolity." The "War" material more fully documents Hitchens's break with the left and finds him passionately arguing against citing U.S. foreign policy, past or present, to rationalize terrorism. In other essays throughout the collection, from a nostalgic account of a drive along historic Route 66 to fond memories of the WTC towers, readers may be surprised to see the master of cynicism engaging in open sentimentality. Even when Hitchens isn't quite what one anticipates, however, he's as sharp a writer as one has come to expect. (Jan.) (c) Copyright PWxyz, LLC. All rights reserved"
(c) Copyright PWxyz, LLC. All rights reserved
Additional Information