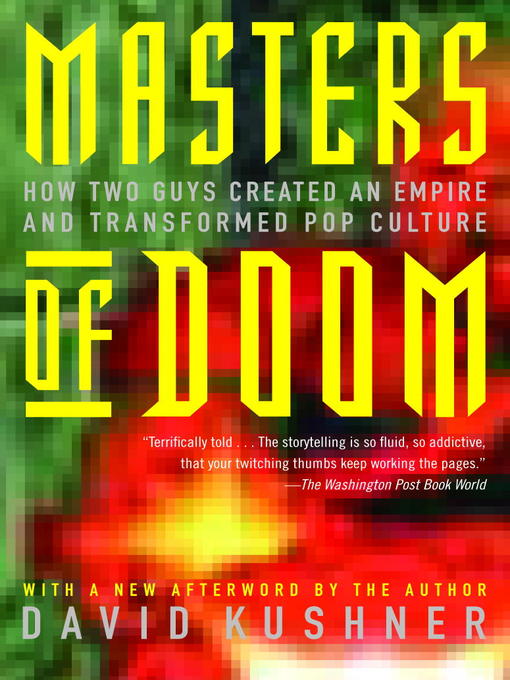 Masters of Doom how two guys created an empire and transformed pop culture
Format:

Kindle Book

2003

2003

Adobe EPUB ebook

OverDrive Read

Availability:

Available from OverDrive

1 of 1 copy
Summary
Tells the rags to riches story of John Carmack and John Romero, creators of the Doom and Quake video games, describing the development of the game programs, and discussing the controversy that arose over the popularity of the violent game action.

Contents
Introduction: the two Johns
Rock star
Rocket scientist
Dangerous Dave in copyright infringement
Pizza money
More fun than real life
Green and pissed
Spear of destiny
Summon the demons
Coolest game
Doom generation
Quakes
Judgment day
Deathmatch
Silicon Alamo
Straight out of Doom
Persistent worlds.
Published Reviews
Booklist Review:
"Kushner has cracked open the dark world of John Carmack and John Romero, the authors of the blockbuster computer games Wolfenstein 3D, Doom, and Quake. Reading this fascinating underground tale is as addictive as the games themselves. It is the ultimate revenge of the nerds: two obsessed gamers who were told that their interests had no redeeming value, their hacker ethic dismissed as borderline delinquent, forged their driven creative genius in programming and design to create the most wildly innovative and popular computer games of the 1990s. Using low-cost shareware distribution, they grew so big so fast that these 20-something renegades soon found themselves courted by the likes of Bill Gates. Unfortunately, Gates was not the only one who noticed. The games' bizarre violence finally got them caught up in controversy involving Columbine and the U.S. Senate, and they unwittingly found themselves victims of their own success. This is a true antihero story of our time, complete with the infamous all-night programming sessions saturated in pizza and Diet Coke, computer geeks turned rock stars spawning an entire cyberculture. "We are not worthy." --David Siegfried"
From Booklist, Copyright (c) American Library Association. Used with permission.
Publisher's Weekly Review:
"Long before Grand Theft Auto swept the video gaming world, whiz kids John Romero and John Carmack were shaking things up with their influential-and sometimes controversial-video game creations. The two post-adolescents meet at a small Louisiana tech company in the mid-1980s and begin honing their gaming skills. Carmack is the obsessive and antisocial genius with the programming chops; Romero the goofy and idea-inspired gamer. They and their company, id, innovate both technologically and financially, finding ways to give a PC game "side-scrolling," which allows players to feel like action is happening beyond the screen, and deciding to release games as shareware, giving some levels away gratis and enticing gamers to pay for the rest. All-nighters filled with pizza, slavish work and scatological humor eventually add up to a cultural sea change, where the games obsess the players almost as much as they obsess their creators. Fortunately, journalist Kushner glosses over Carmack and Romero's fame, preferring to describe the particulars of video game creation. There are the high-tech improvements-e.g., "diminished lighting" and "texture-mapping"-and pop cultural challenges, as when the two create an update of the Nazi-themed shooter Castle Wolfenstein. The author gives his subjects much leeway on the violence question, and his thoroughness results in some superfluous details. But if the narration is sometimes dry, the story rarely is; readers can almost feel Carmack and Romero's thrill as they create, particularly when they're working on their magnum opus, Doom. After finishing the book, readers may come away feeling like they've just played a round of Doom themselves, as, squinting and light-headed, they attempt to re-enter the world. (May 13) (c) Copyright PWxyz, LLC. All rights reserved"
(c) Copyright PWxyz, LLC. All rights reserved
Additional Information